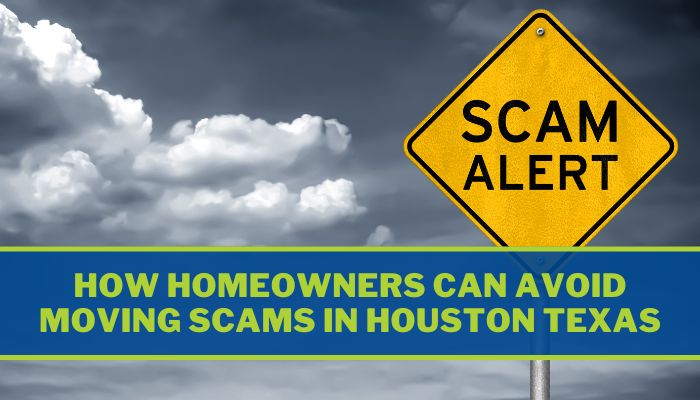 Moving requires a number of to-do lists, and top priority should be given to knowing how homeowners can avoid moving scams. Unfortunately, it can be easier than you think to be blindsided by a scam, especially when already putting most of your efforts into packing and logistics for the move. Add to that, scammers are becoming more adept at their game, and it puts the person moving in a rather delicate position.
Scammers posing as professional Houston movers can do more damage than taking your money and running. It may also manifest as your personal belongings being held hostage, damage to belongings, or owing an exorbitant amount of money not previously agreed upon…or so you thought.
The best place to start is understanding how homeowners can avoid moving scams. Education is key and may help a person getting ready to move skip the headaches that frequently occur when enlisting the help of scammers posing as a Houston moving company.
How Homeowners Can Avoid Moving Scams
While moving scams sound scary, there are ways for homeowners to avoid moving scams by being proactive.
Start by asking family and friends if they have used a local Houston moving company and whether they liked or disliked the company. This can be helpful information as it lets you know which companies to follow up with and which ones to take off the list.
Make sure the company you are researching has a physical address listed. Then crosscheck that address with a map to ensure it looks to be valid. If the company appears to have had multiple name changes, it may indicate the changes were needed to escape a bad reputation.
Take the time to ensure a moving company is registered with the Federal Motor Carrier Safety Administration. Most reputable companies will list this information directly on their website, but it may also be confirmed by searching the FMCSA's website. In addition to this important registration, a legitimate mover in Texas must be registered with the state and have a TX DMV number. Be sure to ask the moving company for that number or search for it on their website. Homeowners can then verify if the number is legitimate and whether the moving company is authorized to perform moving services by checking the TxDMV website. This site will also reveal if the moving company is insured, which is required by the state.
Look for any industry awards or accreditations a moving company has been given and then verify them for authenticity. If a company is recognized by their industry peers or given good reviews via the Better Business Bureau, it should give you more confidence in their credibility.
Ask for an in-person moving quote that is in writing. This means the company should send a representative to your home to go room by room and make an estimate based on the number of belongings a person has, and the estimated weight of those items. It is important to do your due diligence before this point so that you have some degree of confidence you are letting a reputable company enter your home.
Inventory your belongings and document how many boxes they require. By knowing exactly how many boxes were moved and what was in the boxes, it will better position you to know what is missing should some of the boxes or items become misplaced during the move.
Consider paying professional movers with a credit card. Cash payments can be hard to prove if a receipt is not provided. Plus, credit card payment may offer some degree of protection should a problem arise. If you pay scammers in cash, it is unlikely you will ever see that money again.
While it can require an investment of time, be sure to document everything. The window for customers to report any issues regarding the moving company and to file a claim in Texas is 90 business days from the date of the move. In cases like these, proof that comes from proper documentation such as pictures, can make or break a case.
When it comes to how homeowners can avoid moving scams, the more research you do ahead of time and the more questions you ask and have answered by movers, the more confident you will generally feel about the credibility of the people moving your personal belongings.
Potential Red Flags That Should Give Homeowners Pause
While scammers are constantly raising the bar with their nefarious systems, three of the most popular moving scams today include the following:
Getting a moving quote over the phone – A company that is willing to quote a moving job over the phone can't possibly give an accurate quote. The scam in this scenario comes on moving day, when the company presents a large balance due bill once the truck is loaded. Their claim is that the household belongings were larger, heavier and much more than what was quoted, and they demand the extra money before delivering the items to the new home.
Requiring a large upfront deposit – Reputable moving companies will not require a large deposit prior to the move. If a homeowner pays prior to the move, there is no guarantee that the moving crew will even show up on moving day.
Asking you to sign a blank contract – Even if you think you are dealing with the most reputable company around, do not sign a contract without reading and understanding its contents. Without a fully filled out, signed contract, it will be difficult to fight against any nefarious acts on the moving company's part.
Even if a person is moving for the first time and is not familiar with what constitutes as a red flag when talking to a moving company, there is power in knowing some of the most popular scams. If you run into one or more of the below red flag situations, let it serve as a warning to pause and take a step back before agreeing to anything.
Getting bad reviews. If you have looked up reviews for almost anything, it is common to find positive, negative, and neutral reviews. However, if the bad outweigh the good, it can be time to leave those movers behind. In addition to a movers' website and Google reviews, it can be a good idea to verify their rating with the Better Business Bureau.
Missing moving licenses. A reputable moving company should be ready and willing to share their licensing information with customers. At a minimum, they should be listed with the Federal Motor Carrier Safety Administration (FMCSA) where companies can be searched by name, U.S. Department of Transportation number, or their MC/MX number.
Using unmarked vehicles. Reputable movers display the name of their company on their vehicles. A provider who uses unmarked vehicles could be a sign that something is amiss or that they do not want to be easily recognized while in transit.
Demanding payment upfront. Some scammers may be so bold as to ask for payment for the entire move upfront. This is a giant red flag. On average, reputable moving companies do not ask for a deposit at the time of booking the move. There are always exceptions to the rule, but they are few. Regardless of how smooth a response to a question about why a large sum of money must be paid at the time of booking, beware that a scam may likely be coming.
Giving a low moving quote. The thrill of getting a deal is real, and scammers know it. This is why they often provide people with low moving quotes. It helps seal the deal, and quickly. If you get three moving quotes and one is suspiciously low compared to the other two, it may be better to avoid that provider. You must have a quote in written form from the movers and be sure to read all the fine print as it is not uncommon for scammers to offer up a low quote and then upon completion tell the customer that they owe an unexpected lump sum due to additional charges or fees.
Saying your items are fully insured by the moving company. In most cases, moving companies insure items they move for only cents per pound. While it is generally at no cost to the customer, it is not enough to fully insure an item. Customers will need to obtain additional insurance in order to have more adequate coverage for their belongings.
Pushing suspicious contracts to customers. Scammers may push a customer to sign a blank contract telling them that they will fill in the paperwork at a later date and will get them a copy after the fact. This is an enormous red flag as customers should never sign blank paperwork because they essentially do not know what they are agreeing to. Scammers may also encourage customers to sign a contract on the spot. Any true professional movers will allow a customer ample time to review a contract on their own before signing.
While some may not view it as a scam, online and over the phone quotes can lead to some of the same issues as listed above. Primarily, they can end with customers owing hundreds or thousands of dollars more than they anticipated because the number of items to be moved (and their weight) were not estimated in person by a professional mover. It can be a good idea to insist on an in-person quote from a reputable, professional Houston moving company.
At the end of the day, one of the best ways homeowners can avoid moving scams is to demand transparency from a provider. If a Houston moving company is unwilling to be transparent with everything from their quote to the contract to their process, then you should be unwilling to commit to signing anything with that company.