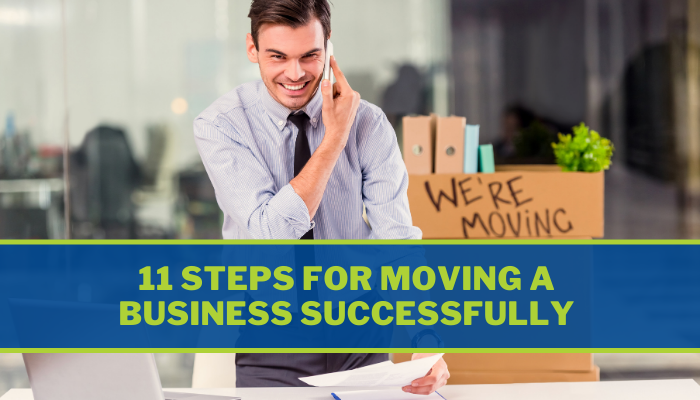 Your business is growing and now it's time to grow your space. An experienced Houston commercial mover can provide the manpower, equipment, and expertise, but there's plenty to do before moving day. In this guide, we'll go over some steps your company can take to ensure the move goes smoothly and quickly.
Step 1: Plan the timeline and budget
Commercial moves are complex jobs and require significant planning to execute. Your plan should be developed as you near the moving date and include the following:
The employees responsible for managing the move
The move's expected timeline
The moving services that will be required
The move's budget
All clients and vendors that will need to be notified
As your business gets closer to the move, you'll add more details to this plan, including inventories and floor plans.
Step 2: Get a quote from a mover you trust
Commercial moves are best handled by commercial movers, given the complexity involved. But before you hire a mover, it's best to get a few quotes for comparison's sake. Look for experienced movers with a strong customer service history – you can check customer reviews and the Better Business Bureau for this type of information.
To provide an accurate estimate, the moving company will first need to inspect your property and assess what items, and how many of them, need to be moved. It's critical that this inspection be done in person – in fact, the FMCSA now requires it. Don't settle for e-mail or phone estimates, as these cannot be used to provide an accurate estimate.
Step 3: Put together a floor plan for the new office's layout
It's actually a good idea to develop floor plans for both spaces – your existing location and the new building. With your current floor plan, you can detail what things need to be moved and where they are located. This resource will be valuable for the moving team.
A floor plan of the new building will also be valuable. With it, businesses can visualize where all equipment, desks, cubicles, workstations, and everything else will go. As the moving crew sets things up in your new office, the floor plan can be used as a supporting reference for the job's progress.
Step 4: Schedule utilities for your current and new locations
The sooner you communicate your intentions to your utility partners, the better. Give them early notice of your moving plan, and double check your cutoff and startup dates before moving day. There's nothing worse than showing up to an unpowered office space.
Step 5: Inventory and tag everything going to the new location
A commercial move may involve thousands of assets, including expensive technology that your organization can't afford to lose. To ensure everything arrives at your new place intact, put together a detailed inventory. This inventory should include every item to be moved, its condition and its estimated value. Some businesses also detail which department or facility each item is attached to.
Prior to moving day, tag everything according to where it will go in your new facility. Color coding your tags is a good idea and will help movers execute your moving strategy down to the exact spot where everything will go.
Step 6: Come up with a plan for furniture and equipment setup
If you're moving a lot of furniture and office equipment, someone will need to assemble and install it. You might leave this to your employees, but many companies have their professional movers do the job. Experienced commercial movers are specialized in carrying, transporting and setting up office equipment, and can provide this service to their clients.
Step 7: Get all the packing supplies you'll need
Your commercial mover can either handle the packing or provide your business with packing supplies. If your employees will pack their own workstations, make sure they have enough boxes, padding and packing tape to work with.
It's also a good idea to stock up on protective materials, such as moving blankets and surface protectors. This will prevent damage to your sensitive technology and to the building as things are carried out.
Step 8: Back up all critical data
Keep a backup copy of all your organization's information and documentation, and ensure this backup is locked away and protected from unauthorized access. Companies that still rely on paper documentation can store those documents in lockable file cabinets when it's time to transition to the new building.
Step 9: Do a quick survey of your new location
Before showing up to your new location with a truck full of equipment, take the opportunity to walk through the new space and verify that everything is in proper working order. If there's a dead outlet or water leak somewhere, it's better to spot it before everything is moved in.
Step 10: Make sure access to the old location is shut off
On moving day, gather up all access keys, cards, and parking passes and make sure they are deactivated from use. Large businesses should consider auditing their access items weeks before the move. This list will provide an easy reference when it's time to gather and dispose of the items.
Step 11: Communicate your change of address
Communication with your clients and partners is essential during the moving process. Alert them weeks ahead of time of your company's moving plans – they'll appreciate the advance notice. Send out another communication a week before the move as a reminder, and as soon as you're up and running, let them know you're open for business.
With an experienced commercial mover, you've got a professional team every step of the way
Commercial moves take a lot of people and resources to manage. And for large-scale projects, the move may be completed in stages. It's a complex job, so most businesses trust the process to an experienced Houston moving company.
With an experienced Houston crew supporting your move, the process can be broken down into manageable steps so that your organization can quickly transition to its new space. That saves your business time and money and lets you get back to doing business as quickly as possible.