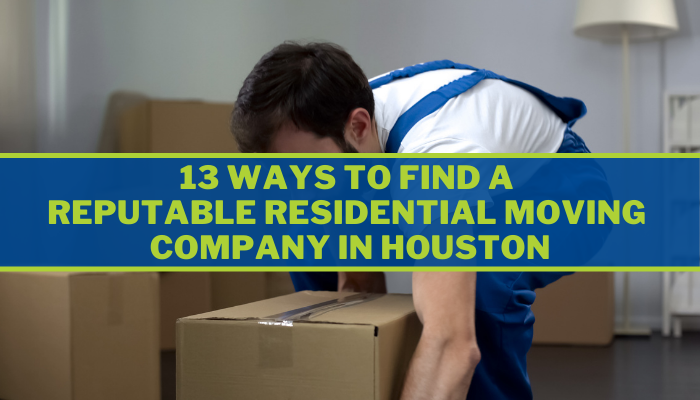 If a move is in your near future, the top 13 ways to find a reputable residential moving company in Houston should top your list of important things to do. Of all the things moving can entail, making sure you have the help of the right professional moving company is one of the most critical. While this step can take some time, it will be well worth the effort if you do not have to worry about unrealistic moving quotes, your property becoming carelessly damaged or lost, or even arriving late at the final destination. Having the right movers in place can make for a more streamlined and worry-free process.
Top 13 Ways to Find a Reputable Residential Moving Company in Houston
Lists are your friend when moving. They are good for deciding what to pack, which rooms of the home to tackle in what order, and other things you need to take care of, like utilities and finding a reputable residential moving company. This last item can have a profound domino effect on everything that comes after it, so start here to make the most of your next moving experience:
Ask for referrals. With the number of moving companies in Houston, what better way is there to determine how good a company is than talking to someone that was a previous client? Ask local friends and family who they have used in the Greater Houston area for moves, as well as what they liked and what they didn't. If friends and family are not able to provide any information, consider turning to sources such as online reviews or the Better Business Bureau. Referrals can be a great place to start because instead of simply cold calling companies you know nothing about, you can start with moving companies that you do know about.
Double-check the company's credentials. Unfortunately, in an effort to get moving jobs, there are many fly by night movers who may have a web page and business cards that tout an address that does in fact not belong to them. Before proceeding on to the next step, take a few minutes to cross reference the address the company gave you with the name assigned to that property via Google Maps or the Better Business Bureau. If the address checks out, then make a note of how long the company has been in business. The longer a company has operated in Houston, the more credibility it can offer.
Verify that movers on your list are both licensed and insured. For this step, confirm with the U.S. Department of Transportation Federal Motor Carrier Safety Administration that the company you are considering has been issued a license to be an interstate mover. It is often more commonly referred to as a company's U.S. DOT number. This designation ensures you are working with a licensed company. Make certain any moving companies on your list are also insured as this protects both them and you.
Ask about vehicle maintenance for moving vans. Licensing and insurance are musts for a reputable residential moving company in Houston, but vehicle maintenance should not be far behind. By simply making sure vans and trucks are regularly inspected and maintained, it could help eliminate troublesome issues that can arise from missed oil changes, dead batteries, etc.
Confirm the company's damage rate for moving. When putting a lifetime of belongings into the hands of the moving company, it is important to first confirm their damage rate. While a damage rate of zero percent is ideal, it is also unrealistic. Things happen from time to time amidst packing and transport. For this reason, be wary of entities promising they have a zero percent damage rate and instead look for a company that admits to a damage rate of closer to one percent.
Ask about deposits. A reputable residential moving company in Houston should not ask for a large cash deposit before actually moving. Should a candidate ask for such a deposit up front, it could signal a less than credible operation. This should be a giant red flag and a signal to rethink keeping those movers on the list of potential candidates.
Look for a company that uses employees rather than contractors to move people. Because moving jobs can vary depending on the season, some companies hire contract workers to assist them. This can be risky because contract workers may not be subject to drug testing and background checks in the way that full-time employees are. It gives many individuals more peace of mind to know that an employee of the company will be moving their belongings.
Verify that the movers can accommodate your type of move. For some smaller moving companies, anything further than a local move could prove to be an issue. Ideally, whether you are moving a couple of blocks over or to a different city or state, it can be smart to enlist the help of movers that perform both local and long-distance moves as they provide a more well-rounded moving experience. Another consideration is to use a company that can accommodate complicated moves that feature multi-story buildings or particularly large and heavy items that may require the use of specialized equipment.
Confirm that the moving company is available when you need them. Once you have set a date for the move, it is essential to line up the movers as soon as possible so you can secure your spot on their schedule. Though you may not be ready to commit at this point in the vetting process, it is still a good idea to confirm that they do have availability for the date you require.
Choose movers that offer a wide variety of services. Some providers simply load boxes and furniture and drive the moving van to the destination, but many people who are moving prefer to hire a company that is ready to step up with a variety of services in case they are needed. Look for a residential mover who provides packing and unpacking services if needed. In addition, be sure whoever you hire also understands how to wrap and protect fragile pieces of furniture. And should you have special pieces such as a grand piano or a grandfather clock, confirm the company has all the necessary equipment and materials to do customized packaging and transport.
Get an in-person moving quote. It is strongly recommended to obtain a written quote that is provided after an in-person inventory of the home. While there is a measure of convenience in online or over the phone quotes, they can be wildly inaccurate since they are based only on inventory estimates of the homeowner, which often leads to higher and unexpected costs and delays on moving day. When a representative from the company gives an in-person quote, it allows you to get an accurate estimate while also giving you a chance to measure the company's professionalism.
Zero in on quote verbiage. Although the estimate is the heart of a moving quote, it is equally important to zero in on the language used to describe potential changes. In general, movers use non-binding, non-binding to-exceed, or binding estimates. Each is substantially different. Non-binding estimates usually limit the amount of money a company can come back and ask for in addition to the original quote and mandate that overages be paid within a specific window of time. A non-binding to-exceed estimate stipulates the homeowner will not have to pay overages not referenced in the initial estimate. A binding estimate is usually a guaranteed price for specific services with the ability to add on (and pay for) additional services as decided on by the customer.
Talk about communication before and during the move. With a quote in hand, ask how the company will keep in touch up until the move, if they will call to confirm a few days before, and how they will communicate the drivers' progress while they are transporting boxes and furniture. This can seem like a small thing, but the more communicative the moving company is, the smoother a move may go.
By reviewing this list of 13 ways to find a reputable residential moving company in Houston, it should help you put the issue of choosing the right mover behind you. This leaves you free to focus on the other details that lie ahead of you before your move.