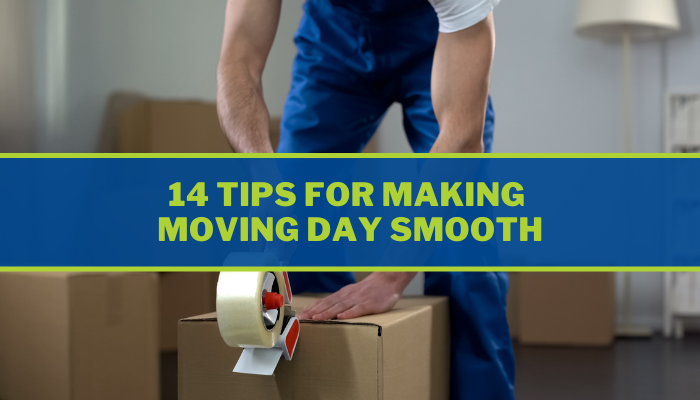 Moving can feel overwhelming for many people, but by planning ahead with these 14 tips for making moving day smooth, the experience can be a positive one. Moving can require a leap of faith to leave what you know and move to something new, but almost everything that follows should be a matter of planning. Knowing what to do and when to do it can help take the pressure off and provide for a better move in Houston.
Making Moving Day Smooth One Task at a Time
Getting ready for a move begins the day you decide to do it, and the journey doesn't end until you have arrived at your new destination and have completed unpacking. To help you better navigate each step of the way, we have put together a list of 14 tips for making moving day smooth, including:
1. Make a to do list. There are many things to consider for making moving day smooth, from selecting the movers to buying the packing supplies to doing the actual packing. The list of to-dos can be far too long to simply store it in your head. Put a pen to paper and get a list going to help you identify necessary action items and make a plan for checking them off as you go.
2. Declutter your home. Whether you spent only a few months or as long as decades in your home, the accumulation of more belongings over time is inevitable. However, not all of these belongings will be things you want to take with you to your new home. Even though it will require some time, declutter each room of your home before packing begins and donate the items that can be repurposed and throw away those that are beyond saving.
3. Choose a Houston moving company. When it comes to tips for making moving day smooth, this one is very important. The choice you make could dictate how the remainder of the move goes, so take your time to do the research. It is essential to select a moving company that is insured, for their protection and yours. Be sure to confirm the movers have the right licensing and perform routine maintenance on their vehicles as well. This ensures there are no hiccups on the big day.
4. Get an in-home quote. An in-home quote is often recommended over one that is given online or over the phone. When going room by room of a home or business, it allows a moving company to more accurately estimate the number of boxes and pieces of furniture that will need to be moved. Relying on the company's expertise for these estimates can eliminate a last-minute panic on moving day of having extra boxes to load on the truck. An in-home moving quote also enables the movers to view the space in person and note if they will need a special parking pass, permit, or specialized equipment to navigate stairs or tight spaces.
5. Take pictures of breakables. A reputable moving company should have a low damage rate of around one percent, but there will be times where an item could get broken during the moving process. For this reason, it can be helpful to take pictures of important breakables before they are packed and moved. Keep this documentation after the move is complete as it could be helpful in the recovery stages of a natural disaster.
6. Take pictures of complex electronic setups. Most homeowners can attest to having a tangle of cords behind the entertainment center or computer. Unless you have IT experience and can remember what plug goes where, take a picture of the current setup to help assist with putting everything back into place at the new home.
7. Pack items up correctly. While packing up items should take place long before the actual moving day, the effects of it will be felt most prominently on that day. The primary issues for items that are not packed correctly are improperly assembled or sealed boxes and unbalanced boxes. A box that is not assembled and sealed efficiently may result in its collapse when a mover tries to pick up the box and load it onto the moving van. This causes a delay in moving as well as the potential for items in the box to be damaged if they fall out. Unbalanced boxes can increase the odds of a box collapsing because the weight of the items is not distributed evenly. To avoid these common mistakes, some individuals choose to have the moving company pack up their belongings to make moving day smooth.
8. Label boxes clearly. It can be helpful to load the moving van room by room, but well labeled boxes are still essential. As you pack up boxes, take the time to label each box clearly with a thick black marker that designates what room the box belongs in, as well as the key items that are packed up inside. This helps movers know which room it belongs in when they arrive at the destination, and it helps the individual quickly locate certain items they might be looking for. If there is a box that contains objects that are sharp or delicate, it is best to label the box as "Fragile" in large print.
9. Be strategic with utilities. While your inclination may be to turn off the utilities on moving day, this is a bad idea. Movers will still need light to help them see and water will still be needed for bathroom breaks and cleaning. Plan to turn off the utilities to your old home the day after the movers are done. Turn on the utilities in the new home the day before you and the movers are expected to arrive. Do not forget to put arranging utilities on your to do list, which should include water, electricity, gas, trash service and internet.
10. Get to packing. Nothing adds to the chaos of moving day like trying to pack up the boxes you were too tired to tend to the night before. Not only does it extend the to do list for an already long day, but it also increases the chances of forgetting to pack an item or not safeguarding it properly. Ideally, it is best to be entirely packed the night before moving day, with the exception of items like toiletries and medications that will need to be packed the morning of.
11. Isolate items you will be taking with you. The goal is to pack up everything you can in boxes for the moving company to load and transport, however, there are some items that you may need to keep with you. Pets, plants, and hazardous materials are not typically handled by movers. As such, arrange to move these items yourself. Keep important documents such as insurance, passports, and utility information with you during the move for easy access.
12. Give the movers room to do their job. Most established, professional moving companies have performed hundreds or more moves and know what they are doing and the best way to do it. Aside from offering to answer questions, it can be best to stay out of the way so that the movers can get their job done quickly. If you have children or pets, consider how to keep them out of the way of the movers to prevent accidents and delays.
13. Ensure the movers have your personal contact information. Take the time to verify that the movers have your phone number before the moving truck leaves your home. This allows them to let you know if they get lost, have a problem that requires roadside assistance, or if there is another type of delay so you can plan accordingly.
14. Do a walk through. After the contents of the house have been loaded into the moving truck, take the time to do a thorough walk through. This helps ensure no boxes were missed, the lights have been turned off, and you have taken all your personal belongings with you. Do not forget to check places that may be out of sight and out of mind like the attic, basement, or a shed.
Arriving at Your Destination
So much can go into the 14 tips for making moving day smooth, that remembering what to do upon arriving at your destination can be overlooked.
One of the first things you may want to do is find your bedding, which should be fairly easy if the boxes were labeled correctly. After a long day or more of moving, you will be ready to sleep in your own bed, and getting the bed set up early will allow you to fall right into it. Locating certain bathroom and toiletry items upon arrival should also be a priority so that you are able to take a shower before going to bed later that night.
If you arranged for the utilities to be turned on prior to your arrival, that should already be in place and be one less thing for you to worry about. This allows you to focus your energy on unpacking. Although it may be tempting to put off unpacking until tomorrow, the sooner you unpack the sooner your new surroundings will start to feel like home. It is best not to put it off for too long.
You may also want to change the home's locks. While ideally, everyone who had a key should have turned it in before they moved out, it doesn't hurt to be thorough and change the locks anyway for an added layer of protection.
With these 14 tips for making moving day smooth, you can breathe deep and have more confidence in the process from start to finish, and that is hard to put a price on.