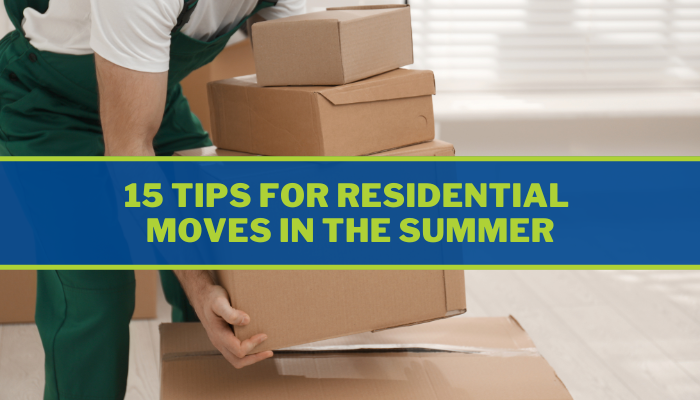 With June, July, and August just around the corner and more than half of annual moves made during these months, 15 tips for residential moves in the summer should make the process easier. Moving tips can be helpful anytime of year but are even more so during the summer when professional moving companies are experiencing their busiest time of year. Planning ahead can make the moving process smoother from start to finish.
15 Tips for Residential Moves in the Summer
While this list is not exhaustive, it will be useful for those planning a move in the summertime:
If you are a renter and already know the exact date your lease is up, take advantage of this knowledge and book the movers as early as possible. Although summer is already busy, many leases expire at the first or last of the month, making those times even more sought after for those hiring a moving company.
Homeowners would be wise to contact a moving company the day their home closes escrow, however this arrangement is more beneficial if they work with the realtor to negotiate a date for that day that is more advantageous for them. Because weekends are often the busiest days of the week for moving, try to schedule yours on a weekday, if possible, for increased availability.
Avoid moves on holidays and holiday weekends. Although it may be tempting to move on a three-day weekend due to a summer holiday, do not schedule your move then. A moving company's availability is typically slimmer during these dates and the cost may be even higher than it would be on a non-holiday weekend.
Choose the earliest available moving slot for the day. Once you know the day of your move, it can be more beneficial to choose the earliest slot of the day in an effort to get things done before the heat really cranks up. Although it may require getting up a little earlier than you might like, it is well worth it when the moving van is already packed and the intense afternoon heat sets in.
Get an in-home quote. Be sure to have the moving companies you are considering hiring come out to the house to provide an in-home quote. These professionals are trained in doing inventory for a space and making an educated guess on the proper number of boxes that will be needed. By also factoring in the pieces of furniture that must also be transported, they will know what size moving van will be required. This has the potential to cut down on common mishaps such as having considerably more boxes than originally expected on moving day, or needing special equipment for particularly large or heavy items such as a safe or a piano.
Start packing early. Summer has a reputation for being a time when we feel more comfortable throwing caution to the wind and putting off our responsibilities for a quick afternoon dip in the pool or a trip to the ice cream shop. Be ready for these temptations and still be able to partake in them by starting to pack as early as possible and doing a little bit of packing every day. If your timeline for packing is particularly tight and you have doubts on whether or not it can be done on time, think about enlisting the professional moving company's packing services.
Pack with the heat in mind. In the haste to efficiently pack up room by room and label the boxes accordingly, many individuals include heat sensitive objects such as candles or even shrink-wrapped items. While this can make sense for organizational purposes, it is wiser to keep heat sensitive items like these with you in an air-conditioned vehicle so that they are not subjected to long periods of intense heat that could melt or damage the objects.
Remember to keep perishable food in ice chests rather than in a box. Some people may choose to simply use up their perishable items prior to a move to have less to worry about. However, if you do choose to bring some of these items with you, keep them with you and be sure to put them in a cooler with enough ice so that they do not spoil in transit.
Give special thought to how electronics will fare in the heat. The intense humidity and heat of summer can be damaging for some electrical items. When it comes to laptops, smart phones, tablets, and possibly even televisions, it can be a good idea to evaluate how long these items would be in the moving van and if they might be better protected if they stayed with you in an air-conditioned vehicle.
Verify the details of your move again a week or two out. You would be surprised how many people run into scheduling issues because they did not do something they really thought they did. Avoid this problem by checking in with your movers a couple of weeks before the move to ensure everything is all set and ready to go for the big day. This is also a good time to communicate any changes to the company such as an additional stop, extra boxes, etc. Doing so should help moving day run much smoother.
Dress accordingly for moving day. Even with the professionals doing the heavy lifting, it can still get quite warm in the house with the flurry of movement and open doors. Make sure you are dressed in light colored clothes made of breathable fabric so your body does not have to work so hard to stay cool amidst the heat. It is also highly recommended for individuals to wear closed-toed, non-slip shoes for added protection. It may also be wise to keep some sunscreen on hand and apply as needed.
Arrange for the kids and pets to be out of the house when the movers come. Your home will likely be overrun by boxes and people on move-out day, making it a minefield of sorts for children, dogs, and even the workers, and this could inadvertently increase the odds for someone to accidentally get hurt. Think about getting a friend to watch the kids and pets while the movers are at the house to better ensure everyone's safety.
Do not schedule your utilities to be turned off in your current home until the day after move-out. This is critical to keeping yourselves and your movers cool as they are packing up the moving van. Having the utilities go off early would make the house quite warm and could put the workers at risk of experiencing heat-related illnesses, which would in turn delay the move. This also enables you to come back and run the vacuum or anything else that needs to be finished up.
Respect the seriousness of summer heat and how it affects you and the movers. With the doors propped open to allow traffic in and out of the house, plus the physical rigor of picking up heavy boxes and transporting them to the moving van, the heat can quickly become a dangerous problem. Plan ahead and have plenty of cold water and drinks in an ice chest along with some damp cloths so that you and the movers can stay hydrated and cool. Have a couple fans going will also help by circulating the air.
Arrange to have the utilities turned on in your new home the day before you are scheduled to arrive. This is instrumental in cooling down the home so that it is a comfortable temperature when you and the movers arrive and begin the hard work of unloading and unpacking dozens of boxes.
By following these 15 tips for residential moves in the summer, you can be prepared to make moving day successful and comfortable for you and the moving company.