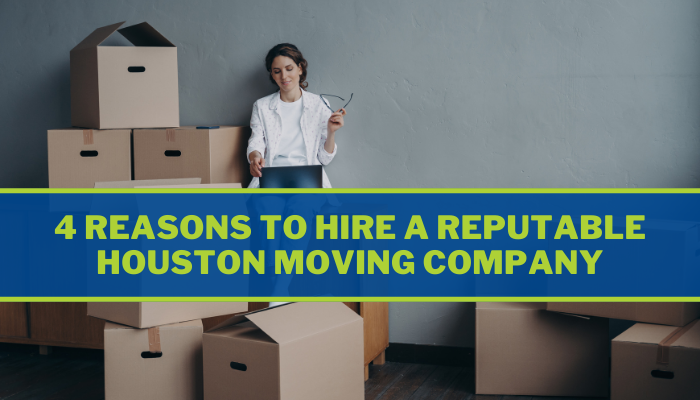 When families sign a moving contract, they are trusting that moving crew with treasured belongings and memories. That's a big responsibility to place in someone's hands, and you'll want a reputable professional to manage the job.
Every year, the Better Business Bureau receives thousands of complaints from consumers wronged by a moving service. Some of those complaints are due to moving scams – and a moving scam can cost a family everything they own.
To avoid a similar fate, it's important to hire a reputable moving company with a solid reputation.
What Makes a Professional Moving Company Reputable?
But what makes a mover reputable? The same characteristics you'd see in any other type of business. That includes experience, an impressive client history, and a customer-first approach.
If you're searching for a moving company, customer reviews are a good starting point. There are also certification programs, such as American Trucking Associations' (ATA) ProMover certification. The ATA is the leading industry organization for truckers and motor carriers, and part of its mission is to improve the industry's overall quality of service.
To attain ProMover certification, the ATA must first review the mover's business practices, operations, and complaint history. If the mover passes this check, they must sign an agreement confirming their commitment to upholding ethical practices and the Department of Transportation's (DoT) regulations. Checking for ProMover certification is an effective way to separate reputable moving companies from the rest.
While searching for a mover, you can also use the Federal Motor Carrier Safety Administration's (FMCSA) database to do a quick background check. This database is available online and to the public but requires the mover's DoT license number for reference. This number provides access to the mover's FMCSA profile. This profile includes the company's age, fleet size, certifications, and any previous infractions or traffic violations. It's another piece of information to add to your search.
That's what a reputable mover looks like, and some useful tips on how to find one. The question is – what's the value of working with a reputable moving company? There are several advantages, including:
1) Reputable movers ensure the entire process is transparent
The moving process relies on clear communication from the outset. When people are scammed by a rogue moving company, it's usually because they didn't have time to think about what they were signing, or about who they were working with. Rogue operators take advantage of speeding through the opening stages, so they can hurry and get your things on their truck.
A reputable moving company is in no such rush. They provide an in-person or virtual inspection, answer any questions that the client may have, provide (and explain) all necessary paperwork, and give the client time to look over all fees and contract stipulations.
This isn't just good business – it's required by the FMCSA. The FMCSA's new regulations require movers to provide necessary paperwork at least three days in advance of the move. The most important piece of this paperwork is the bill of lading, which provides a detailed assessment of everything that will be moved, as well as the fee and time estimate.
In the past, the bill of lading wouldn't usually be provided until everything was loaded on the truck. Now, consumers have three days to verify the bill's details and raise any concerns. Consumers also have the right to terminate the moving contract if they do not approve the bill of lading.
This is a valuable piece of consumer protection, and one that a rogue operator won't address when they're selling you on their crew. A reputable service, though, will follow all regulations and ethical practices to ensure their clients are completely informed about the move.
2) Reputable moving companies are licensed and insured
Reputable moving services strive to minimize risk for their clients. In practice, this means being licensed and insured. Why is this important?
Licensing means that the mover has attained the necessary education and skill to perform moving services with the state's approval.
Insurance protects the client should an accident or injury occur during the job.
Licensing and insurance equal client security, and providing this security is something reputable companies do to emphasize their client-first philosophy.
3) A reputable mover has the resources for large-scale jobs
Rogue operators have little reason to scale their operations, as they aren't focusing on expanding their reach or capabilities. You don't need to be a big company to run a moving scam, in other words.
For reputable businesses, growth is the natural by-product of doing their job right. And with that growth comes additional equipment, manpower, and technology resources. These can then be applied to bigger and bigger jobs, which makes these professionals especially useful for complex projects like commercial moves.
If you have a large-scale moving job, or just want your job handled with maximum efficiency and accuracy, a well-resourced moving service offers important advantages. And most well-resourced moving firms are reputable moving firms.
4) Reputable professionals prioritize client satisfaction
Experienced, reputable movers know the stress that families endure during the moving process. They head this stress off by remaining in contact during every step and being proactive with communication if obstacles do arise. A reputable mover is friendly, willing to answer any questions, and can work with their clients if needs change.
This client-first mentality makes sense when you consider that moving companies are businesses enmeshed in their communities. Sustaining a moving business means sustaining a positive reputation, and that means going the extra mile (sometimes literally), to ensure every customer walks away happy.
Reputable Houston Movers are Efficient, Capable and Ethical
To an established moving company, reputation is everything. It takes years to build a good one and only a couple of bad client experiences to potentially destroy it.
That's why reputable Houston movers work harder to earn their clients' trust. That's why they offer a wider set of services and ensure they always have trucks and manpower on hand. That's also why they adhere to the industry's code of ethics. In short, a reputable Houston moving company is motivated to ensure your move goes as smoothly and stress-free as possible.