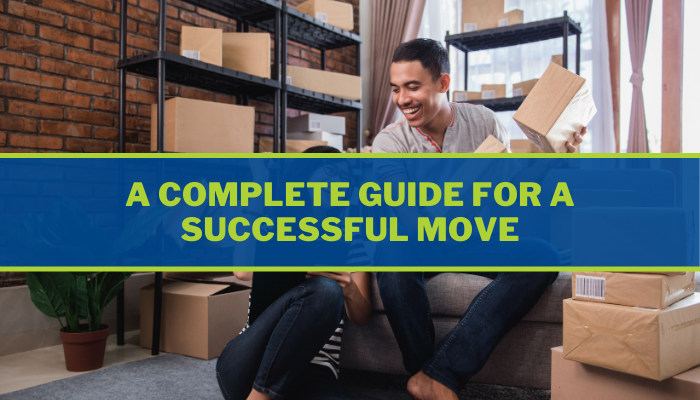 One of the most common needs for people who are preparing for a move is a complete guide for a successful move. Moving is a long process riddled with important details and actions that must be tended to in a timely manner, and all of it put together can be overwhelming for many people. Fortunately, enlisting the help of a trusted and reputable Houston moving company that also provides a complete guide for a successful move can simplify the process.
A Complete Guide for a Successful Move
Following the steps lined out below can make moving a more pleasant and less worrisome process. The hours of planning and preparation are worth it in the long run. Here are some of the most important steps for a successful move:
1. Set the Parameters for Your Move.
The one decision about moving that everything else will hinge on is where you are moving and when you need to do it.
Unless you plan on living with friends and family or in a hotel until a suitable home can be found, it will require you to secure a new home. Depending on each person or family's unique circumstances, this may mean searching through online databases of homes that are for sale, working with a reputable realtor, or making house hunting trips to the new city on your own.
Once a new home has been secured and a closing date is set, you should have a move-in date. With this on the calendar, it is time to set a moving day. While some people may want to move in as soon as the closing contract allows, those that are more price conscious may wait. Weekends and holidays are the busiest times of the year for most moving companies, which also means it can be the most expensive, so for individuals hoping to save where they can on a move, moving in the middle of a non-holiday week can make more financial sense.
2. Book the Movers
It is highly recommended to book the moving company early to ensure you get the day and time you desire. If you are planning to move on a weekend or holiday, it's best to book as soon as possible as these times are the busiest for most moving companies.
A nonnegotiable item for securing a reputable mover is making sure that they have a valid U.S. Department of Transportation number. They should also be insured and be able to move you where you need to go, whether it is across state lines or across the ocean. Also confirm that the moving company's average damage rate during moves is at or close to one percent.
When choosing a mover, it is essential to make sure they can accommodate your needs. Verify that they offer all the services (packing, loading, unpacking, etc.) that you may prefer. It is also strongly suggested to have the moving company provide an in-home moving quote. This cuts down on confusion over the estimation of how many boxes will be handled on moving day. It also ensures that the company has access to any special equipment needed for multi-story moves or special items that require customized packing or crating.
3. Take Care of Utilities and Address Changes.
Many homeowners can forget the importance of taking care of utilities and address changes as part of the moving process, but they are integral to a successful move. Once you have closed on the new home, it's time to start acting on these important steps.
It may be advantageous to start with address changes as it can be a while before they take effect. Take note of the mail you get each day and then let those entities know when and where you will be moving. This is particularly important for entities that send you mail on a monthly basis such as banks, mortgage companies, mail subscriptions and such. As the time grows closer for the move, it is necessary to let the local post office know what date they should start forwarding mail and to what new address.
Next, it is time to tackle the utilities. You will need to shut off the utilities at the home you are moving out of but schedule them to be turned off a day or two after you are supposed to move out. This gives you a little cushion timewise and also keeps the house cold or warm (depending on the season) while doing a final clean before handing over the keys. It is an equally good idea to turn on the utilities at your new home the day before you move in. This allows the home to either fully cool down or heat up before your arrival.
4. Declutter Your Home.
If time allows, it can make more sense to declutter your home before booking the movers. This is because an expert who provides an in-home moving quote will be doing so based on the number of items currently in your home. Should a person plan to downsize or declutter significantly, the number of things that need to be moved could decrease dramatically, which will affect how many boxes are needed and what size moving van is required.
If a moving quote has already been obtained and then you declutter, it may not end up saving you money on the quote. It will, however, save you precious time and energy when moving out of your old home and moving into the new.
Whether living in a home for three months or three decades, most people find that the number of their belongings increase dramatically during that time. The thought of moving all of these items is often enough to make an individual reconsider if they really need or want them.
The thought of decluttering your home can seem overwhelming to some, so the best option is to break it down into smaller chunks by going room by room. Many people find that starting with a small room such as a kitchen pantry, closet, or laundry room can make the task feel less arduous and may even spur them on to keep going to other rooms.
If you are planning to pack as you go, it can be useful to have boxes for donating, throwing away, or keeping items. If you are not yet packing and are focusing solely on decluttering, consider having boxes for donating, throwing away, or putting in a garage sale. Using this simple time-tested method allows everything to have a designated and organized resting place instead of getting jumbled up into a giant mess on the floor. By the time you are done decluttering a room, you can take the donation box to an organization that accepts them, empty the trash box in the garbage bin, and stack the garage sale boxes in a safe place until it is time for the sale.
Should you have a large amount of junk after decluttering, it can be helpful to consider hiring a junk removal company. These providers will come to your home and remove the junk for a price. This can be an added convenience for those who do not have the vehicle space or time to haul it off.
5. Decide How Packing Will Work.
When it comes to packing, people who are moving have two primary options:
To pack boxes themselves
Hire the moving company to pack up the house
There are advantages to both, so let's take a closer look at each option.
The primary benefit to packing boxes yourself is that it may save you a little money over hiring the professionals. While this is a benefit, it will still come at a price. As the person moving, you will be responsible for gathering all packing materials (boxes, bubble wrap, packing tape, etc.), storing them, and then packing all of your belongings into boxes. Before beginning, make sure you have a clear understanding of what types of substances (cleaning solutions, etc.) are not allowed to be packed in boxes, as well as how to pack a box that is well balanced in terms of the distribution of weight.
Although hiring professional movers to pack up your belongings is an extra expense, many homeowners find it to be money well spent. For example, in this scenario the movers will gather the packing supplies, bring them to your home, and ensure that each box is packed in a balanced manner to better protect the items inside and keep the box from tipping over during the transit. A bonus perk to having the movers pack you up is that it can be done in a handful of days rather than having to go room by room weeks before a scheduled move.
6. Know What Not to Pack.
Even though most of your belongings should be backed up for the movers to take, there are some items that might make more sense to keep with you. Important papers regarding insurance, passports, birth certificates, and so on usually stay with the person moving for easy access to these documents when needed, either during the move or after arriving at their new home.
In addition, if there is a fragile or particularly sentimental item that is of great value to you, take the necessary precautions in packaging it and then consider keeping it with you in the car. Be forewarned that the success of this endeavor depends heavily on how the item is prepped and packed for transport.
7. Get Rid of Perishable Items from Your Freezer and Refrigerator.
A few days before the move, do not forget to donate or share perishable items from your refrigerator and freezer that are still within their expiration date. Items that have expired should be thrown away. Unless you are planning to take an ice chest or two with you in your own car for the move, frozen and refrigerated items generally do not travel well.
If you are taking your freezer and refrigerator with you for the move, it will be necessary to begin defrosting these units a week or so before the day of move-out. A unit that has not been defrosted is not safe to move as it can cause water damage to packed boxes and furniture on the moving truck.
8. Be Prepared for Moving Day.
With all the time and effort that goes into long term preparation for a move, it can be all too easy to forget the little things, like actually being prepared for moving day. Some of the most commonly forgotten things for moving day include:
Packing an overnight bag. You will need to keep a bag with you that has clothes, toiletries, important paperwork, medications, and other necessities. Make sure it is packed and ready to go the night before moving day.
Making sure the car is in good condition. Especially if you are traveling a long distance, it is a good idea to have your car gassed/charged up, checked out, and tuned up to make sure it is ready for the trip ahead. Without completing this step, you could risk the car breaking down.
Arranging for a friend or neighbor to watch the kids and pets. On moving day there will be a lot of people in your home. The more people there are moving around and taking care of business, the harder it can be to avoid collisions and accidents. To limit the risk, make plans to send the children and/or pets to a trusted friend or neighbor so that they are not creating extra traffic for the movers.
Providing snacks and cold drinks for the moving crew. Although you are paying the movers to transport your things to your new home and this isn't required, many people choose to have a cooler with cold drinks and some portable snacks handy for the moving crew. In warm temperatures, ice water may be more appropriate while on a cold day both water and hot coffee might be appreciated.
9. Settle In Sooner by Unpacking Fast.
Most people going through a move put an emphasis on packing up and do not give much thought to unpacking. This is usually because the frenetic pace of a move often ends with the arrival of the homeowners and their things.
While it can feel amazing to have the move behind you, a complete guide for a successful move will include unpacking reasonably quickly. Although decorating may take some time to find just the right spot for a painting or light fixture, there are things that can be put away upon arrival such as underwear and socks into a dresser drawer, or clothes being hung in the closet.
The more basic unpacking a person can do upon moving into their new home, the faster they will feel comfortable in their new surroundings. With clothes put away, it eliminates a frantic search for a swimsuit should you decide to take a break from unpacking to enjoy a swim at the pool. It makes finding a clean pair of jeans and a shirt for going out to eat at a local restaurant a cinch.
For those people who are ready to hit the ground running in their new home and neighborhood, it can be wise to enlist the moving company to help you unpack your belongings more quickly. With everything unpacked, it becomes easier to decorate and find a new place for all of your belongings.
10. Tour the Neighborhood.
Ideally, it can make the move a smoother transition if you are able to identify some familiar landmarks such as a favorite restaurant or grocery store before arriving. Having little details like these in place can put everyone at ease. Visit a favorite restaurant chain in your new town and then take a quick tour of the neighborhood to find out where the schools, parks, and ice cream shops are. Consider making a list of some of the local restaurants you want to try.
Getting to know the layout of the community is an exercise in becoming familiar with your surroundings and making it feel just a little bit more like home as soon as possible.
Regardless of where you are moving or how much time you have to prepare, it is essential to give yourself more time than you really need. There will be action items that take you longer than you think to check off your list. There may also be hiccups along the way, but by giving yourself extra time, you are giving yourself a little bit of breathing space when things do not go exactly according to plan.
A complete guide for a successful move starts and ends with these steps. Now that you have this information, you can look forward to moving day with confidence.