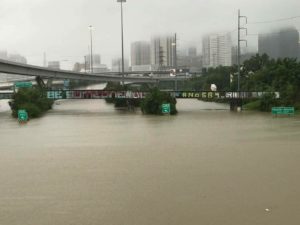 As most of you know, we have been a moving company since 1969 here in Houston. And we have always helped in our community, to the point that people call us the movers that care.
Recent days have seen our city go through challenges many of us could never imagine.
Through the years we have moved thousands of families into their homes, many of which I am watching take on water on TV, and seeing the good families that we have come to know being displaced. We know our neighbors and their neighborhoods.
It has always been my hope that our clients know we care about them, and that the city of Houston knows we care about them. Since the start of Hurricane Harvey, we have been wondering how to put our fleet of movers to work for Houston.
In the early days, we have worked to get boxes in hands of those who were needing to pick their possessions out of the silt and mud in their houses. For some, the water got counter-high, so packing supplies were needed, and we have been helping those most vulnerable move their possessions into the safety of our warehouse.
Yesterday, though, we were able to make a real difference. The Northeast Baptist Church and our moving company partnered up to help take much-needed supplies to the 5th ward of Houston. For those of you that know the city, you know that these are some of the people with the greatest needs. I was so proud of my son Brandon and my crews as they helped unload trucks of supplies for Houstonians most in need.
At the same time, we donated a crew to go help a school teacher who, as a single mom, was having a hard time getting her son to safety. Although the second floor of an apartment complex was dry, her son had to be moved because of health conditions. We heard her story and were able to help move her son to safety, as well as help get her apartment packed up and moved to storage.
That is what being a Houstonian is all about. It is what owning a business in Houston is all about. We have marshalled our forces to help each family that needs help in our area.
I hope we never see anything like this again in our city. But what I do know is that this has made us all appreciate Houston and its commitment to our neighbors. As I think back over the last 50 years, this has been one of the best moments for our city, born out of the worst of circumstances. I am just glad that we could make something a little better for someone.