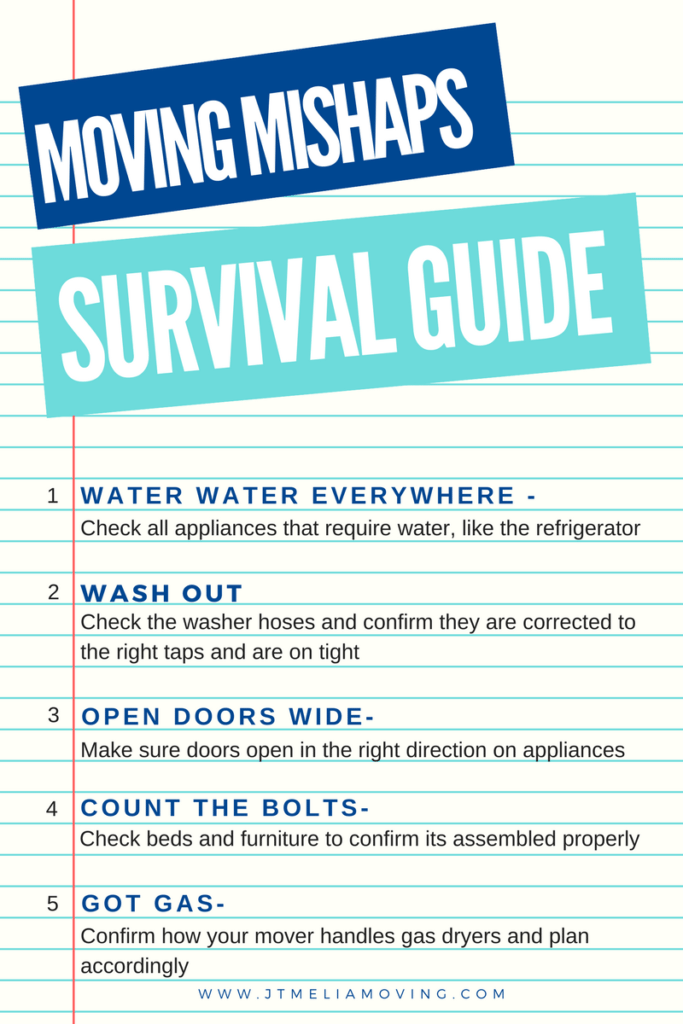 As anyone who ever has moved knows, moving day is stressful and wrought with unforeseen issues that arise. By the time you reach the end of the day all you'll want to do is sit down on your hopefully unbroken sofa and put your feet up on your unscratched coffee table.
But as we all know, it doesn't always work like that.
Before you sit, you hunt through the box, find a glass and head toward the water dispenser on the fridge. Although your glass is empty, you find yourself standing in a puddle in your kitchen because the water line wasn't connected properly.  This is a fairly common scenario and it's easily avoided with a little pre-planning. Here are some tips to help check your moving company before you pay them and they leave you trying to figure out what's next.
#1  Water, Water Everywhere, Not a Drop to Drink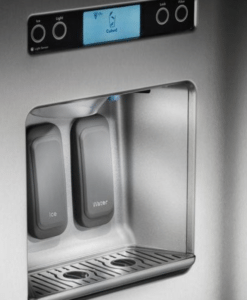 It's safe to say that Samuel Taylor Coleridge never imaged the many misuses of this simple line, but when you move, it is one of the most overlooked issues. Hooking up the water to the Refrigerator leads our list of things to check.
There are a few different ways this one makes for an issue. Of course, the obvious is no ice or water, but this is probably the least damaging. The tube that brings water to your refrigerator is often made of copper. It's probably the best idea to pick up a new one. Amazon, Lowe's and of course the local Ace Hardware have replacements.
In replacing the tubing, you get new hardware, washers, and fittings that will help ensure that the pipe does not leak. The slow drip is a common issue most people don't see until long after the movers leave. Beyond that, copper can be a very soft metal and bending can kink it, puncturing the water line and making an even larger hazard.
But if you choose to go with the water line your new house comes with, make sure that the water line is hooked up to the refrigerator and it has been tested not to leak.
#2 The Leaky Washer
Washing machine mishaps are another common issue if the mover does not pay attention, and you can be left with a variety of problems. The most common issue is a missing washer for the water lines. Although it's not your moving company's responsibility to make sure the plumbing connections to the washer are good, it is their responsibility to hook up the machine after they set it into place.
Again, a recommended trip to Lowes to get a package of washers will be an important step to ensure a tight seal, although it doesn't stop a few other issues that go beyond a slow drip.
One of the biggest issues we've seen with washer hookups is the reversals of the cold and hot water lines. The positioning of the taps on the house and on the washing machine can vary wildly. So, although it's an honest mistake, a formerly white shirt that's now turned red will be shocking to find out the hard way.
The way to test this is very simple, and also allows time to make sure the washer drain was attached properly.  Start a wash cycle that will feature hot water only. By doing this, it confirms that not only are the water lines hooked up properly, but it also checks the hot water prior to you bumping your nose on a cold shower.
We understand that these things should be easy tasks, but at the end of a long day, it's easy to forget the simplest of tasks.
#3 Open Your Doors Wide
Did you know the door on your refrigerator can swing in different directions? The first time we experienced this was many years ago when we hired a mover in Houston to help us move from our apartment in Humble to our new house.  Our refrigerator doors opened the way they came from the factory, and as they slid it into its spot in our new house, it was painfully obvious it was completely unusable because of the direction the doors swung.
Thankfully, we had hired a professional mover. With a few tugs of a wrench and the tightening of a few bolts, the door opened from the other side. This was our first moving adventure so we learned to ask our moving company to change the way the door opens for us.
Ironically, we moved a few years later into our second new house, and we had to change the door back to the other direction. Our old trusted refrigerator was relegated to a backup in the utility room and it needed its doors changed around again.  Our moving company helped again with changing the doors around.
#4 Count the Bolts
Ever assemble something from IKEA only to have a pile of bolts and screws left over after the project? Well, the last thing you want when you move is a piece of furniture that isn't re-assembled properly. Often this shows up in dressers with mirrors. These improper assemblies can actually pose a serious danger, especially if there are pets or small children in the home.
Additionally, confirm that all your beds, especially daybeds are assembled correctly as well. Daybeds can present a unique challenge to assemble. The frame of the daybed also act as a stabilizer for the mattress support system. Movers also see many different types of beds and bedframes to assemble, so it's always best to give it a once over and make sure all the bolts are present and accounted for.
#5 Do You Have Gas?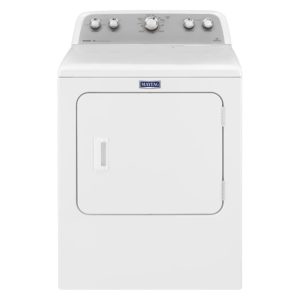 Many people swear by gas dryers. But when it comes time to move one, there are some extra questions that should be asked of the moving company you select; namely, do they disconnect and reconnect the gas dryer?
Most movers would recommend calling a plumber to connect your dryer in its new home. This is primarily for safety reasons, in a sense because not to state the obvious, but a gas leak in a home can be serious. There are some moving companies that will tackle this. But it would be advisable to check and see if they are qualified to do this.
But suppose for a moment you do find a moving company that has a qualified plumber, it's advisable to ask to observe the soapy water test. This is a common method used to confirm the gas connections are made properly.
Regardless of gas or electric dryers, its also advisable is to get a new dryer installation kit for your appropriate dryer model. If it's a gas appliance, this step is far more important. The exhaust hoses can become clogged or not fit properly from attaching and detaching.  According to FEMA statistics (https://www.usfa.fema.gov/prevention/outreach/clothes_dryers.html) , there are approximately 2,900 dryer fires each year caused by impacted dryer lint. So, it's always good to start with new dryer connections. Although your mover will not provide this as part the moving service, it's as easy as a few mouse clicks to order from retailers like Lowes or Amazon.
We understand that moving can be stressful, but following these few simple guidelines can save on added stress and stop further damage or aggravation.