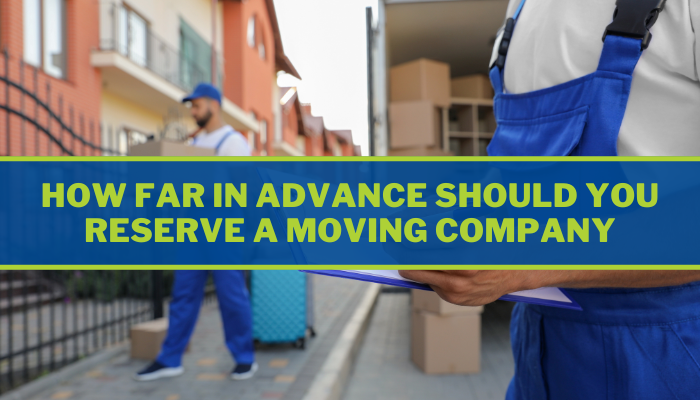 Moving requires attention to dozens of details, but one that is often overlooked is how far in advance should you reserve a moving company? With a definite move in date for your destination, the next priority should be ensuring you can find a reputable and professional Houston moving company to accommodate your timeline. If you do not secure your preferred moving company early enough, you may end up entrusting your personal belongings to a less credible business with a higher damage rate.
If you have moved before, you can vouch for just how many details are involved in the process, from securing the professionals to packing to unpacking, and everything in between. So, the answer to how far in advance should you reserve a moving company can be something that all other details will flow from. Once the movers are confirmed, it allows you to focus on other details that are typically less time sensitive.
How Far in Advance Should You Reserve a Houston Moving Company?
The best answer to how far in advance you should reserve a moving company is as soon as possible. Acting early can give you the luxury of enlisting the help of a company you trust and like, which can make the overall process much smoother.
Some of the things to take into consideration when deciding how far in advance to reserve a moving company include:
Distance of the move. There are multiple levels of preparation required for moving, and typically the more miles away a move is, the more important it is to secure the moving date in advance. This allows for the intense and detailed preparation that long distance and abroad relocations require. For long distance moves, it can be smart to lock in a date up to two months or more in advance. Those that are local generally require three weeks or more advance booking.
Preferred moving month. The summer months can be the most popular time of the year for people to move. This means that you may need to make a reservation with the professional moving company of choice even earlier than planned in order to get the company and accommodations that you want. The fall and mid to late spring months are typically the next most popular because the weather across much of the nation is still conducive to moving, but they tend to be less busy than the summer months. The winter months are usually not as popular due to the challenge of weather. The season in which you move can dictate additional requirements of how far in advance you should reserve a moving company.
Preferred moving date. Once you have an idea of which month you will need to move, give careful thought to the exact date that you book. Try to avoid moving on holidays, weekends, or at the beginning or end of the month when many leases turnover.
Number of items. It is also a good idea to inventory the items you will be taking with you to the new destination. The number of belongings in a one-bedroom apartment versus a two-story house can be significant. The more items there are, the longer a move can take, which makes it important to get on the books with your company of choice as soon as possible.
5 Benefits of Reserving a Houston Moving Company Early
Aside from securing your Houston moving company of choice, the benefits of making a reservation with professionals early on can potentially include:
More options. A move that gets pushed down to the wire generally allows for less options in terms of availability. Because so many people choose to book early, those who wait until the last minute may find that their first, second, and third choices of moving professionals may already be booked. This is not where you want to find yourself with an important life transition ahead.
Better deals. While appointments marked in advance may not necessarily be discounted, they can often be cheaper than those moves that are scheduled at the last minute and that charge basically for inconvenience. Particularly in busy seasons such as summer, booking the movers early could even earn you a special promotion.
The right equipment. People who have specialty items such as a grandfather clock or grand piano may require special moving equipment. By making your reservation early, it can also help ensure you are at the top of the list for the necessary equipment of which there are usually limited quantities.
Freedom to focus on the details. With the experts secured, they can then come out and give you an in-home moving quote. This is generally considered the most accurate way to receive a moving quote as it allows trained professionals to go through the home room by room to properly estimate how many boxes and pieces of furniture will need to be transported to the destination. Once this step is completed, packing can begin.
Less stress. Most people find that with every item they check off on their moving to-do list, they feel a little less stress and more of a sense of accomplishment. When embarking on a move, less stress is one of the best gifts you can allow yourself.
When wondering how far in advance you should reserve a Houston moving company, the best answer is as soon as possible. Doing so can remove many of the unknowns and make planning for the remainder of the process much more straightforward.