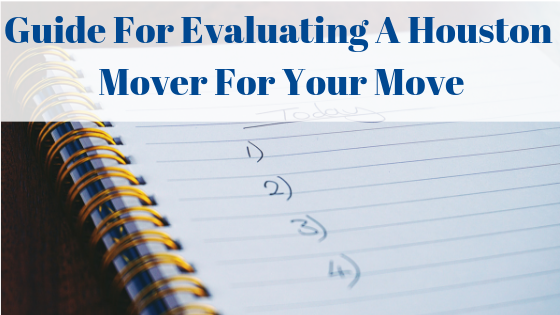 In a city the size of Houston, there is no shortage of moving companies, but some of these businesses are movers only in name. Thousands of families are scammed each year by people presenting themselves as professional movers, when in actuality they are anything but. It's nearly impossible to keep track of these scammers because they are constantly changing their names and addresses. Fortunately, there are plenty of ways to detect a reputable (or disreputable) moving firm before committing to anything.
Know the Scam
The Federal Motor Carriers Safety Administration (FMCSA) is responsible for providing oversight with the moving industry, making them the foremost authority on securing a reputable moving company. And when the FMCSA says that moving scams are a significant problem, that means consumers should be on high alert.
According to the FMCSA, about one in 10 people report major issues with the mover they choose to handle their belongings. Many of these complaints regard "hostage loads," which refers to one of the most common scams in the industry. It typically goes like this:
A consumer finds a moving company, usually online, and requests an estimate.
The company provides an estimate over the phone or via e-mail, and it seems like a really good deal.
The consumer agrees to the move and prepares their things.
A group of laborers shows up, loads everything and delivers an updated estimate to the client. It's much higher than the original estimate.
The client's belongings are held "hostage" by the moving company, which may threaten to sell everything off if the clients doesn't give in.
It can take weeks to recover everything. In most cases, the victim doesn't get everything back, even if they pay the full estimate.
This is a particularly effective scam because a strong sense of desperation can set in, making it difficult for the victim to resist for long. For this reason, most scammers get away with it, and even if they are caught, they are rarely persecuted in any real way. At best, scammed victims can recover their belongings and the extra amount added onto the estimate, but only if they pursue a complaint through the FMCSA.
And the FMCSA is getting a lot of complaints. More precisely, they receive more than 3,000 every year, or more than 10 a day. Clearly, there is a major problem in the industry, and consumers have to do their homework to get a proper feel for a moving firm.
Information is Protection
If there is a standard method to looking for a moving firm, it's using the internet. A quick search for moving firms in Houston will turn up hundreds of hits, but it's important to note that a website does not mean a firm is reputable, experienced or certified to do what they claim to do. For example, just because a company advertises full service moving capabilities doesn't mean they can handle commercial moves. Commercial movers require additional certification, more manpower and more equipment to execute commercial jobs effectively.
Online reviews on sites like Yelp, Angie's List or various moving forums can turn up valuable information on a company, but again, scammers are always changing their identity, so reviews are only good for so long. However, reviews are effective at sifting through legitimate movers that are just plagued with other issues, like a lack of punctuality or professionalism. In this way, online reviews can provide a valuable first filter for moving services. But it's just the start.
After gathering a few promising leads, which can be done by perusing company websites, checking the phone book or asking around locally, it's time to get the process started. Here's how it should go:
Contact at least three moving companies and ask for an in-home estimate. Only accept in-home estimates, as scammers will usually pass up on people who insist on one. If a moving company won't provide an in-home estimate, choose someone else.
Do not hire a moving broker to manage the move. Brokers are mere middlemen who sell a consumer's move to the lowest bidder. They have nothing at stake and provide no services other than a referral, while usually taking a sizeable fee for the job. Brokers will not do the deep research that is needed to find a reputable company.
An in-home estimate helps both the client and the company out, as they can get a good idea of how much work will be needed to execute the move. It also affords the client an opportunity to get to know the company. As soon as a representative from the firm arrives, ask to see their licensing. Moving companies have to provide this licensing when asked, and most will do it willingly to demonstrate that they can be trusted. This licensing should come with a Department of Transportation (DoT) number. Write it down.
Also ask if the company will be subcontracting out the move. Some companies lease out their license to people who may not be qualified or trustworthy enough to handle the job. Allowing a company to subcontract out the move is therefore a risk for the client, and should be avoided.
After attaining a few estimates, review them and determine where any discrepancies are. If a company has provided an estimate based on cubic feet, then it's probably best to avoid that company as well. Volume is easy to manipulate, which is why the industry standard is to base an estimate on weight. If there are any other noticeable differences between the estimates, ask about what services are provided or how much insurance is included, as this may be what is driving differences in price.
Before picking a company, go over all of the paperwork provided during the estimate. This will provide information about the projected dates of the move, the valuation of the client's belongings and details about fees.
Now, here's how to get the deepest possible look into a moving company. The FMCSA operates a database called SaferSys, and this database contains all licensed moving companies in the nation. Consumers can access SaferSys with the DoT number provided by a moving firm. Once a number has been punched in, SaferSys will return a wealth of information on the business. This includes how long the business has been licensed by the DoT, how many trucks it owns, what kinds of moves it is certified to handle, any infractions it has received recently and what insurance it maintains. This step alone can verify whether or not a business is on the level, and it is especially important for commercial clients, as many moving companies present themselves as commercial movers without the proper certification.
One more thing before hiring a company. Reference it online at the Better Business Bureau (BBB). The BBB also receives thousands of complaints every year from frustrated consumers, and the BBB is especially useful for figuring out which moving firms have had a lot of complaints lodged against them. A strong red flag are outstanding complaints filed through the BBB. Unresolved complaints are a sign that a moving firm is not committed to customer service, whether they are a scammer or not.
Don't hesitate to visit the company's offices to get a better idea of how they operate. This can, of course, quickly reveal whether a business is truly legitimate, but it's also useful for figuring out which moving companies are capable and professional. There should be someone there to greet clients. There should be plenty of trucks visible, each with the company's branding.
It's not necessary to pick a firm that also maintains storage facilities, but it does offer peace of mind for clients that are downsizing or aren't sure that they will have space for everything. Moving firms with storage facilities can easily unload everything that needs to be unloaded and take everything else to the facility in one swoop. Otherwise, a client will have to find a second company to store their things.
On the day of the move, make sure everything is done professionally. The truck should be branded with the company logo and name. Make sure it is permanent branding, and not a stuck on sign. The crew should also have uniforms with the company branding as well. All of this verifies that the business has put effort into maintaining a professional image.
All of that may seem particularly careful, but when all of a client's personal belonging are at stake, extra care is needed. Consumers are their own advocate in this area, and with some basic research, it's possible to avoid a nasty situation.
Certified commercial
Commercial moves require advanced planning and additional expertise to pull off, so commercial clients should be a bit more selective in who they hire. The best approach is to figure out how the company handles its commercial moves. How much manpower do they have and what kind of equipment can they bring to the move? Powered lifts and even cranes may be needed if bulky items can't be easily moved down stairs or into elevators.
How does the company ensure the integrity of office equipment like printers or computers? Printers contain ink reservoirs that can rupture with rough handling, and computers contain sensitive components that can't withstand jostling either. Does the company have processes in place to protect equipment like this?
How does the moving service ensure that everything is placed where it needs to go? An extensive inventory will need to be put together to ensure everything is accounted for. Special processes should be in place to guarantee that important files are preserved and are made available immediately at the new property. A commercial moving company should also sketch out a floor plan of the new property with the client to determine where everything is going to be placed. This helps the crew stick to a plan and ensures the client experiences minimal downtime in getting their new property up and running.
Finally, a commercial movers should provide full moving services to a client, including setting up any office furniture and equipment at the new property.
Evaluating a moving company for residential or commercial services can seem like an exhausting endeavor, but it's the most important thing a consumer can do to ensure they hire the right crew for the job.