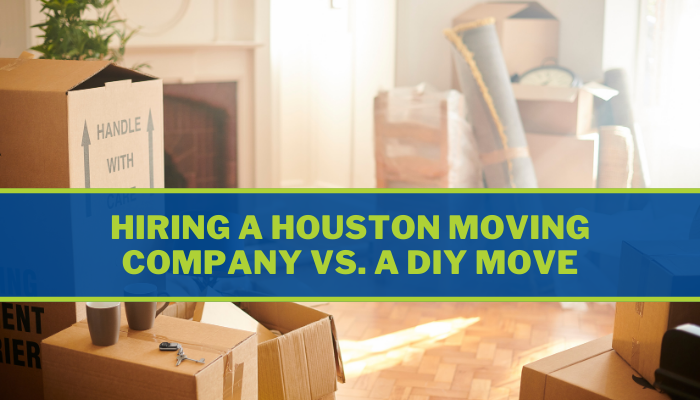 If you are preparing to move in the near future, start thinking about the advantages of hiring a moving company vs. a DIY move ahead of time. One option allows you to delegate much of the packing, unpacking, and everything in between to professionals while the other requires you to do it on your own.
In many ways, knowing where you are moving to can be the easy part. How simple the remainder of the process will be can depend largely on the choices you make regarding who will do your packing and moving. Before making this decision, weigh your options thoroughly to make the best choice for your specific situation.
Considerations for Hiring a Houston Moving Company vs. a DIY Move
Your move is coming up and you need to decide whether to hire professionals or do it yourself, but you can't decide which. The real question is, how do you actually make that decision? For those that are riding the fence on which option is best, it is highly recommended to keep the following considerations for hiring a moving company vs. a DIY move in mind:
Your organization skills and attention to detail. Moving your entire household of belongings and furniture from one location to another works best when it is organized. If organization is not your strength and taking care of dozens of little details gives you a headache just thinking about them, taking this on yourself might not be the best option.
Time savings. Evaluate your timeline for moving. Do you have to be out in a couple of days? Do you have only a small window of time to move from one location to the next? How much time do you have to devote to boxing up personal belongings and loading them into a rental truck? Knowing how much time you have to devote to the move can play a large role in deciding whether a DIY or professional move is best.
Second floor or higher locations. While moving to and from one-story locations may not present major challenges, if either location is on a second floor or higher things can get complicated quickly and often require special equipment. A reputable moving company should already have access to this equipment, but if you go the DIY route it should include finding a place to rent similar equipment for multi-story moves.
Distance of move. While moving to a nearby neighborhood that is less than 20 miles away might be doable with multiple car trips, it is worth considering whether you want that hassle. For moves that are across hundreds of miles or across state lines, a professional moving company may be more beneficial.
Number of personal belongings and furniture. Take inventory of how many items you have to transport. Evaluate how many boxes it will take to contain them all and how many stand-alone pieces of furniture you have. Then think about how much work it will take to load and unload the boxes and furniture, and whether you'd prefer to let the professionals handle it.
Specialty items. Some individuals may own more cumbersome or specialty items such as a priceless painting, an antique grandfather clock, a bulky and heavy safe, or even a piano. These things may require customized packing or crating, or special equipment and dollies to handle safely.
Take some time to go through these considerations one by one and then take a look at your answers. Collectively, they should clearly point to either hiring a Houston moving company or doing a DIY move.
The Pros of Hiring a Houston Moving Company vs. a DIY Move
For many people, the convenience and streamlined method of hiring a moving company vs. a DIY move wins out. With all of the details included in a move, it can be freeing to delegate some of the less glamorous tasks like packing and transporting your belongings.
Seven of the pros of hiring a moving company vs. a DIY move include:
Customize your moving package for only the services you need. Most companies will offer a variety of services including providing packing supplies, packing up your contents, labeling the boxes, transporting items, and even unpacking them if you'd like. Reputable providers will also have the capacity to move specialty items via special equipment or crating. The ability to choose only the services you need allows most people to still be able to use professional movers even when on a budget.
Accurately gauging the number of boxes to be transported as well as the size of the vehicle needed. One of the most frustrating things in a move can be realizing there are almost twice the number of boxes you originally estimated…and on moving day. This impacts both the time it will take to load the truck and if the mode of transportation has sufficient room to accommodate these extra boxes. Fortunately, by enlisting a professional moving company, they can assist in estimating the number of boxes an individual will have on moving day by walking from room to room and providing an in-person quote well before the big day. This key step in preparation can ensure things run much more smoothly from start to finish.
Providing packing supplies. When the professionals are in charge of packing up a home, they typically bring packing supplies with them. This can save the person moving valuable time that would have otherwise been spent running around town to collect all the necessary supplies themselves.
Knowing how to balance boxes. Unbalanced boxes can be harder to carry and more prone to tipping over in transit. Boxes that are packed with uneven weight can even raise the damage rate of items during a move. Having the experts pack boxes is more than just a time saver.
Moving in the rain. Professional movers typically have experience in moving clients in sunshine, rain, and even snow. Some of these weather conditions can present unique challenges, but it should not be anything a quality moving company has not already handled.
Servicing transport vehicles. When working with a trustworthy company, people can check ahead of time to verify that they have serviced the transport vehicle recently to ensure it is in reasonably good working condition. This is not necessarily available when renting a trailer or truck from somewhere other than a moving company.
Having insurance. Professional moving companies should have insurance that helps protect themselves and their customers. Do not work with movers that do not have insurance.
Things to Remember If Doing a DIY Move
The main attraction to doing a DIY move is that it may save some money. And for those people who have a month or more to get ready, the DIY option may be valid for them. However, there will be sacrifices in other areas such as correctly estimating the number of boxes needed, time spent gathering packing supplies, finding friends to help you load up the boxes, owning or renting the right vehicles to move your belongings, and so on.
The more organized and detailed a person is in terms of preparation and implementation of a move, the smoother the transition and even unpacking will be.
Drawbacks of doing a DIY move can be that it will likely take longer to pack and load vehicles. If you underestimate how many boxes you need to move it may require additional packing supplies and an extra vehicle, and it may be harder to move in inclement weather without previous experience in doing so. Although the help of family and friends can be practical, if one or more is unable to attend or becomes sick on the day of the move, you will likely be down a person that you do not have a ready replacement for.
It is a big step to decide whether hiring a Houston moving company vs. a DIY move is best for you. But, by taking the above considerations into account, you can make a more educated decision on which is best for your specific situation, and then focus on the adventure ahead.