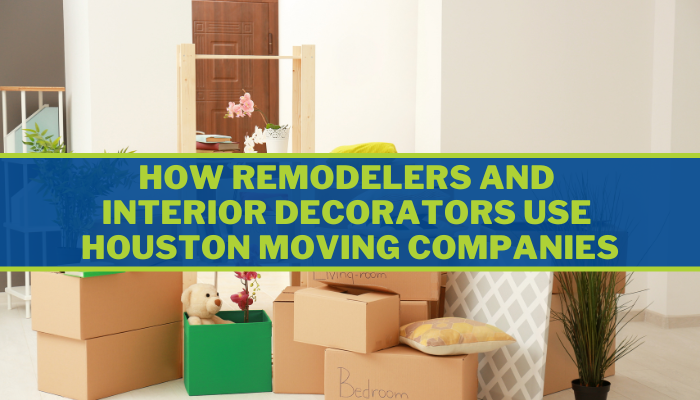 When having a living space redesigned, it is essential to know how remodelers and interior decorators use Houston moving companies to achieve their goal. If you spend any time watching home design shows, you have likely seen firsthand the furniture that goes out of the home and all the new furniture that comes in and takes its place. What may not get a lot of TV time is the men and women that do the meticulous moving of every piece furniture in the process.
Whether it is taking out older furniture from a home that will be repurposed or stored somewhere else, or bringing brand new one of a kind designer pieces in, reputable remodelers and interior decorators should use only the best and most reliable professional moving companies.
The cracking of a new quartz countertop a remodeler plans to install or a damaged piece of personalized artwork an interior designer intends to display are unexpected surprises that cannot be easily remedied. These are not situations that remodelers and designers can afford to experience in their line of work. The key to success can be having the right professional moving company working for you.
How Remodelers and Interior Designers Use Houston Moving Companies
While it can depend on the type of job being done, many home redesigns take place all at once. This means that instead of having furniture or display pieces mailed one by one to the home itself, often times these items are stored in an especially designated area until design day. The challenge for remodelers and designers then becomes getting the specific and sometimes customized pieces to the site. This is a job usually designated to reputable moving companies by using moving services.
More specific ways of how remodelers and interior designers use Houston moving companies to help them leading up to and on design day include:
Moving old furniture out. Remodelers will need space to work, and in some cases the remodeling they need to do could impact adjacent pieces of furniture. For added safety, the furniture may need to be removed from the home until the remodel is completed. Interior designers typically need at least part, if not all, of the furniture removed from a home so they can get any necessary remodeling done and then start with a blank design canvas.
Moving new furniture in. On remodel or design day, handpicked pieces of housing material or furniture will need to be moved from where they are being stored to the home itself. Depending on how the item arrived at the storage facility, this may require some customized crating or specialty packaging to ensure a safe transit in both the moving van and from the van into the home.
Packing up and loading items. While remodelers generally deal with larger pieces such as countertops or cabinetry, interior designers may have big and small pieces that need to be moved. The end goal is to have the items appear at their destination just as they did before they were moved. This may require repacking or customized packaging to ensure that the items are as protected as possible. This may require repackaging from the original box or new packaging if the item was personally bought instead of shipped. Each piece should be packed and labeled accordingly to ensure they are loaded into the moving van with care and strategy.
Transporting items. A Houston moving company can assist with the transportation of items from the storage facility to the design space. Remodelers and interior designers will want to ensure that a professional moving company can move the items from point A to point B and do so safely. A successful project is not one that includes damaged pieces that create a delay for the project and unhappy customers.
Unpacking services. Once items are delivered to the home for remodelers and interior designers, it can be beneficial to have the moving company unpack the items. Sofas may be wrapped in layers of plastic and paintings may be boxed up tightly to keep them protected. This usually helps save valuable time and can help cut down on the work a designer has to do before they can begin decorating the space.
Assembling and installing key pieces. Should some furniture or key pieces need to be assembled and installed, a professional moving company can help with that too. Putting a piece of furniture together can be easier for movers who already have the required tools and training.
When it comes to how remodelers and interior decorators use Houston moving companies, there are plenty of ways these moving experts can help assist to bring a project to completion.
Finding the Right Houston Moving Company for Remodelers and Interior Designers
With so much on the line for redesign projects, remodelers and interior designers should front load their efforts by finding the right Houston moving company for the job. It takes time to do due diligence in this area, but the reward can be peace of mind that is practically priceless.
After focusing on how remodelers and interior decorators use Houston moving companies, the first order of business should be to find the right company to work with. Five considerations design professionals should take into account when hiring a moving company include:
Licensing. This is nonnegotiable. The moving company you select should be licensed and insured. Do not be shy about asking for their Department of Transportation licensing.
Reputation. While it can be helpful to have confirmation from friends and family who have used the moving company themselves, it may be more beneficial to find other remodelers and interior designers who have used the company's services. These reviews will likely be more helpful.
Experience. This is typically a given for designers but is still worth mentioning. Your mover of choice should have decades of experience in the moving industry and have done similar jobs for remodelers and interior designers in the past.
Damage rate. When moving precious cargo to a job site, it is critical to know a company's damage rate. Beware of those who tell you their damage rate is zero percent. It is more reasonable to look for a company that has closer to a one percent damage rate.
Vehicle maintenance. Remodelers and designers are charged with doing a job and getting it completed on time. For this reason, it is important to take every precaution possible to ensure timely delivery such as regular maintenance for moving vehicles.
How remodelers and interior decorators use Houston moving companies can dictate the outcome of the job they are working on. It is best to vet who you are working with so you can have confidence in the process and be proud of a job well done once the big reveal happens.