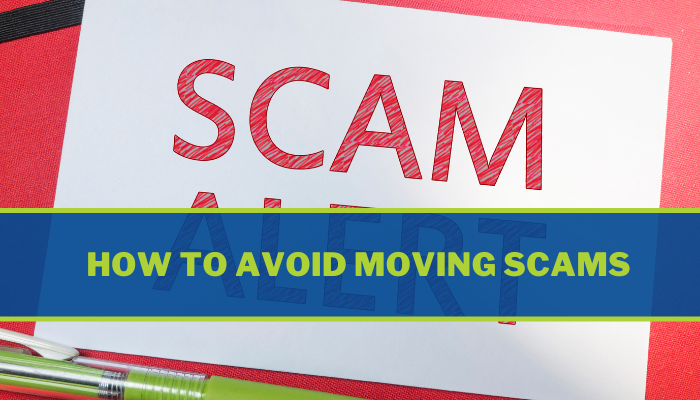 Thousands of families are scammed every year by rogue operators posing as moving companies. Some of these scams cost families all of their belongings – along with the memories associated with them.
If you're about to move, avoiding scammers should be a top priority. Fortunately, if you know what signs to look for, you'll be able to spot a moving scam well in advance.
What Are Some Common Types of Moving Scams?
There are a few ways that rogue operators deploy their scams, so you'll need to be vigilant before and after your move. Here are some of the most common scamming tactics to look out for:
The "no show" – This scam is simple. The rogue operator schedules the move and promises to show up on the specified date. They then ask for a deposit, to secure your spot, they may claim.
Then, when moving day arrives, the movers don't. They may make excuses, like not having an available truck. They may promise to show up on another day. Then, when that day arrives, they fail to show up again. The victim often never gets their deposit back.
The ransom – Ransom scams are a bit more involved. To pull one off, the rogue moving company usually opens up with a too-good-to-be-true estimate, provided over e-mail or phone. On moving day, they show up and load everything on their truck. Once everything is loaded and driven away, the moving crew pulls the scam. They inform the client that their belongings weigh much more than originally estimated, and that an additional fee (sometimes thousands of dollars more) is required.
The rogue operator will then hold the family's belongings "hostage" until these fraudulent charges are paid.
The change-of-address scam – Some rogue operators execute their scams by thieving their customers' identities. Change-of-address scams are the most common moving scams because they only require your full name and address to pull off – both of which the rogue operator has access to.
With this information, the scammer submits a change of address to the U.S. Postal Service. The goal is to intercept anything headed for the customer, which may include sensitive financial information. This information can be used to commit devastating levels of identity theft.
You can avoid the above by selecting a reputable Houston moving company. Reputable moving services put the client first, with friendly communication, transparency, and a commitment to ethical practices.
The best thing families can do to protect themselves is to work with a well-regarded moving company. Here's what to look for during your mover search:
Experience – Experience, especially 10+ years of experience, is a good sign for a professional Houston mover. Scammers tend to be fly-by-night operations that don't have a history of customer service. An experienced moving company has not only built up a reputation – it has proven that its operations and processes are effective.
Positive, detailed customer reviews – Positive customer reviews are always a good sign for a professional mover, but it's better if those customer reviews contain certain details. For example, is the mover's punctuality or communication style receiving praise? Did they work with their client to resolve challenges that came up during the job? These details can reveal the marks of a reputable mover.
Industry certifications – Like most industries, there are numerous trade organizations associated with the moving industry. The American Trucking Associations (ATA) is chief among them and offers the coveted ProMover designation. To attain ProMover certification, the moving company's customer history and operations are verified. The company must also sign onto a code of ethics and agree to the ATA's and FMCSA's complaint resolution processes.
Good standing with the Department of Transportation (DoT) – The DoT and FMCSA are responsible for regulating motor carriers, including professional movers. They maintain a file on every registered mover and track critical information about each mover, including the size of their truck fleet, how long they've been in business, what they're certified to move, and whether they've committed any recent traffic violations or infractions. This information can help families pick out the best-performing movers from the rest.
Some Signs That a Mover May Be Trying to Pull a Scam
In most cases, there are signs that a moving scam is developing before the trap is sprung. Some of those signs include:
The moving company won't accept credit cards, and demands cash only.
The moving company doesn't provide a copy of "Your rights and Responsibilities When You Move" – a consumer protection publication that movers must hand out prior to a job.
The moving company doesn't provide necessary paperwork, like a bill of lading, or the paperwork is blank where fees or contact information should be.
The moving company is either unregistered with the FMCSA, or in poor standing.
The moving company's truck and uniforms don't contain a company logo or contact information.
The moving company won't provide in-person moving estimates.
The moving company has no online reviews, or only negative reviews.
Following your move, it's a good idea to monitor your bank account for any charges associated with an address change. Also, if you receive a change-of-address confirmation in the mail or start receiving much less mail than normal, these could be signs of change-of-address fraud. Follow up with the U.S. postal service to verify that a change-of-address request has been made.
In the end, your instincts are your best defense. If you feel like the mover isn't communicating well, or if you feel like you aren't on the same page with the mover, take a step back and consider the risks involved. Consumers have the right to back out of moving contracts that aren't handled according to the DoT's regulations.
Moving Scams Will Victimize Thousands of Families This Year – Don't Be One of Them
Moving scams can cost families everything they own – but they're easy to avoid if you take the right precautions. Hiring an established, reputable Houston moving company is a proven way to avoid scams, and there are many signs to look for that could indicate potential fraud. Keep an eye on those signs, and you'll steer clear of rogue moving companies.