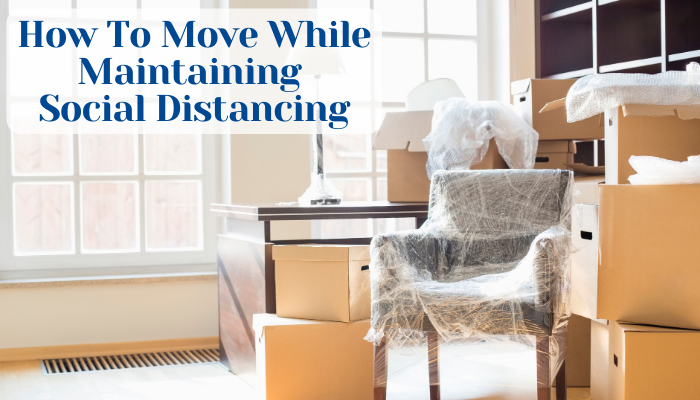 As America faces the second year of the coronavirus pandemic, many find that safety protocols are still making some aspects of life more complicated than they used to be. Despite COVID-19, many areas continue to experience a solid real estate market, leaving many to wonder how to move while maintaining social distancing. By choosing a moving company that is committed to the safety of their employees and customers, especially amidst a pandemic, moving can still be a safe and manageable experience for all.
Social Distancing Recommendations
Currently, the Centers for Disease Control (CDC) is recommending that Americans practice social distancing to slow the spread of COVID-19. The premise of social distancing, sometimes referred to as physical distancing, is keeping a safe distance between one person and other individuals who are not a part of their regular household.
The suggested amount of social distancing is considered to be a minimum of six feet. This means that people observing social distancing should have roughly two arm lengths of space between themselves and others that are not from the same household.
As more states open back up amidst the coronavirus pandemic, many health professionals are still urging the public to observe social distancing in both indoor and outdoor environments since it is believed to slow the spread of coronavirus.
How to Move While Maintaining Social Distancing
Due to the nature of moving, keeping that six feet of recommended social distancing can be challenging at times, but there are some things you can do to stay safe during the moving process, including:
Keep doors and some windows open while the movers are present for good air flow.
Regularly disinfect commonly touched surfaces in the home.
Ensure that you are wearing a proper mask when movers are in the home.
Aim to keep six feet away from the movers if possible.
Wash your hands with soap and water frequently.
Have one or more bottles of hand sanitizer that are easily accessible.
Keep your own pen available for signing receipts and moving documents.
Consider rescheduling if you are not feeling well.
How Moving Companies Are Operating Amidst Social Distancing
Many moving companies are adopting special protocols to ensure the safety of their clients and employees. When hiring a moving company, be sure to find one that observes most of the below procedures for added peace of mind:
Offer safe, in-home moving quotes.
In-home quotes should be offered for the most accurate estimate, and the company should follow all safety protocols.
Wear gloves at all times.
This can help movers keep from getting germs on their hands or transferring germs to an object.
Wear proper masks unless eating or drinking.
This should be done while movers are riding in the van together as well as when working with a customer.
Maintain approximately six feet of distance between themselves and customers.
This must be done as much as possible in an effort to observe the CDC's social distancing recommendations to limit the spread of coronavirus.
Provide each moving truck with paper towels, trash bags, and hand sanitizer.
Movers can immediately and properly dispose of trash and have easy access to hand sanitizer to minimize the spread of germs.
In addition to the above, a reputable moving company will also:
Practice good hygiene regularly
Require employees to alert management if they are having any symptoms that could be associated with coronavirus
Review coronavirus symptoms and safety protocol with employees
Ask employees to let management know if they have been exposed to someone who recently tested positive for coronavirus
Ask employees to stay home if they are not feeling well
Perform temperature checks on active employees before they report for a job
Don't let the coronavirus pandemic hold you back from moving into a new home. By working together with a highly regarded moving company who is dedicated to the health and safety of their own employees and clients, moving while maintaining social distancing does not have to be an issue.