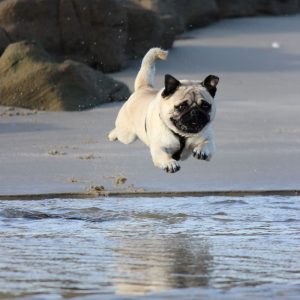 Moving can be just as rough on pets as it is on their humans. If you are planning a move and a pet owner, no doubt you are concerned with how your move will affect your pet. After all, change is hard for pets too! We've compiled a list of ways to keep your fur baby as comfortable as possible during your upcoming move
Preparing to Move with Your Pet
No matter if your moving with a cat or dog, planning ahead is essential. If you're not moving by yourself, it may be a good idea to put someone on pet duty during your move. With one person making sure your furry friend is taken care of, your pet can have some consistency and you can have some relief knowing that your dog or cat is being taken care of
While planning what you'll need for your pet while moving, don't forget to include the following:
Water
Food and treats
Can opener (essential if your pet's food is in a can)
Treats and food
Food and water bowls
Harnesses, leashes and collars
Crate or carrier to keep your pet safe
Rags or old towels (great for those muddy paws!)
Paper towels
For cats: small litter box and cat litter
For dogs: Waste receptacle bags
Your pet's blanket or pet bed
Toys, both old favorites and a couple new ones
Medication for your pet
Before You Move a Pet
Pack up your pet's supplies last before you leave. Visit your vet one last time to get Fluffy or Fido's records to take with you, as well as any advice about keeping your pet comfortable while moving. It's also a good time to update your pet's microchip (if they have one), and your vet can give you instructions on how to do this.
On the Road with Your Pet
For local pet moves, doggy daycare or a cat hotel would be a great idea to keep your pet safe and out of the way for the day of your move. Or, perhaps consider a trusted, pet-friendly family member or close friend to keep your pet at their home while the move happens.
For long-distance moves with your pet, make sure you do research ahead of time for places to stop, such as dog parks, rest stops and pet friendly hotels. Use a travel harness, carrier or crate to keep your pet safe as they travel in your vehicle, and also deactivate the airbag for whatever seat your pet is occupying. For pets that aren't used to traveling, take them on small, short car trips before your move to get them more comfortable with the car.
Air travel will require lot of prior planning and communication with your airline, so make sure you start preparing for this well in advance. Airlines have strict rules about animals on the aircraft that they have to follow; make your arrangements well in advanced. On the day you are flying with your pet, make sure you have all the necessary paperwork in hand as you arrive at the airport.
Once You Arrive
Once you arrive at your new home, set your pet up in a place that's out of the way and ideally with a door that can be closed. Put their items in here, such as their pet bed and food bowls, and let them settle down in that area.
Take a look around your new home to identity any potential hazards your pet might find. Check for things like hidden areas or holes in the walls. An area with a hole behind an appliance may seem like nothing, but for a curious animal, it could mean trouble. Also, if you're moving with a cat, you may know that they are very sensitive to smells. You may want to clean with your preferred, familiar products when you get to your new home to help kitty feel more comfortable in her space a little more quickly.
Once you've been in your new space for a few weeks, make an effort to meet your pet's new vet and drop off those records you collected before you moved. If there's a pet emergency before you've established care, at least your fur baby's records are at a local vet and that could be very helpful in dire situations.
One last thing—make sure you give your pet lots of attention and even more love than you normally do. Moving your dog or cat is tough on them and they need to know you're a constant in a changing situation. Before you know it, you both will be adjusted, familiar and comfortable in your new home!
Do you need other moving services?