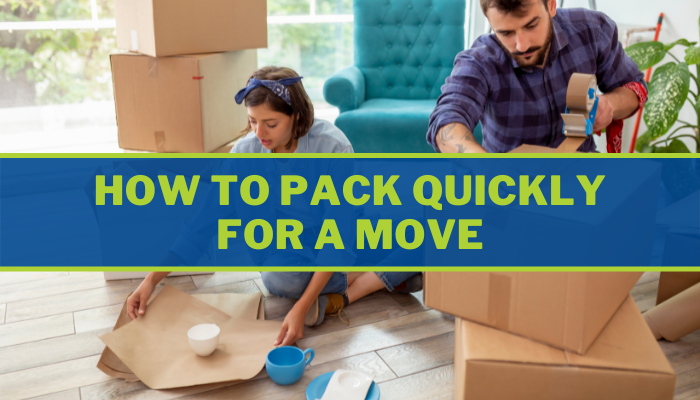 Moving can be a big undertaking, and when time is not on your side, it is essential to know how to pack quickly for a move. Whether it is down the street, to a different city, or across state lines, the process is much the same in that it requires a detail-oriented approach to facilitate everything on time.
While most people tend to begin by starting inside their home, the most important step is to first reach out to a respected moving company. These professionals can be an invaluable source of information when it comes to what to do and when to do it, and they should be able to offer a few tips such as the below on how to pack quickly for a move.
8 Tips On How to Pack Quickly for A Move
Packing is typically something that takes time to plan and execute, but even when on a tight timetable it is possible to pack quickly for a move. To help simplify the process we have put together a list of eight tips on how to do just that:
1. Call a local moving company.
This step should be done first for a couple of reasons. When time is of the essence, it is critical to get on the company's calendar for moving day. Once this is set up, a company representative should be willing to visit your home or business to take inventory of your personal belongings and furniture to estimate the number of items that will need to be moved and provide a quote.
2. Make a "to do" list for moving.
With so many details involved, it is important to have a comprehensive list of action items that must be accomplished for the move. This list will likely evolve as you get closer to moving day so be prepared to be flexible in crossing off completed items and adding new ones in.
3. Gather packing supplies.
When the company provides a quote, ask them a good place to start in determining how many boxes you will need as this can give you a good starting point. To carefully pack your belongings, packing paper, bubble wrap, packing tape, and other supplies will be needed. It is better to get the supplies at one place to help save time. In some cases, the moving company may offer a package in which the supplies are included, so ask your movers before buying packing supplies on your own.
4. Establish a system.
Most home and business owners find that packing up room by room is the most efficient and organized way to get everything done. This keeps the focus on one area from start to finish, making the process more methodical.
5. Pack now.
Some individuals can easily get behind on packing because they are waiting for the perfect time to get started. When a move is happening quickly, any time is a good time to pack even if it is just for an hour. Use your time wisely. It is worth mentioning that many moving companies offer packing and unpacking services. This can be particularly helpful when every minute counts.
6. Declutter as you go.
It is a given that we accumulate things over the years spent living or working in the same space, but we do not necessarily need or want to keep each and every item. Some serve a particular function for a season, but then are no longer necessary. To declutter as you quickly pack for a move, set up two additional boxes for each room—one that is marked trash and the other which should be marked donate. This allows you to easily sort between the things you want to keep, trash, or donate when packing.
7. Pack boxes in a balanced manner.
If you are packing up dozens and dozens of books from a built-in desk into a box, it may become too heavy for the box causing it to break, which may in turn damage the books. Take care in packing boxes in a manner that they are not so heavy the box may break (or injuries may occur) under the weight. Also ensure that the boxes are appropriately balanced with the weight as evenly distributed as possible.
8. Label boxes well.
It can be tempting when racing against the clock to throw everything in a box and worry about where it all goes when you reach your destination. However, this can make unpacking a nightmare at a time when you are trying to settle into a new place. Take the time to accurately label all packing boxes for a much smoother transition.
Getting help from friends and family when it is necessary to pack quickly for a move is a hotly debated topic. For many, extra help is whole heartedly welcomed and accepted. Others tend to think extra people helping may only complicate the packing process. If you do decide to enlist the help of others, consider giving them a task that does not require much sorting, such as packing up standard kitchen items rather than a bedroom.
Be Diligent in Selecting the Right Mover for the Job
In larger cities, there can be a hundred or more moving companies, but be aware that not all of them will meet the requirements needed to ensure a successful move. Some considerations to keep in mind when choosing a mover should include:
Insurance and licensing. Verify that the company is licensed and insured to perform home and office moves.
Experience. Choose a company that has multiple years of experience in moving individuals in residential moves as well as office and commercial moves.
Employees versus contractors. A moving company that contracts helpers may not require those individuals to undergo a thorough background check first. A safer bet is to choose a moving company that hires their employees directly and performs background checks.
Now that you know how to pack quickly for a move, what are you waiting for? Call a reputable professional moving company today to get started!