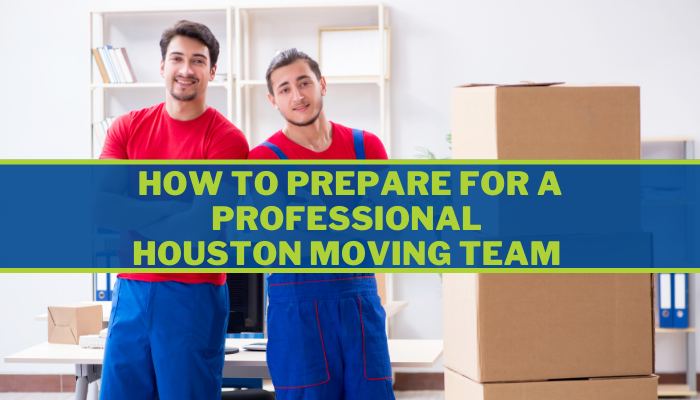 Getting Ready for a Professional Moving Team in Houston
Professional Houston moving companies are efficiency experts, capable of boxing, lifting, and loading a houseful of belongings in a single day. However, as efficient as they are, families can help professional movers do their job even faster by preparing before moving day.
Most of these are simple tasks that only take minutes to manage and can save hours down the road. With these seven moving tips, your moving crew will be ready to get busy on moving day.
1) Sell, Donate or Give Away Anything Not Needed at the New Place
Packing is no fun, so make sure you're only bringing what you truly want (or need) to your new home. Some people preparing for a move find that they have items stored away that they haven't used in years. While some of those items may be too precious to get rid of, there are likely other items that can easily be parted with.
A garage sale is a great way to get rid of some stuff and get a little cash in return, but there's also several online marketplaces where people can sell what they no longer need. This is a good option for selling things of value, like furniture, electronics, exercise equipment, old gaming systems or sports equipment that is no longer used.
Anything that can't be sold may be better off donated or given away to family. Have friends and relatives stop by and take a look at anything on offer. Every item sold or given away is an item your movers won't have to pack into the truck.
2) Pack Anything That Won't be Packed by the Movers
Many people have certain items that they would rather pack themselves. This may include valuables, personal items, or the personal items that will be needed on the first night of the move.
If the professional movers double as professional packers, they will gladly pack anything you don't. That means families can pick and choose what they box up and leave the rest for the moving crew. To minimize confusion and maximize packing speed, box up anything that won't be left for the movers prior to moving day. That way, it's absolutely clear what the professionals should handle once they arrive.
3) Disconnect and Ready All Appliances
If you're taking large appliances to the new home, make sure they're ready for a truck ride. Unplug them and, if you've got the time and supplies, secure any loose cords to each appliance. That'll get rid of any tripping hazards and ensure all cables get there intact.
Most of the attention should focus on the refrigerator(s) and freezer(s). It can take up to 24 hours to thaw out a freezer, and it's imperative to make sure it is thawed and dried thoroughly before moving. These steps will avoid water damage to any of the other items on the truck.
Have some coolers and ice handy for storing any perishable items in the interim.
The morning of the move, take a quick walk through the home and identify anything that could slow the movers down. It could be an extra thick rug with a penchant for tripping, or a set of wall-mounted shelves notorious for banging elbows.
Whether it's on the ground, on the wall, or hanging from the ceiling, remove any potential obstacles sitting in hallways and around staircases. The moving team will appreciate the consideration.
5) Make Sure Someone Can Watch any Children or Pets
If any pets or children are active in the home during moving day, it could be a safety risk, for them and for the movers. If a friend or family member can watch the kids or pets at their place, that's ideal. If that's not possible, consider having someone come over and watch them while they play in the yard or in a room that's already been emptied out.
6) Keep Some Extra Moving Supplies on Hand
There's nothing worse than getting to the end of a move, only to find that you're one box short of finishing the job. On moving day, it's better to be over-prepared than underprepared, so round up a modest supply of moving materials and have them ready, just in case you do come up a box or roll of tape short.
7) Establish a Reliable Line of Communication
It's highly recommended that someone be present at the old and new homes when the movers arrive to provide additional direction and answer any important questions. This may be the last time you'll talk to the moving company directly before everything is loaded on the truck, so it's a good time to clear up any last-second details.
It's also a good time to remind the moving team of your new home's address and your contact information. This is especially important for long distance moves, where it may take several days to see the job to completion.
Preparing for the Professional Houston Movers Allows Them to do the Job with Better Efficiency
Experienced Houston movers can do their job efficiently, no matter what challenges emerge during the move. To get the most value out of moving services, there are a number of steps families can take to give their movers a head start.
Thinning out unnecessary belongings, boxing high-importance items ahead of time, readying any appliances, and clearing the way for the movers are simple tasks that can make a big difference on moving day. Contact a reputable Houston company to make the moving experience less worrisome and more enjoyable all the way around.