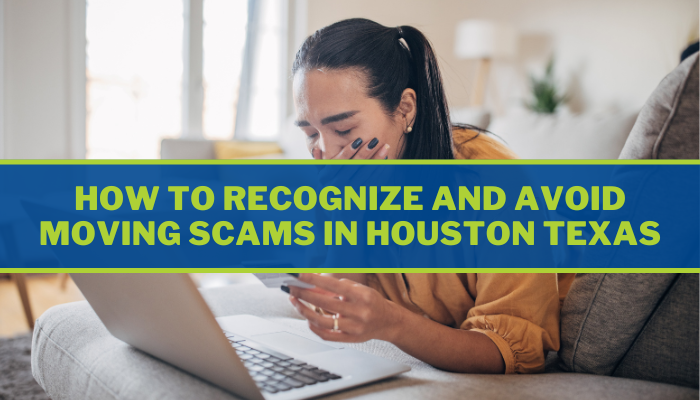 Moving is a big business, which makes knowing how to recognize and avoid moving scams a necessity for the thousands of Americans that relocate each year. Since moving all of your belongings from one place to another can require many actionable items, some irresponsible and unreputable moving companies hope you will become so immersed in all that needs to be done that you will not be wise to the most common moving scams.
How to Recognize and Avoid Moving Scams
One of the top ways to know how to avoid moving scams is understanding what they are and how they work. Not all scams come with a giant red flag. Some of them may even seem plausible at first, unless you are familiar with the way a reputable professional moving company should work. Herein lies the danger.
To help ensure that you are not a victim of moving scams, it's important to know what to look out for. Here are some of the most common issues with rogue movers and things to look out for when choosing a moving company to work with:
Name Changes
It is not unusual for notorious fly by night moving companies to change their name in hopes of ditching a bad reputation and hiding it from past customers, industry partners, and organizations like the Better Business Bureau.
To avoid falling into the name change trap, there are steps you can take. One is to try calling the company and see the company name they answer with. If it is a generic name rather than a specific company name, it may be best to move on. Another way is to compare the address that the company lists with that of Google maps or something similar. Once you have confirmed the address, try looking up the company by the address rather than the name in databases of consumer organizations such as the Better Business Bureau.
Credentials
When searching for a moving company, some people make the mistake of assuming that the business has the proper credentials and is insured. It is not enough for a company to simply say they have these things checked off the list, they should be able to prove it.
This means asking for a moving company's licensing number with the Texas Department of Motor Vehicles and the U.S. Department of Transportation. Ideally, this information should be clearly listed on their website for easy access by customers. It is also critical to ask about the insurance policy the company offers and to know exactly what it covers.
Large Upfront Deposits
Perhaps one of the most obvious red flags an unreputable moving company can raise is the request of a large upfront deposit before moving ever begins. Whether it is requested in cash or another form, paying a large sum upfront well in advance of a move is typically not how reputable professional moving companies run their businesses.
If a large sum is paid before a move with almost nothing due upon final completion, the customer has essentially nothing to keep the moving company honest in following through on the agreement, especially if they did not take the time to read the fine print on the contract they signed.
The best way to avoid an issue is to not go with a moving company requesting an unusually large sum before a move is complete. If you are unsure if the sum they are asking for is considered large enough to be a concern, at least consider charging it to a credit card. This way, if there is a problem, the credit card company may be able to help in addressing potentially fraudulent activity.
Phone or Internet-based Quotes
In a world in which almost anything can be bought or arranged online or over the phone, getting an in-person quote can seem like an inconvenience. However, going that extra mile provides a certain level of protection.
Companies who offer moving quotes over the phone or internet are often incorrect in properly estimating moving costs. Moving prices can in part be based on how much items weigh. If the person moving estimates that they will have twenty boxes and ten pieces of furniture only to find out on moving day that they have fifty boxes and thirteen pieces of furniture, they will be charged extra (and possibly at a different and higher rate) for going over what they originally estimated. Moving companies who rely on phone and internet-based quotes know this and will often charge customers an exorbitant fee for extra boxes and furniture.
The best way to avoid falling victim to this scam is to have a representative from the moving company come to your home in person to visually take inventory of your personal belongings before providing a quote.
Incomplete Inventory for Quotes
People moving should be aware that having a representative from the moving company come out to the home for an in-person quote is a great start, but it will only be effective if that individual performs a complete inventory of a person's home.
To get an accurate inventory estimate, representatives should be opening cabinets, checking inside closets, surveying the garage, and inquiring about any items in storage units that will also need to be moved on the truck. It can be wise for the homeowner to walk the company representative from room to room to ensure this is done properly.
Additional Fees
In learning how to avoid moving scams, being aware of additional fees should be at the top of a homeowner's list. Particularly for less reputable companies, sneaking in additional fees that a customer may not read through before signing a contract is a common scam.
Also, do not be afraid to ask your movers if they charge extra for moves involving a home that is not a single story or that is an apartment or condo in a high rise. Ask how much extra it will be to do special packaging or customized crating for particularly fragile or cumbersome items.
Lastly, do your due diligence by asking the right questions, but then take extra care to ensure that each of these areas is addressed in the final contract and at the same exact terms you previously agreed on.
Unwritten or Blank Contracts
One of the oldest scams in the book is to make a verbal agreement rather than in writing. Or, to have a customer sign a blank contract that will supposedly be filled in later with verbally agreed upon information. This is a red flag of epic proportions, and if a customer spots it, they should cease engaging with that moving company immediately and refrain from signing anything.
To avoid this scam, verify that all moving contracts are thorough and complete before you sign anything. No matter how well you know the mover or have worked with them in the past, do not sign any contract that is blank or rely solely on a verbal agreement. The person moving should have a contract complete with a valid moving quote before signing. Anything less is unacceptable.
Fine Print in Contracts
It is not enough to ensure that the price the company quoted you is right and that the fees they mentioned are as they said they would be when it comes to contracts. It is essential to review every word of the fine print in moving contracts.
This can mean reading a contract thoroughly to ensure that a mover does not invalidate the aforementioned numbers by including a clause that says the agreement can be voided in certain circumstances. Always read the fine print of a contract before signing. If you have any questions about the contents of the contract, address them and have them changed in writing before signing.
Lack of Branding
If the moving company you consider has no branding on the vehicles that show up for moving quotes or on the moving van itself, this could be a big concern. Reputable moving companies have their name and branding on vehicles used for moves because they want to create awareness of their business and services. Vehicles that do not have this information may mean the company is trying to fly under the radar and does not want to bring any attention to themselves. Save yourself from a potential disaster and ensure that the movers you choose have proper branding on their vehicles.
Zero Percent Damage Rates
As nice as it would be for a moving company to have a zero percent damage rate for items that they move, it is also rather unrealistic. Things happen whether it be an unbalanced box that tipped over, a partially cracked glass panel that completely fell apart, or even a dropped box. A company that tells their clients they have a zero percent damage rate may not be completely honest.
Instead, look for movers that have closer to a one percent damage rate and have been operating for a good number of years. This can indicate that the movers are careful with belongings and that trucks are loaded in a way that can better protect the contents.
When determining how to avoid moving scams, one of the best ways is to simply focus your efforts on finding and choosing a reputable Houston mover. This can be done by asking friends or family for recommendations or even checking online reviews. While an excellent start, it will require more follow-up.
Be sure to read consumer reviews, check the company's moving licenses, and ensure that they offer all of the services you will need. Even if you only need moving services rather than packing or unpacking, it can still be wise to sign with a provider that offers these in the event that your circumstances change and you require additional help.
Education is key in avoiding moving scams. Choose a reputable Houston company to work with to make the moving experience less worrisome and more enjoyable all the way around.