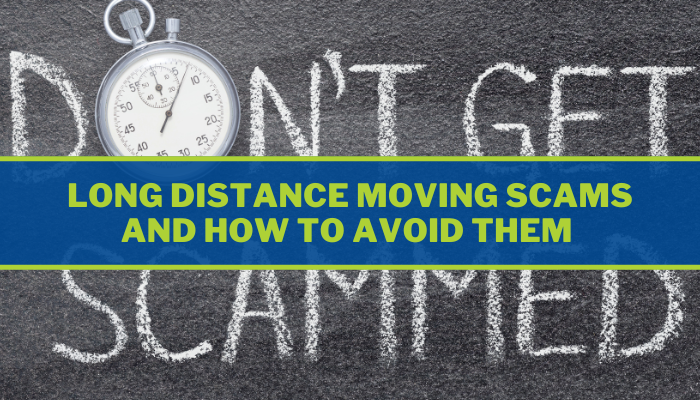 If a move is in the near future and you've done a bit of research, you may have come across the term "rogue movers," otherwise known as scammers. These unscrupulous "companies" are an unfortunate fact about the moving industry. Every year, the Better Business Bureau receives thousands of complaints regarding companies in the moving industry. In 2022, more than 13,000 complaints were recorded. On top of that, more than 1,000 relocation companies on the BBB have a glaring "F" rating due to unresolved complaints and accusations of outright fraud.
Moving scams are a real threat to relocating families, but it's not all bad news. Reputable moving companies do everything they can to earn trust with their clients, so it is somewhat obvious when a moving crew is about to go rogue and pull a scam.
Read on to learn about some of the most common long distance moving scams, and how relocating families can avoid them.
Four Common Moving Scams to Look Out For
Rogue movers have come up with a few ways to pull off moving scams, each one designed to put their client in an uncomfortable position before demanding additional money. Here are four common examples:
The Too-Good-To-Be-True Estimate
Before anything is signed and confirmed, the moving company will first provide an estimate for the job. This estimate, when performed properly, is meant to be as accurate as possible. Moving services charge by weight, and if the actual weight is higher than the estimate, the client may be responsible for paying the difference – depending on the type of estimate they've been provided.
Scammers take advantage of this by providing an upfront estimate that's too low to be true. In many instances, this estimate is given over the phone or via e-mail, and it's impossible for moving companies – even experienced ones – to provide an accurate estimate this way.
When a moving service only provides a remote estimate, and when those estimates are extremely low, that's a bad sign. Chances are, once everything is loaded on the truck and weighed, the actual price will be exponentially higher in comparison. If that's the case, the rogue mover will typically demand the difference immediately to continue the moving process.
The Ransom Scam
Once a rogue mover has control of the client's belongings, they have a literal ton of leverage. Scammers use that leverage to hold the client's items "hostage" until they fork over additional cash, using unexpected fees as justification.
Sometimes, this scam isn't pulled until the moving crew arrives at their destination. Other times, the scam may be executed during transit and without any idea of where the moving truck actually is. When customers go through this experience, it's common for them to pay the ransom only to never receive their belongings. If they're lucky, the truck will eventually show up, but it may be extremely late and there will often be things missing.
The Hidden Fees Scam
Moving companies may tack on additional fees for things like moving items upstairs or having to deal with tight parking or moving conditions. Rogue movers may take this approach to an obscene level by adding numerous hidden fees to the final bill. This is frequently done in combination with a too-low estimate, so it's a variation of the old bait and switch.
Don't sign anything until you've read it completely – up, down, front and back.
The Deposit Scam
If a moving company asks for a deposit before beginning a job, that's not necessarily a red flag. Even reputable services may ask for a modest deposit during the peak season as this essentially reserves a time slot during what may be an extremely busy time.
However, if the moving service demands an amount that seems unusually high, caution is recommended. If the company demands the deposit in cash only, that's a definite red flag. Rogue movers avoid credit card transactions because most have some kind of fraud protection. If they won't take a credit card, that raises troubling questions as to why they would want a form of payment that's non-traceable and impossible to recoup if something goes wrong.
The Red Flags That Point to a Moving Scam
Rogue movers have developed several ways to scam people out of their money, but they're easy to avoid if you know what signs to look for. Each of the following is a red flag that may indicate a potential scam:
They provide a vague or incomplete contract – It's absolutely critical to read all given paperwork before agreeing to anything. This includes going over the contract with a keen eye because this is where the mover must provide a list of all the fees. Moving contracts may be unexciting reads, but a reputable company will be as thorough as possible with their contracts and ensure all possible fees are explained here. If the mover provides a contract that doesn't answer every possible question about cost or fees, they may be tacked on at some point without a clear explanation as to why.And do not, under any circumstances, sign a blank contract. You might as well sign over a blank check.
They don't provide a bill of lading or an estimate in writing – All estimates and quotes should be provided in writing. Clients must also receive a bill of lading that includes an inventory of all goods included in the move. This is a federal requirement, so if the company will not provide one, they may not want any kind of paper trail tied to the fact that they have your belongings loaded on their truck.
They don't provide consumer protection literature – Prior to all moves, the moving service must hand their client a copy of Your Rights and Responsibilities When You Move. This document provides people with information about consumer protection mechanisms in case something goes wrong during the process. For obvious reasons, a rogue mover is unlikely to offer this literature, and that's a huge red flag.
They don't have a branded truck or uniforms – If the mover shows up with an unmarked truck or unmarked uniforms, they may be a subcontracted crew or they may be a fly-by-night scammer with a difficult-to-track rental truck.
They surprise you with unannounced fees – Again, all moving fees should be clearly defined in the contract and estimate. If the mover demands additional money on moving day or after loading everything, there's a good chance that you're being scammed.
They refuse to provide an in-home estimate – Registered movers are required to provide an in-home estimate or a virtual estimate of the home. If a moving company refuses to do so, they likely have no intention of doing the job the right way. Chances are, they're attempting a bait-and-switch by using a too-low estimate delivered online or over the phone.
They don't have a settlement process in place for disputes – Reputable movers are prepared to enter into a settlement process if their clients lodge a complaint. This settlement process may be handled prior to arbitration, and reputable crews will do what they can to avoid a complaint going that far. If a moving service doesn't regard this as important, it may be because they have no intention of settling complaints when they inevitably arise after a scam.
They aren't registered with the FMCSA and do not have a DoT number – All motor carriers (professional movers) are required to register with the Federal Motor Carriers Safety Administration (FMCSA) and attain a Department of Transportation number prior to accepting jobs. A reputable mover will provide this information on request. Rogue movers will not.
They have an ugly history of poor reviews or unresolved complaints – This may sound obvious, but if a moving service has a terrible rating on the BBB and a list of unresolved complaints, you just may be the next person to write a negative review if you hire them.
Fortunately, Long Distance Moving Scams Can Be Avoided
Above all else, it's important to remain vigilant when looking for a moving company. Talk to several businesses before choosing one, get a feel for how reputable services communicate and handle the estimate process. You'll likely find that there's a stark difference in communication quality, thoroughness, and attention-to-detail between highly-rated moving companies and low-cost, low-reputation companies.
As your mover will be responsible for just about everything your family owns, at least for a while, stick with the mover that's a proven professional, and not a potential scammer.