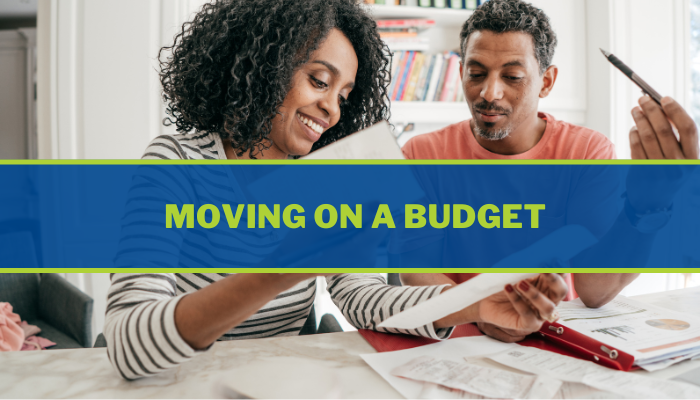 Moving on a Budget: Six Tips to Minimize Your Moving Costs
Moving can be challenging in many ways. It's time-consuming, it's exhausting, it's a handful to organize, and it costs money.
However, there are viable solutions to all the challenges listed above, including moving on a budget. Don't have the time, energy or logistical bandwidth to handle a move? Consider hiring a reputable Houston moving company to help. While most people wouldn't think of this as a budget-friendly option, professional movers bring experience, muscle, and organization to the job, simplifying the entire process for busy families.
There are also tried and true methods to reduce expenses during a move. Implementing some or all of the tips below can help save money on moving costs and make moving day much smoother.
1) Pick an Off-Peak Date to Move
Like many industries, the moving industry has a peak season – one that runs from the middle of May (right when school gets out) to the middle of September. During this stretch, moving companies fill their itineraries quickly and may even increase their rates to account for higher demand.
As the consumer, the objective is clear – avoid peak moving times if at all possible. If a move can be put off until late fall or winter, you're much more likely to secure favorable pricing. The same may be true if you're willing to move during the middle of the week instead of the weekend.
Another perk of moving during off-peak season is that it will also be easier to secure the perfect date for your move, as there will be less competition for the best spots.
2) Choose an Experienced, Local Moving Company for the Job
Professional movers can help families save money by saving tons of time – and time is money, after all. However, you'll want an experienced moving service to manage the job – one that has a reputation of efficient, reliable work, and one that is familiar with Houston and the surrounding areas.
Experienced moving companies know how much manpower to dedicate to a job. They know what kind of truck to bring, what belongings they'll be expected to handle, and everything they'll need to make the move as efficient as possible.
If the goal is to complete the moving process as soon as possible, sticking with an established Houston moving company is your best bet.
3) Handle as Much of the Packing as Possible
Professional movers can also act as professional packers, if need be. Opting for packing services can also accelerate your move and, even better, take on all that packing-related stress.
However, if cost is a concern, there's nothing wrong with getting a jump start on packing – even if it's just the easy stuff. By packing away as many items as possible, your movers will spend less time on sticking things in boxes and more time on other moving-related tasks.
Remember, moving companies charge by the hour, so saving your movers time will also save you money.
4) Look Around the House for Additional Moving Supplies
It's a good idea to have some high-quality moving supplies on hand. Multi-walled boxes, bubble wrap, furniture pads and blankets can keep your belongings safe and sound while in transit.
However, you likely don't need those premium moving and packing supplies for all of your items. Yes, you may want to wrap your fine China in bubble wrap, but for your everyday dishware, for example, some towels or newspaper will often do the trick.
Choosing to repurpose some of your household items into makeshift moving supplies will save a little extra money. Bedding, pillows, newspaper, towels, rubber bands (or hair bands), twist ties and more call all be put to use for moving purposes.
5) Get Rid of Anything That Doesn't Need to be Moved
If you've lived in your current place for many years, you've likely collected plenty of things along the way, and maybe some of those things no longer bring joy or add value to the home. One of your moving objectives should be to identify what items fall in this category and get rid of them before moving day. Labor, time and truck space are all at a premium, so don't move anything you don't have to.
Ideally, anything with value can be sold – either through a good old fashioned garage sale or through an online marketplace. Anything that can't be sold may be better off donated or given away.
6) Ensure Everything is Ready for an Efficient Moving Day
We've mentioned efficiency a couple times already, but there's no doubt that a quick move is a less expensive move. As such, it's worth ensuring the home is ready to go before the movers arrive.
Make sure there's enough space for the moving truck to park as close as possible. Get any vehicles out of the way. Measure all doorways and verify that bulky items like furniture can fit through. Defrost the freezer and make sure it's dried thoroughly. Ensure the moving team will have gate access, if the community is gated. Clear all walking paths leading from the house to the front yard.
If the professionals can get started right away and work without interruption, that will save time and ensure the moving crew's safety.
Moving on a Budget is Possible with Some Creativity and Planning
Moving is a sizeable commitment in both time and money, but there are things people can do to bring their moving costs down. Many of these tasks take minimal effort and will help in other areas of your move, so they're worth considering. A professional moving service, for instance, can greatly reduce the time your move takes, which can offset the price of hiring Houston professionals. In the end, many families determine that it's worth it, even when moving on a budget.