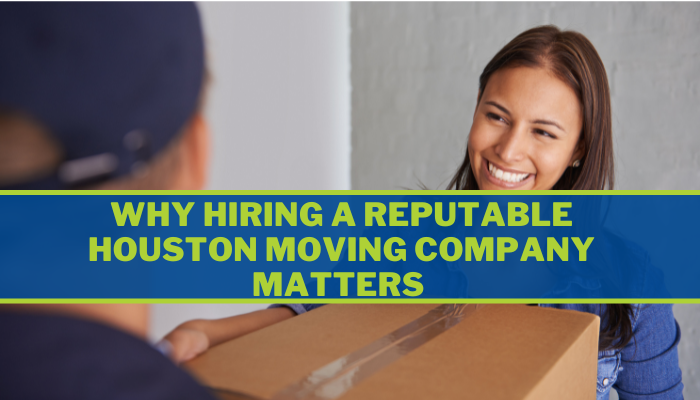 According to the U.S. Census Bureau, about 27 million Americans packed their belongings and moved in 2021, and many of those jobs were managed by professional movers. While many people chose to go it alone, others learned the hard way why hiring a reputable moving company matters.
Each year, the Better Business Bureau takes thousands of complaints from people whose belongings were damaged or outright stolen by rogue movers.
Whichever moving company you choose to work with, they'll be trusted with all of your family's personal possessions. This is a big responsibility, so it should only be trusted to a reputable, proven moving company.
Why Hiring Professional Movers Makes Sense
No matter how far you're going, moving can be stressful. It's even more so when doing it without a professional's help.
An expert team can take charge of the process, ensuring everything is handled on time and with attention to detail. Specifically, these are some of the services professional movers offer:
Packing and unpacking
Loading and unloading
Transport
Furniture assembly/reassembly
Specialty services, like moving a piano or a safe
To an extent, clients can pick and choose which services they want. Further, clients can choose to what extent they need a service like packing. The family can pack up some of the load and let the movers handle the rest. In this way, families can balance cost, privacy and convenience when arranging moving services.
This flexibility is a major reason why many partner with professional moving companies. With a reputable crew, families can customize their move, maximizing convenience while controlling costs.
Three Reasons it is Important to Choose a Reputable Mover
Professional moving companies simplify moves, save time, and may be necessary if the physical toll of moving is just too much. Whatever the reason for hiring a professional, it's important to hire a reputable team to manage the job. Here are three reasons why:
The cost of a moving scam can be extreme – Thousands of families are affected by moving scams every year, by so-called "rogue movers" that prey on unsuspecting people. While any type of moving scam is worth avoiding, some are particularly devastating. During a "ransom" scam, for example, the rogue mover holds the client's items until additional money is handed over. In some cases, the belongings are never recovered.There is zero risk of something like this happening with a reputable mover, and the peace of mind is worth it.
Reliability and prompt communication – Moves can be extremely challenging from a logistical standpoint. Inexperienced and less reputable crews may be too overwhelmed (or careless) to stay on schedule with your move. If they're disorganized, they may show up with a truck that's too small for the move. They may not have storage facilities on standby to handle overflow.Poor communication is also common among less experienced movers. And if there's one way to add stress to a move, it's not being able to contact the people with all your personal belongings.Reputable moving companies prioritize reliability and communication, with a commitment to customer service that's designed to minimize all moving-related stresses.
The use of high-quality equipment and materials – Reputable moving companies are well-resourced, with equipment and manpower for any type of job. These crews also use quality packing boxes and materials, all in the pursuit of getting the client's belongings to their destination intact.If special moving equipment is required – like a piano foot, powered lift or crane – an expert moving team will have them ready to go.
Observance of best practices and FMCSA regulations – The Federal Motor Carriers Safety Administration (FMCSA) is the regulatory body over the moving industry, and it requires professional movers to observe certain practices for consumer protection purposes. For example, moving companies are required to provide clients with an in-person or virtual estimate, as well as certain pieces of paperwork for transparency.Reputable businesses take consumer protection seriously, so they'll have no trouble adhering to the FMCSA's rules.
How to Find Reputable Moving Companies
When looking for a reputable mover, it may be hard to tell whether a company is trustworthy or rogue at first glance. If you've checked reviews, verified with the BBB and still have questions, here are some of the red flags that suggest a moving business may be trouble:
They don't provide clear, thorough paperwork – Moving companies are required to provide a bill of lading – think of it like an inventory of everything being moved – and a transparent fee schedule that includes all potential fees. Many scammers try to hide their fees and will not provide a bill of lading, so consider these major red flags.
They aren't registered or licensed through the FMCSA – Professional motor carriers must remain in good standing with the FMCSA and its parent agency, the Department of Transportation. The first step to do this is to maintain a viable DoT license. This license number is typically printed on all paperwork and posted on all moving trucks. If it's difficult to find, or if the moving crew won't provide one, pick another mover.
They don't have a branded truck or uniforms – Reputable moving companies place value on professional presentation. That means a properly branded truck and uniforms. Rogue movers typically won't bother with either.
They won't provide an in-person or virtual estimate – It's extremely important for moving services to see the home prior to providing an estimate. It's essentially impossible to provide an accurate quote without doing so. That's why reputable companies will insist on seeing the home first. Rogue movers execute many of their scams by providing a too-good-to-be-true estimate over the phone or through e-mail. If they won't give an in-person or virtual estimate, that's not a good sign.
They demand a large deposit before services are provided – It's not uncommon for moving companies to ask for a deposit during peak moving season. However, this deposit tends to be modest, as it's only intended to lock in services and reserve your spot. Scammers, though, may insist on a large deposit that's out of line with expectations. If the moving company demands such a deposit, they may pocket it and disappear, never to be heard from again.
For the Most Efficient, Least Stressful Moving Experience, Pick a Reputable Team
Reputation matters in the moving industry. With thousands of moving businesses throughout the country, it can be tough to tell which ones are the experts, and which ones aren't.
A moving company with a strong reputation – built on proven experience and client satisfaction – is a moving company that can be trusted with any, and every, part of the process.