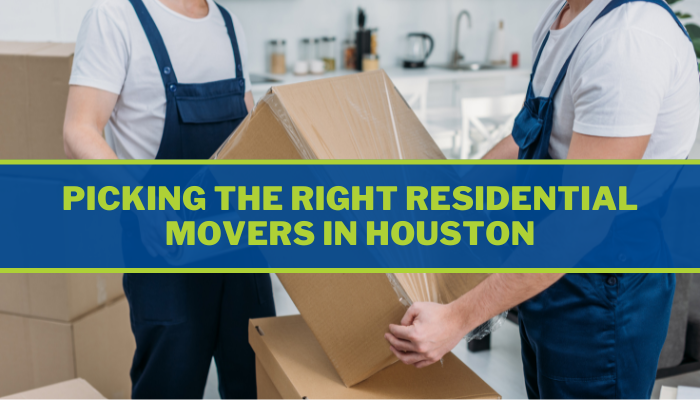 Houston is undergoing a population boom, ranking as a top three metro destination for people moving to a new urban area. That means residential moving companies in Houston are busy, with new families arriving weekly.
Whether someone is moving across the state or from one side of Houston to the other, a professional Houston moving service can make the transition much easier and faster to handle.
However, that's only the case with the right residential mover. There are plenty of services to choose from in Houston, but they vary widely in experience, resources, capabilities and commitment to customer satisfaction.
What Happens if People Choose the Wrong Movers?
So, what are the risks of working with an inexperienced or disreputable moving company? Here is what families might face if they hire the wrong mover:
A costly moving scam – The worst-case scenario is the dreaded moving scam. According to the Better Business Bureau (BBB), there are thousands of them every year, and they can be devastating for families.A moving scam may involve demanding a large deposit upfront (and then never showing up), loading everything up on the truck (then asking for additional fees not presented beforehand), disappearing with the truck (along with your belongings), offering a too-low estimate upfront (and then increasing it on moving day).Moving scams can be expensive, heartbreaking experiences for families to go through, but by hiring a reputable moving company, scams can be avoided.
Damage to items or the building – An inexperienced, poorly trained or poorly resourced company is more likely to make damaging mistakes during a move. If there's damage to the building, the client may be responsible if the crew isn't insured. At the least, it may necessitate a frustrating repair.Sloppy work processes or low-quality packing materials can also result in damage to the client's items. And with a disreputable moving company, you'll likely be responsible for that damage.
Delays during the process – Inexperienced and under-resourced companies may find themselves taking on too many moves at once. They may not have robust internal communication processes in place. They may not have enough manpower to cover the job.Issues like these regularly result in delays, which may be out of the question if your move is for time-sensitive reasons – like for a new job or a house closing. With experience, moving businesses gain command of their logistics and can promise better punctuality and reliability, as a result.
No form of customer protection – It's a major red flag if a moving service cannot offer a backstop for customer disputes. If they aren't insured and bonded, if they aren't affiliated with professional organizations like the ATA, if they aren't licensed by the FMCSA – you're vulnerable as the client. If something goes wrong, there may be no means of attaining restitution.
Chances are high that your residential movers will be responsible for some of your most treasured belongings. A professional, experienced moving crew will ensure those belongings arrive on time and intact.
Six Tips for Finding the Right Residential Mover in Houston
With a city as large as Houston, choosing the right moving company can be challenging, so here are six important considerations to help guide your decision:
Experience in the Houston area – Experience is always a nice-to-have with moving companies, as it's through experience that moving companies develop their processes, acquire additional equipment, expand their capabilities, and deliver better customer service. There's a lot of turnovers in the moving industry, and for a company to survive for decades, it must constantly maintain its positive reputation and ability to deliver.If you're moving to or around Houston, you'll want a moving company that's familiar with the city. Residential movers familiar with the city's traffic patterns and best routes will get the job done faster. If they have a strong Houston presence, your residential mover may also have storage facilities that can be utilized if space issues come up.
How the company performs its estimates – Residential movers are required to perform an in-home or virtual survey of the home prior to providing an estimate. This survey is critical for sizing up the job and creating an accurate cost quote.If the moving service insists on providing an e-mail or phone estimate without seeing the property, that's a concern. It's generally impossible for a moving company to make an accurate pricing estimate without a visual survey. If your moving company isn't interested in accurately quoting the job, it's worth wondering why. It could be a scam, or they may use tacked-on fees after the fact to make up for a lower estimate.
Customer reviews and BBB history – Customer reviews are a valuable source of information, as is the company's BBB history. A swarm of negative reviews is an obvious red flag, though a lack of reviews is also concerning. Some low-reputation companies will change their name and address to shake off negative attention, so a "new" moving company may be a rebranded scammer. If a moving service has a healthy number of positive reviews – written by actual people – it's a positive data point.The company's BBB history can also provide this information. The BBB receives consumer complaints and publishes them for others to review. These complaints can provide valuable insight into how the company operates and whether it represents a high-risk hire. Moving companies have an opportunity respond to these complaints and work to resolve them, which is a sign of good faith.
What moving services you'll need – Your moving needs may cover more than loading and driving. If time, health or effort are limiting factors, some full-service moving businesses can provide packing and unpacking, too. They may be able to reassemble furniture at the new place or provide specialized services for large and heavy items such as safes or pianos.Not every moving company is equipped to provide full services, though, so make sure the business can match their capabilities to your needs.
The company's standing with the FMCSA – Residential movers are required to be licensed through the Federal Motor Carriers Safety Administration, a division under the Department of Transportation (DoT). Reputable moving companies will display their DoT license number on their moving trucks in most cases and will willingly provide it if requested.This number can be used to look up a moving company online, through the FMCSA's database. The company's profile will confirm whether they have insurance, the size of their truck fleet, their moving certifications, prior infractions and more. Think of it like a scorecard for a moving business, confirming that the company is in good standing with the DoT.
The company's fee schedule – While surveying the property, a representative from the moving company will be present to answer any questions and provide paperwork. It's a good idea to review this paperwork, as it should include the mover's fee schedule. This fee list should clearly list out all potential costs – you shouldn't have to comb through the fine print to find them.Additional fees may include charges for complex moves (such as dealing with multiple staircases), charges for longer distance moves, and administrative charges – such as those incurred by providing a certificate of insurance to a building owner.If extra fees are present, it may affect affordability. Make sure that these fees are tallied when assessing different professional teams.
Many people choose to ask friends, family, coworkers or neighbors for a recommendation of a good moving company. However, if you're moving to Houston from another area, you may not know anyone in the area, but there are state and professional resources that can help.
For example, the American Trucking Associations (ATA) maintains a database of certified movers through its ProMover program. Homeowners can search the ATA's database to find experienced, qualified movers in the Houston area.
Reputable Residential Movers in Houston Can Make Moving Day a Breeze
As one of the nation's population, cultural and economic capitals, Houston has a lot to offer, and with the number of moving companies in the city, it's important to choose a reputable Houston company with a positive reputation to make moving day something to look forward to.