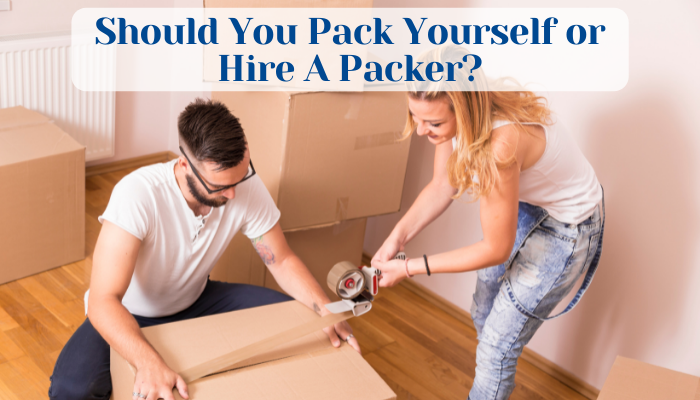 Moving is always a process, but elements of it can be outsourced to help save valuable time and energy, one of which is packing. If you are wondering if you should pack yourself or hire a packer, the thought definitely warrants further exploration. Consider the responsibilities of packing yourself and compare it to the responsibilities of being packed by a professional. Choosing the option that is best for you can make packing and moving a more enjoyable process, from start to finish.
Things to Remember If Packing Yourself
Moving is a marathon, not a sprint, and that sentiment often holds even more true for those that choose to pack themselves. Some things to keep in mind if you are packing yourself include:
It takes a lot of time and organization
There is a reason that an internet search for "packing checklist for moving" gives thousands of results. The sheer thought of packing up a person's life and temporarily storing it in correctly labeled cardboard boxes may be enough to make a person consider hiring a professional. Wrapping, taping, box assembly, packing, more taping, and labeling all take time, which means self-packers have to start well in advance of their move and may not have access to some items until they have finished moving and are finally unpacked.
Furniture disassembly
Large items such as bed frames, dining tables, some easy chairs, china hutches and more may need to be disassembled before they will fit through a doorway. For those individuals that are not mechanically inclined, this can be a challenge that could even result in a piece of broken furniture.
Purchasing and gathering of packing materials
Before packing can begin in earnest, supplies such as boxes, bubble wrap, paper and tape must be purchased, which may include multiple trips to various stores.
Incorrect balancing of boxes
To ensure a box is not too heavy or lopsided, it must be packed with correct balancing in mind and be the proper size.
Advantages of Hiring a Professional Moving Company to Pack You
While packing yourself may help save a bit of money, it can cost you time, energy, and valuable professional knowhow. Increasingly, residents are turning to professional moving companies to assist with packing for the following advantages:
It is faster than packing yourself. Most professional movers can do more packing in one day than an individual could do on their own in a week. These companies move people for a living and have an efficient packing system already in place. This can also be an advantage for not having to do without certain items because they are stored away in a box so far in advance of a move.
It requires less physically. Packing typically requires a large range of movements from walking, standing up, and bending over to put something in a box. The kicker is that these are repetitive movements for packing just one box. Now multiply those movements by the number of boxes each room in a house will yield. Professional movers are accustomed to this physically demanding task, and with a team of packers, the workload can be shared instead of it falling squarely on the shoulders of one person.
It doesn't matter if you don't know how to pack a box. Since professional movers carry boxes back and forth most of the day every day, they have a solid understanding of the best ways to distribute the weight in a box to keep them from coming apart or toppling over. Let the professionals handle packing items safely.
Furniture disassembly is a part of the process. If needed, a moving company's packers will be able to get larger items such as beds and sofas disassembled and ready for loading onto the truck.
Special packaging may be provided upon request. An individual with a fragile or oddly shaped item can usually get assistance with customized packaging for it. This may include special packing materials or a specifically designed crate for a particular item.
A Word About Clutter and Things You May Not Want Packed
Regardless of if you pack yourself or enlist the help of professional packers, there are two additional things to consider before packing begins:
Get rid of the clutter. Especially when pressed for time, it can be tempting to have all of your belongings packed away without sifting through them first, but this is often a mistake. Getting rid of clutter or things that you do not use before packing can result in less packing, less boxes, and less unpacking in the new home.
Some items do not pack well. Whether it is perishable food from the freezer or fridge or potentially hazardous chemicals, many of these items do not pack well or are not safe to put with other belongings. Try to use up most of the food in your kitchen before moving and minimize the amount of potentially hazardous materials you bring with you.
5 Questions to Ask A Moving Company About Their Professional Packers
When it comes to researching a moving company and their professional packers, here are five questions every customer should ask about the company:
Are they insured?
Are they skilled in protecting household goods?
Can they build special crating for some items if need be?
Does the company offer unpacking as a service?
How much do they charge?