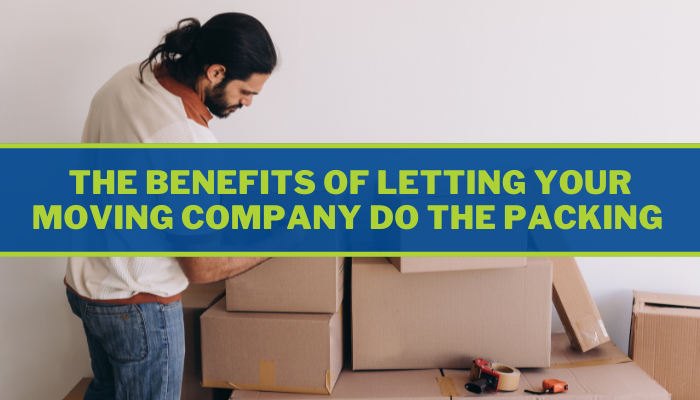 There isn't a single part of the moving process that most consider easy, but packing seems to be the hardest step for many families. It's a difficult dance taking a home apart while people are still going on with daily life. Time, energy, and material can all be limitations, leaving many people feeling overwhelmed by the task.
Something many people don't realize is that there is an alternative to this stress. Experienced, reputable Houston moving companies can also provide packing services, and there are several benefits to working with a professional moving crew.
Did You Know That Professional Movers Also Provide Packing Services?
A full-service mover can execute every part of the moving process, from packing to unpacking and everything in between. For people who'd rather skip the whole project, professional movers can handle everything. And in this case, everything includes the following:
Packing services, including specialty packing services for high value items like art, musical instruments, and game tables
Unpacking
Furniture disassembly and reassembly
Custom crating
Loading and unloading
Transportation
Storage
In this way, moving companies aren't just moving professionals. During the moving process, they're do-everything professionals, including packing professionals. As for packing, here's five reasons why families should leave the packing to the experts:
1) Professional Movers Use Professional Packing Techniques
We've all been there – moving day approaches and you're behind on packing. Speed is now the priority and everything goes into the boxes without too much thought. In our experience, rushed packing is one of the biggest culprits behind item damage. When everything gets piled into boxes at once, it's far more likely for lighter items to be damaged by heavier items, for fragile items to end up in the wrong box, or for other mishaps to happen (like something with fluid inside spilling out).
While packing, professional movers observe smart, efficient packing practices that minimize the likelihood of damage and minimize the number of boxes. Reputable professionals also maintain consistent effort and energy throughout the process, so there's no sloppy, last-minute rush.
Further, moving companies ensure everything is packed to optimize loading, unloading, and unpacking efficiency. They label as they go and plan out where boxes are stored on the truck. That way, professionals prevent anything from sliding around or falling during transit.
2) No Time to Pack? Professional Movers Speed Up the Process Big Time
When packing, the recommendation is to reserve a day for every room that needs to be packed up. The goal is to avoid burnout and the aforementioned rush.
However, in reality, most families can't dedicate consistent time to packing over several days. Instead, they condense the work into a single day and try to push it out. Again, not ideal.
Professional movers can claw back all of that time for families to focus on other priorities. Whether it's sorting out new schools, a new job, nailing down utilities, or just getting an early start to the new home, there is plenty to do besides pack. With a professional crew doing the packing, there will be enough time to get it all done.
3) Reputable Moving Crews Use High Quality Packing Materials
Experienced teams only use quality materials during the packing process, including thick-walled boxes, cushioning materials, ropes, blankets, wraps, and ties for added protection. Moving teams also have special boxes designed for fragile items like a television or artwork.
Inside the truck, movers can tie furniture and heavy boxes down. Moving blankets and wraps are used to protect upholstery and other sensitive surfaces. The goal is to create a tight, solid fit that prevents damage from occurring.
4) With Professional Movers, Families Only Have to Pack What They Want to Pack
The professionals can be flexible with your packing needs. If required, the moving team can handle all of the packing tied to the move, and they can do it with minimal guidance.
Many families prefer to do some of their own packing, even if they'll trust most of the job to the professionals. This is not a problem for an experienced mover. They can pack whatever is left over once the client is done with their own packing. And the more the client packs, the less they'll pay when it's time for the professionals to step in.
In this way, families can customize their packing services to find a perfect combination of cost and convenience.
5) Professional Packing Services Reduce Physical and Mental Strain During a Challenging Time
For some people, expert packer services are a matter of necessity, not convenience. People dealing with injury or illness, for example, may not be healthy enough to navigate the packing process. Others may not have the physical stamina they need to box an entire home.
Then there are the mental stresses involved in packing, which may be too much. Some moves are more challenging than others, and if a move is particularly difficult, packing may be the final straw.
For people who don't have the physical or mental energy to deal with the moving process, the professional movers can provide valuable peace of mind.
Leave the Packing to the Professional Houston Moving Crew
Moving is tough, and packing isn't much easier. That's why many families trust the process to an experienced moving company. With their impressive equipment resources, extensive manpower and proven packing techniques, a professional moving team can get your belongings to the new home on time and worry-free.