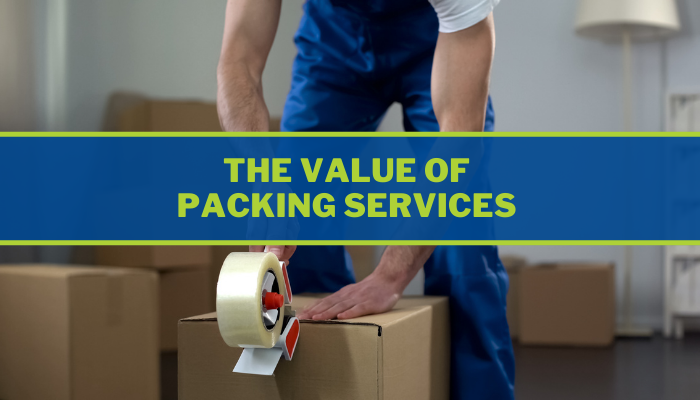 For many homeowners, the most difficult part of the moving process isn't the move itself – it's the packing that needs to be completed before moving day. For packing purposes, the recommendation is to reserve a day for every room – that's more than a week for most single-family homes.
For families that don't have a week to spare or any interest in handling the packing themselves, many professional Houston moving companies offer packing services as a time and stress-saving alternative.
Reputable Moving Companies Provide a Full Range of Services, Including Professional Packing Services
Some movers only move, but experienced, reputable Houston companies can oversee every part of the moving process, including the following:
Packing and unpacking – Professional movers are also professional packers. They can provide all needed packing materials, including materials designed to keep your items safe while in transit. Also, professional packers are trained in the art of safe and efficient boxing and storage. That means minimal risk to the client's belongings and maximum convenience when unpacking.
Speaking of which, professional Houston movers can also unpack everything on the other end of the move, so there's no need for the client to touch a single box.
Lifting and loading – Once everything is boxed up, the moving team will get it loaded on the truck. Professional movers are also trained to load for efficiency and safety, so your furniture and belongings make it to the new destination intact. And, of course, the moving team will also unload all boxes and furniture at the new home.
Transport – Reputable movers have an extensive fleet of moving trucks they can rely on. As such, they can provide the perfect-sized truck for the job and handle the driving. If some of your things need to go to storage instead, a reputable mover will transport them to the storage facility as well.
Furniture disassembly and assembly – Professional movers also have experience in breaking down furniture for moving or storage. For some movers, this includes office furniture and equipment. These movers can also provide the packing and moving muscle for commercial moving jobs.
Storage – Some reputable moving professionals also have storage facilities on hand, and these can be used as a backup option, in case there's not enough room for everything in the new home. This also a valuable option if the new house won't be ready in time.
A reputable Houston mover can provide all of the above, essentially handling the job from start to finish.
Four Reasons to Consider Packing Services Through a Moving Company
Why should families consider packing, specifically? There are several reasons why someone may require professional packing services. For example:
There's not enough time to do the job without help – Again, packing a single-family house can take more than a week. For larger homes, the time cost can be significantly higher. And let's be honest, most people don't start packing until a week or two before the move (if that).
For families that are under a time crunch, professional movers can greatly expedite the process. Professionals have a deep reservoir of manpower and supplies to draw from, so no matter how big the job or how short the deadline, a reputable packing service can ensure everything is ready for moving day.
The family needs to relocate in advance of a move – Life moves fast these days and it's becoming more common for families to relocate on short notice. Sometimes, notice is so short that the family doesn't have time to organize a proper move for their belongings. Whether it's for a new job or to be closer to other family members, families may have to relocate well ahead of their personal belongings.
When this is the case, a professional moving and packing service can handle the packing, moving and transport without the clients needing to be present. Trust and communication are essential to make this work, which is why it's best left to proven moving companies.
Health problems or disability make packing difficult – If medical issues or chronic pain interfere with physical activity, professional packers can provide the muscle. Professionals can also disassemble, reassemble, and move furniture, which can be particularly difficult for people with chronic pain.
There are fragile or valuable items that need special care – Most general household items can be packed and moved without professional assistance. However, some items need special care. Artwork, wine collections, safes, and pianos are some examples, and there are specialized moving services that focus on items just like these. With a professional packer helping out, any challenging belongings can be packed and transported without fear of damage.
It's worth pointing out that professional Houston movers can be flexible with their packing services. For example, families can box the easy stuff (linens, clothing, etc.) and leave everything else for the professionals. This is one way to save money while still getting the benefits of professional packing assistance.
Professional Packing Services Can Take the Stress Out of Your Move
Packing is one of the most time and labor-intensive parts of any move, and rushing it isn't recommended. When items are damaged or misplaced, it's often due to poor packing practices. By working with a reputable Houston moving company that offers packing services, families know that their belongings are taken care of—before, during, and following the move.