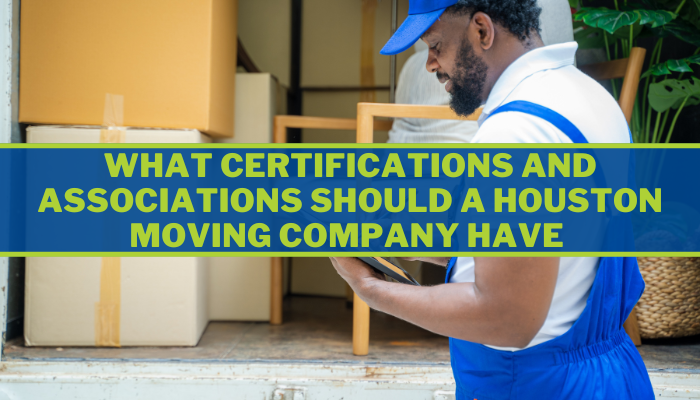 Professional Houston moving companies are trusted with a major responsibility – pack, load, transport, unload and unpack their client's belongings, or any combination of these services. A lot can go wrong during that process if a mover is inexperienced or unaware of best industry practices – including the risk of damaged belongings, delays, and potential scams.
Those are outcomes that moving customers would obviously like to avoid, and one way to do so is to pick a mover that's certified and committed to high quality service.
Why a Houston Moving Company Should be Certified and a Member of Professional Associations
Certification and membership with industry organizations are evidence of the mover's professionalism, so they should be considered requirements for any movers you're looking to hire.
During certification, moving professionals are tested for their knowledge of best practices, including how to develop an accurate estimate and how to provide quality customer service during a move. Moving companies may have a number of certifications, each for a different segment of the industry. For example, some moving companies are certified for household goods only, while others may also be certified for commercial or specialty moves.
You can think of certifications as essential education and training for moving companies.
Industry associations refer to the ongoing memberships that movers have with relevant industry organizations. Professional associations hold their members to a strict ethical code to maintain their standing in the organization. As such, they stake their industry reputation on abiding by ethical business practices – important in an industry where "rogue operators" are unfortunately common.
If certification represents training, then association membership represents an ongoing commitment to that training.
Moving Certifications and Industry Associations Every Mover Should Have
All else being equal, it's easier for homeowners to trust a certified and well-networked moving company. As for what certifications and associations to look for, here are the important ones.
American Trucking Associations membership – The American Trucking Associations (ATA) – formerly the American Moving and Storage Association – is the most prominent industry organization in the country. Its mission is to unify thousands of moving companies in providing high quality, ethically-sound service to customers.To become an ATA member, moving companies must pledge to abide by customer service standards that guarantee a smooth experience for families. The same is expected of current members, who must maintain those standards to maintain their good standing with the ATA.ATA members also have access to the organization's respected certification programs, including the Promover program and Certified Moving Consultant (CMC) program. Upon attaining certification, ATA members are added to the organization's professional directory, so consumers can easily find a moving company in good standing with the ATA.
Promover certification – The Promover certification is reserved for moving businesses that demonstrate best ethical and customer service practices. This track is less about educating movers about the nuts and bolts of the moving process, and more about verifying a company's integrity through their business practices.As such, for a moving company to qualify for ProMover certification, they must pass a tough review during which the company's professional standards are assessed. This includes a verification of the company's work history and any complaint history (including how such complaints were resolved).Companies with the ProMover designation are also required to execute an agreement with the ATA that affirms the company's commitment to the organization's Code of Ethics, as well as the FMCSA's consumer regulations.
Certified Moving Consultant certification – The ATA's other primary certification track is the CMC, which combines best operational and best ethical practices into training.For example, during CMC certification, movers are also required to sign onto the ATA's Code of Ethics, which includes the fundamentals of executing a transparent, legal transaction with clients.On the operational side, professional movers learn best practices for packing and loading household goods. They also learn how to ensure employee safety and how to maintain adequate insurance for their clients' belongings. Movers are also trained on developing an accurate estimate and other project-related paperwork.
State-level moving and storage associations – In addition to reputable national organizations like the ATA, there are numerous state and region-level moving associations, too. The Texas Trucking Association is one example, as is the Southwest Movers Association.These smaller associations don't maintain their own certification tracks, but they are dedicated to upholding proper business practices in their area. As such, membership in these organizations is also incumbent on the moving company adhering to a code of ethics.
If a prospective moving service has any of the above certifications or memberships, you're on the right track in finding a reputable Houston company.
A Certified Houston Mover is a Trustworthy Mover.
There are thousands of moving companies operating in America. As such, it's difficult for consumers to identify which ones are trustworthy and which ones are rogue operators. Every year, those rogue operators victimize thousands of people and families, and the results can be devastating.
The moving and storage industry is ramping up its efforts to distinguish the best from the rest. Certification and association membership are two such measures, so they're typically displayed prominently for prospective customers to see. You'll likely see prestigious certifications and memberships displayed on the company's trucks and on their website.
It's usually easy for people to quickly spot which moving crews are well-trained and well-connected to the industry. In the fight against rogue movers and moving scams, it's a proven tactic that consumers can take advantage of.