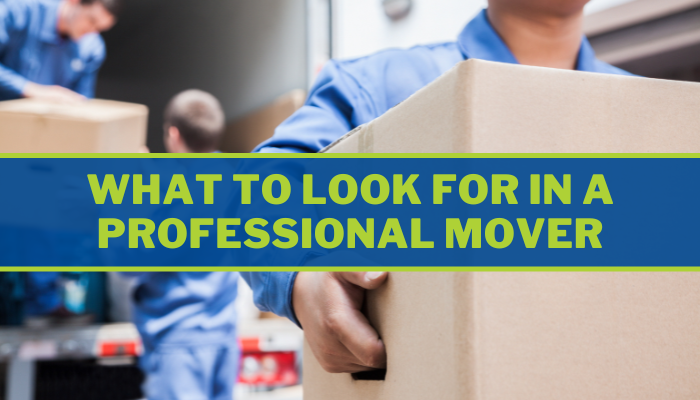 Moving does not have to be an overwhelming task if you know what to look for in a professional mover. The circumstances for a move may be different such as for a transfer, a fresh new start, or moving closer to loved ones, but the logistics remain much the same. Avoid feeling overcome by the hundreds of tiny details for the moving part of your journey by enlisting the help of seasoned and professional movers. Delegating the details to a responsible party can leave you free to focus on the new adventure ahead.
What to Look for in a Professional Mover
When it comes to what to look for in a professional mover in Houston, there are two main categories that should be considered:
Credibility
Services
It is best to start with looking for a Houston moving company that has excellent credibility. Afterall, the fact that a company offers tons of services will not do much if they are not trustworthy or good at what they do.
The top considerations for choosing a reliable and trustworthy moving company include:
Experience. A simple online search will return hundreds of results for moving companies, but just because they have a website does not make them experienced or trustworthy. An experienced team is what to look for in a professional mover. A company with decades of skill in moving people locally, nationally, and even internationally has not only likely completed hundreds of moves, but has done so successfully if they are still in business.
Professionalism. While it may be tempting to go with a fly by night company that offers too good to be true prices, resist the urge. Look for a company that shows pride and professionalism in their work from the way their website is set up to how they speak with potential clients over the phone.
Client and Industry Reputation. The feedback from previous clients can often be an excellent source of information in discerning a company's reputation. In addition, it is recommended to check a provider's Better Business Bureau ratings. Together, these two information sources can provide valuable data on a moving company.
Employment Protocol. Restrict your list to moving companies that employ their workers rather than contract out for help. This is critical as employees that are hired are typically subjected to drug screenings and background checks, whereas that same level of scrutiny is not usually applied to contract workers. Going with a professional moving company that employs their workers may give you added peace of mind about the people in your space and facilitating your move.
Once you have narrowed down your list of potential moving companies to those that are experienced, professional, reputable, and employ their workers, the next step is to start comparing the services that they offer.
Take time to verify the following with a professional moving company before signing:
Geographic Scope of Services. Confirm that the provider can meet your geographic needs. Smaller moving companies may only offer local services, while larger and more established ones will cater to local, statewide, cross country, and international moves.
Types of Moves Offered. While the most frequent type of move is from home to home, offices and corporations can also benefit from these services when moving to a new floor or building. Ensure the specific type of move you need is offered by the company you select.
In-Person Quotes. One of the most frequent sources for issues with pricing can come from the way a moving quote is provided. Although quotes given over the phone or online may seem easy, the result is costly if a person does not accurately estimate the number of boxes and pieces of furniture to be transported. The best way to circumvent this issue is to have the moving company send a qualified representative to your home or office to go room by room and give a more accurate estimate.
Packing and Unpacking Services. While transporting belongings from point A to point B is an obvious service of moving companies, many also offer assistance with packing and unpacking. Particularly for relocations that require a fast turnaround time, it may be helpful to have the moving company bring the supplies and pack up your belongings. Not only will this save you time and energy, but it can also help ensure that boxes are packed in a more balanced manner to limit the risk of damage. For those individuals wanting to get settled into their new surroundings quickly, unpacking services should also be available.
Customized Services. Not every item in a home or office will fit neatly into a cardboard box. Items such as pianos, grandfather clocks, statues, or aquariums can require special customized packaging to reduce the potential for damage during transport. It is also a good idea to confirm the provider has the means to move these items, which may require special machinery for tight spaces, stairwells and elevators, or custom crating for delicate items.
Vehicle Maintenance. So much focus can be on an individual's belongings that are to be moved, that the state of a company's vehicle fleet can be forgotten. When it comes to what to look for in a professional mover, regular maintenance for their vehicles is key. The best packed boxes will not be able to get to a destination any faster if a vehicle breaks down during transport.
Licensing and Insurance. The mover you select should have a Department of Transportation number that can be verified. Additional licensing information may be available from the Federal Motor Carrier Safety Administration (FMCSA). The company should also be insured.
Damage Rate. Moving fragile personal belongings over even short distances in a large truck or van may result in damage from time to time, but it should not be the norm. Confirm a moving company's damage rate and make your goal to find one with a rate as close to one percent as possible.
Communication. From the in-person quote to coordinating the packing and finally keeping all parties updated on the transit to the final destination, good communication is essential. Verify how and with what frequency a company communicates with clients during the process for a smoother experience from start to finish.
A little research and homework are your best defenses when it comes to what to look for in a professional mover in Houston. Even though a move may be necessary, it does not mean you should sign up with the first Houston moving company you come across. Put in the work to find a provider that will respect you and your belongings as much as you do.