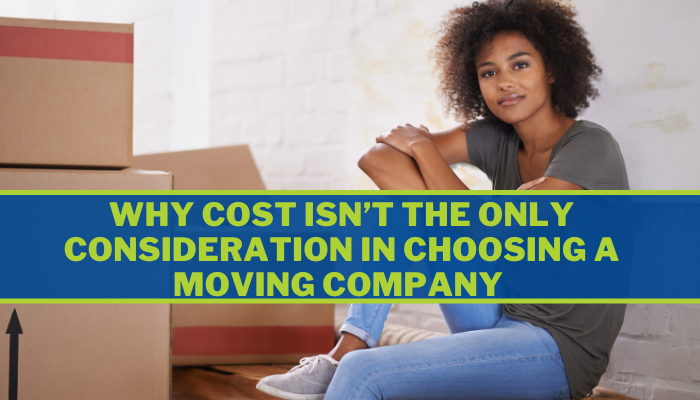 When shopping around for Houston movers, one thing will become obvious right away – the same job will be priced differently by every mover you talk to. This is expected as there are many factors that go into every moving project, and moving companies may assess these factors differently.
Most companies, though, will fall within a tight range of estimates. But every now and then, a moving service will provide an estimate that's well below the rest.
For families looking to minimize their moving costs, it's tempting to take a really low offer, but buyer beware – in the moving industry, like with many industries, people get what they pay for.
What it May Mean when a Moving Company Offers an Unusually Low Quote
If an ultra-low moving estimate does sneak in, there may be a few reasons for that. For example, a low estimate may indicate the following:
The mover is inexperienced or provides poor service – Inexperienced movers may reduce their pricing in an effort to develop business. These movers may be legitimate, but an inexperienced crew is more likely to damage items or get hung-up trying to solve problems that an experienced mover could easily handle.There are, of course, inexperienced movers who are also competent, but it's almost impossible to tell them apart from the client's side, and that's a risk.
The mover is hiding some of their fees – Sometimes, when moving companies submit a lower-than-expected estimate, it's because they're not including everything in their quotes. Instead, they provide a low estimate and expect to tack on additional fees following the move. These fees could be charged for additional services rendered (that were not made clear upfront), moving supplies, long-carry fees, or stair fees.In the end, clients end up spending more than they would've with a more expensive mover that was transparent about their fees.
The mover is attempting a scam – Every year, there are thousands of moving scams. These scams can be devastating to families, as there's a high chance that items stolen during a move are never recovered. Some moving scams are "ransom" scams, where the movers load everything, then demand additional payment before handing the items back over.Scammers hook someone in by submitting estimates a lot lower than the industry average. Essentially, they prey on people who prioritize cost above all else.
In summary, if a moving business is charging much less than their competitors, there's usually a reason for that – and one that doesn't benefit the client.
Reputable Houston movers charge according to what the move will actually cost, including time, labor, supplies, fuel and more. This transparency is part of what makes a reputable mover reputable. They know that surprise fees don't coincide with good customer service.
How to Spot a Moving Company That May be Attempting a Scam
An extremely low estimate is a red flag, but there may be others. If you suspect a scam, here are some other signs that may back your intuition:
The crew shows up without a branded truck or uniforms
The movers pressure you into filling out paperwork before you're comfortable
The moving company demands a large upfront deposit
The movers cannot provide a DoT license number, and one is not displayed anywhere
The company doesn't have a website or reliable phone number
The movers don't perform a virtual or physical survey of the property
The movers don't provide necessary paperwork, like a bill of lading
The company isn't willing to provide insurance for your belongings
If you notice the above red flags, consider the risk of trusting your belongings with them. Once your things are loaded on the truck, it will be extremely difficult to get them back if the crew does pull a scam.
How Can People Reduce the Cost of Their Move?
Basement-price movers are a risk, but minimizing moving costs is an understandable priority for families. To maximize your savings without maximizing your risk, consider doing the following:
Determine which services you'll need – If you've got a move coming up, an early decision to make is determining which services you'll need. Reputable moving companies provide a full range of moving services, from packing to unpacking, and everything in-between.A full-service move will save a lot of time and effort, but if cost is a primary concern, you can handle any part of the process to save money.Further, people can save additional money by sourcing their packing materials. Boxes can be had for free (if you know where to look), newspapers provide adequate padding, and so on.
Organize and pack what you can beforehand – If you're opting for packing as a service, you still have say-so over what you pack and what the movers pack. To minimize costs, consider packing the easy stuff when you have time, as every minute spent here is a minute you don't have to pay for later.
Downsize if possible – Moving is an ideal opportunity for families to downsize what they own. Sell, give, or donate what you can to friends, family, or charitable organizations. Whether it's a closet full of clothes you no longer wear or a piece of furniture sitting in the corner, reducing your belongings will also directly reduce your moving costs.
And, of course, shopping around will help consumers find the best mix of skill, service, and cost. Schedule a few estimates, at least, and you'll have a good idea of what your move should cost.
Experienced Houston Moving Companies Aren't the Cheapest, But They Are the Most Skilled and Reputable
Experienced Houston moving companies have invested decades into perfecting their skills, acquiring equipment, and training-up their crews. That means experienced Houston movers tend to charge more for their services, but that experience also means greater efficiency and reliability. And with greater efficiency and reliability comes savings.
So, by avoiding those extremely cheap moving crews, families may actually save themselves money in the long run.