Why Interior Designers Should Partner with a Reputable Moving Company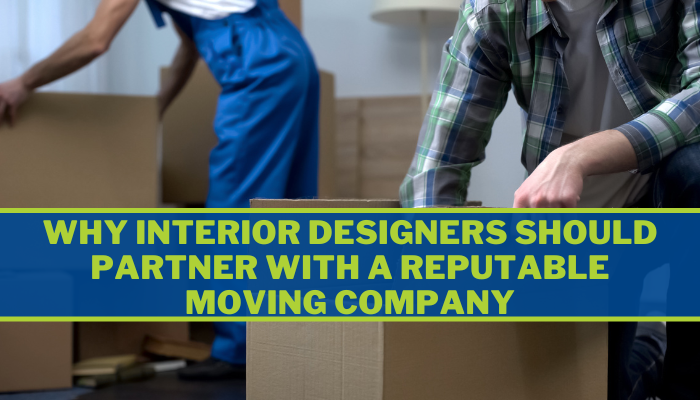 Interior designers are experts in aesthetics, but materials are what they work with. Storing those materials, keeping track of them, transporting them, and ensuring they are ready for display places a significant logistical load on interior designers.
An experienced moving and storage company can help manage those processes, so designers can focus on every client and every project.
A Respected Houston Moving Company Can Help an Interior Designer Acquire New Clients
Successful interior decorators tend to be effective networkers, and this network is more effective if extended to a reputable moving service. Experienced moving professionals spend a lot of time providing customer service, and that provides plenty of opportunities to recommend partnered businesses.
This includes interior decorators, who frequently work with the same clients that decorators do, like architects and contractors. By partnering with a moving company, an interior decorator can grow their clientele without actively marketing.
Three Services Moving Professionals Can Provide to Interior Decorators
In addition to building a mutually beneficial professional relationship, moving companies can also provide several services that are of particular benefit to interior decorators. They include:
Warehousing and inspection – Some moving professionals are able to provide warehousing on top of their moving services. Warehousing is a B2B service, designed for companies that need space for their products or materials. It's like storage for commercial clients, only scaled up and packaged with other services.
With warehousing, interior designers have space to store their decorative items, furniture, and artwork. A warehousing provider can scale your space needs up or down as needed, so as your business grows, so does your storage room. Warehousing also makes it easy for decorators to keep their materials organized and ready to go.
A warehousing provider will keep a crew on hand at the storage facility, ready to handle anything that's brought in or taken out. At this time, the warehousing crew will inspect everything for damage, missing components or missing hardware. If any issues are spotted, they're reported to the interior decorator so a decision can be made. In this way, having a warehousing partner is like putting a quality check process in place.
Assembly – Many interior decorators do a lot of their work with furniture, which must be assembled prior to delivery and placement. Interior decorators often don't have the time for putting furniture together, but moving companies do. A reputable moving crew has the manpower and experience to quickly assemble any kind of furniture, so it can be quickly utilized for client projects.
Delivery – Moving companies are a natural provider of delivery services, given their manpower and fleet of trucks. They can use these resources to deliver everything an interior decorator needs for a project, whether it's bulky stuff like furniture or fragile items like artwork. Reputable warehousing providers can respond quickly to delivery requests, so if you need to quickly stage a property, you can get everything there in time.
What Does a Reputable Houston Moving Company Look Like?
There are hundreds of moving professionals in the Houston area alone, but only a small number offer a reputation worth attaching your name to. For interior decorators, then, the goal is finding a respected moving company to work with. To make the search easier, here are a few things to look for:
Experience – Experience is critical for moving professionals. Most of the finer points of moving and warehousing can only be learned through experience. Partnering with an experienced moving team means interior decorators can benefit from this experience, with faster, more reliable service than a less experienced moving company could provide.
Also, moving companies that do their job poorly don't last in the industry long. You can think of experience as a vote of confidence from previous customers, then.
A customer-service mindset – Some moving companies make professionalism a priority and strive to leave a good impression on the customers they work with. That customer service first mindset will go a long way when the moving company recommends their partnered interior decorator.
The mover's history of customer reviews is a valuable data point in this regard. A long list of satisfied clients is a good sign, as is a mover who responds promptly to any complaints. A communicative mover is the kind of mover you'll want recommending your services.
Proper licensing – Moving companies are regulated by the Department of Transportation. The DoT uses licensing to track moving companies, their safety record, and their work history. If a moving service fails to observe best practice during a job, they can lose their standing with the department. A reputable moving company will happily provide their DoT license number on request, as this can be used to verify that the business is legitimate and in good standing with the DoT.
Adequate resources – Warehousing is a labor-intensive service and may require powered equipment to efficiently transport furniture and other heavy objects. Interior decorators that handle a lot of furniture or large quantities of heavy items will need a moving partner with plenty of power, whether it's muscle or mechanical.
It's difficult for moving companies to stick in the industry, given the degree of skill and organization required. If you're planning on establishing a partnership with a moving service, prioritizing the above traits will ensure your partnership is a long-term one.
Need Logistical Support? A Reputable Moving Company Can Streamline Your Interior Design Processes
Most interior decorators have their hands full acquiring new clients and providing service to existing ones. For these busy professionals, dealing with logistics as well is often one task too many.
That's where a reputable moving company can help. By partnering with an experienced moving and warehousing service, interior decorators can secure their storage and delivery logistics, and add to their professional network at the same time. In Houston, a busy moving company will work with hundreds of clients over the course of a year. That's a large potential client pool for interior decorators.
The trick is finding a Houston moving company that's reputable and well respected. To do that, look for an experienced, licensed crew that also has a passion for exceeding their clients' needs.