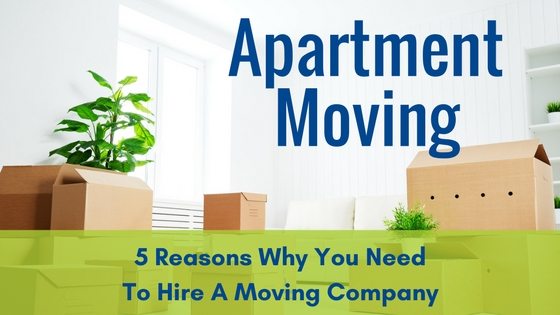 One thing apartment movers can provide during a move is peace of mind. Hopefully, moving to a new place is a very exciting time. Hiring a reputable company at a price that is affordable makes moving that much more enjoyable. Sure, enjoyable may not be the first adjective that comes to mind when faced with a move, however, the excitement about moving to a new home and making a fresh start is palpable. As much as a hassle that packing and moving can be, and it can, there is something inherently enjoyable about a new adventure. A moving company can make all the difference. When the right company is hired for the job, one can relax quite a bit in knowing that the task is in good hands, and here are five reasons why: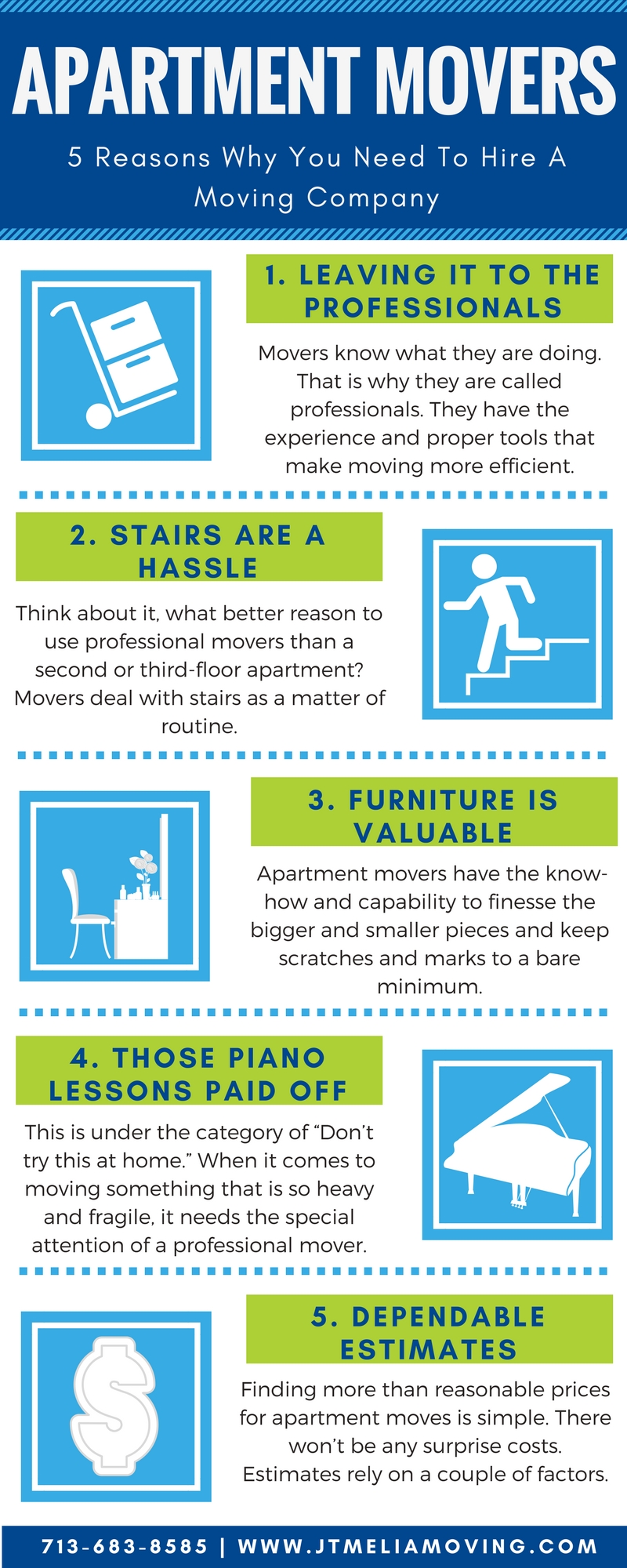 Leaving It to the Professionals
Movers know what they are doing. That is why they are called professionals. They have the experience and proper tools that make moving more efficient. Professional apartment movers will use straps for securing and lifting furniture and appliances, dollies for transporting heavy objects, and trucks that are designed to move belongings securely. They are experts at loading the trucks to make use of the most efficient space. Also, most importantly, they do the heavy lifting. The pros not only save time and money, but they save backs as well.
Stairs are a Hassle
Living on, or are moving to the second floor can make a move even more dreadful. Think about it, what better reason to use professional movers than a second or third-floor apartment? Movers deal with stairs as a matter of routine. They are adept at negotiating large pieces of furniture up or down stairs and around awkward turns in staircases. There is no need for anybody to attempt this kind of move alone. It is well worth the investment regarding the time and effort saved.
Furniture is Valuable
Moving can take its toll on furniture. It is hard to move large pieces and keep them from getting bumped and battered. Professional movers have the know-how and capability to finesse the bigger and smaller pieces and keep scratches and marks to a bare minimum. They use plastic covering and heavy wrapping to keep furniture from getting dirty or damaged. Sure, accidents can happen to anyone, but professional movers have a vested interest in seeing to it that all possessions arrive in one piece and good shape.
Those Piano Lessons Paid Off
A piano is in another class when it comes to moving. It falls under the category of "Don't try this at home." When it comes to moving something that is so heavy and yet so fragile, it needs the special attention of a professional mover. When handled with care and by the right people, the piano can be safely moved to its new home, and ready to be played once again.
Dependable Estimates
A reputable mover in Houston is competitive. Finding more than reasonable prices for apartment moves is simple. There won't be any surprise costs. Estimates rely on a couple of factors. One is the distance to be traveled. Typically, this will be less with a local move. The other is the type of service that is required.  An agreement should be reached before proceeding. The Better Business Bureau (BBB) and online review sites are an excellent way to tell if a company does good business.
In the end, reliable service is all anybody wants from movers. Everything else mentioned above is important, but if the moving service does not get the furniture and possessions from the old home to the new destination safely, securely, and on time, all is for naught.
Apartment movers are just like any other residential mover in that a good professional mover will take care of your valuable belongings by properly moving them from A to B. JTMelia Moving Company has been handling moves here in Houston since 1969 making them one of the longest operating local movers in Houston. Not only that but the business is privately owned and operated by the family which is what gives you the reliability in the services they offer. Our name is on each and every one of our vehicles and we take great care that the name is synonymous with quality moving services. You can see this by our A+ BBB rating as well. If you're not happy with the last movers you hired give us a chance to earn your business and your trust on your next apartment or residential move. We can also handle commercial moves for you if you ever have to need to move your office or warehouse we can help!
In closing a good reliable apartment mover should be able to provide you the following services:
Will give you an accurate no surprises moving quote
Is insured and has valid TxDMV No. 0000005457 and US DOT NO. 436264, like ours here.
Has good moving reviews from previous clients that they have done a move for.
Hires and actually does background checks on their employees and does not use unknown contractors.
Uses actual moving trucks that are marked with the company name and TXDMV number.
Also has experience as a packing and unpacking service ensuring that all your property is properly packed and moved.