Finding A Mover In The Galleria Area
The Galleria area is part of Houston's Uptown, and it's one of the most active parts of the city. The Galleria area is close to everything in the city, and of course, the mall itself is a luxurious shopping destination. It's only one spot, though, and there's a reason why Uptown is attracting families and retirees at an impressive rate. That's because The Galleria area has some excellent schools, first class parks, upscale restaurants and much more.
Being a prominent part of the city, the Galleria area is dense and would be best navigated by a professional mover. An established, experienced  Houston moving company will handle the heavy lifting on top of the tricky driving, and for many retired couples moving to the area, that's a relief. Uptown also attracts a lot of driven professionals from all over the world as well, and a Houston-area mover can help anyone transition to the city smoothly.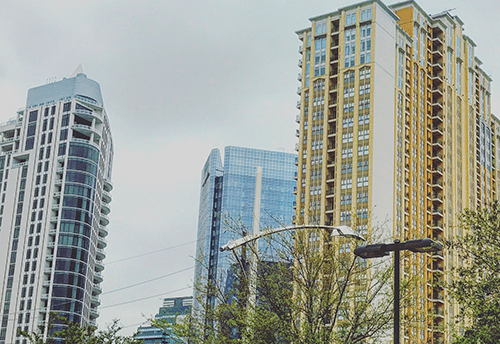 Things To Know When Your Moving To The Galleria Area In Houston
History
The history of the Galleria and Uptown is one of booming Houston success. Back in the early 50s, there wasn't much nice to say about Uptown, as it hadn't yet benefited from Houston's larger success as an energy capitol.
That changed quickly, though, when one of Houston's most successful oil tycoons, Glenn McCarthy, developed an idea to combine a hotel and an indoor shopping center. He never had a chance to execute the concept, but another massively successful Houston businessman, Gerald Hines, did. With Hines' funding and direction, the Galleria opened on November 16, 1970, and would undergo an expansion just six years later, bringing the mall's total retail space to nearly one million square feet.
The Galleria was a success right away, with its combination of exclusive, luxury offerings and its interesting architecture, which was modeled after the Vittorio Emanuele II, Italy's oldest operating shopping mall. Since its founding, the Galleria has always been near-totally occupied, and a third expansion in 2003 added 800,000 square feet more to the mall. With tons of luxury retail space, three office towers and a sprawling business district that has more office space than downtown Denver or Atlanta, The Galleria area is a thriving economic hub.
Shopping
If you're living in Uptown, you're eventually going to visit the Galleria, and it's worth doing so even if you're not interested in buying a thing. While there's luxury clothing, jewelry, sporting goods and footwear galore, the Galleria also has an indoor playground, an ice-skating rink and enough food options to make everyone happy.
There's a lot of shopping options in Uptown, though, with more than five million square feet of retail space. Just a few miles away, on the other side of the 610 Loop, there's the River Oaks area and Upper Kirby, both of which are filled with their own luxury shops and one-of-a-kind cafes and restaurants.
Really, drive in any direction from Uptown and the Galleria area and you'll run into more places to shop.
Parks
Houston Parks and Recreation
2999 South Wayside
Houston, TX, 77023
832-395-7000
https://www.houstontx.gov/parks/
Shopping draws a lot of visitors to the Galleria area and Uptown, but it's the parks and other community features that attract families. Some of the nearby standout parks include:
Memorial Park – The closest major park to the Galleria also happens to be Houston's largest urban park. Memorial Park is nearly 1,500 acres in size, making it one of the largest urban parks in the country. There is a conservatory dedicated to the park and it's always active, with hundreds of joggers, runners, cyclists and families enjoying the sprawling green space every day.
Gerald D. Hines Waterwall Park – The Waterwall is a destination for tourists and a popular spot for people who'd like to relax or do a little thinking. The Waterwall is a well-known spot among locals and is an architectural sight to behold – a manmade waterfall that pours thousands of gallons of water every minute. It's especially popular during the summer, as it's one of the coolest outside spots to be in the entire city.
Hermann Park – Hermann Park is a little further away, but still a simple 15 minute drive outside of peak traffic times. Hermann Park is popular for a couple reasons. For one, it's the second-largest urban park in Houston, with multiple playgrounds, water features and picnic areas. Hermann Park is home to the Houston Zoo, which itself is a major destination. Hermann Park is also home to the Miller Outdoor Theatre and is adjacent to several excellent museums. There's a lot to do here.
Other Things To Do in The Galleria Area
The Galleria area is clustered around the 610 Loop, which is one of the most important highways in all of Houston. It's possible to get into, around and out of downtown easily from here, so there's a lot for residents to do. For example:
There's always a reason to have a night out. The Galleria area is close to some of Houston's finest restaurants, and inside the Loop, there's every kind of cuisine under the sun, so no matter what you're hungry for, it's close by.
Downtown Houston is home to a world-class symphony, theatre district, ballet and opera, and they're all within easy driving distance to the Galleria area.
Houston's professional sports teams – the Astros, the Rockets, the Dynamo and the Texans are all inside downtown Houston or right off the 610 Loop, so sports fans can easily catch a game.
There's the museum district, with its world-class science, art and children's museums. There's the Menil Gallery in Montrose, along with numerous other art galleries. There's a variety of eclectic and hobby shops all over the Galleria area and Inner Houston as well.
Helpful Information for New Residents
Houston Police Department Headquarters
1200 Travis St.
713-884-3131
https://www.houstontx.gov/police/
Houston Fire Department
1205 Dart St.
713-247-5000
https://www.houstontx.gov/fire/
Vehicle registration
https://www.txdmv.gov/motorists/register-your-vehicle
Driver license offices
http://www.dps.texas.gov/DriverLicense
The Galleria area's School District
Houston Independent School District
4400 W 18th St.
(713) 556-6000
https://www.houstonisd.org