Downtown Houston is the commercial hub of the city, and like most cities, the district was the first area to develop following the city's creation, way back in 1836. Although Houston is a sprawling city, stretching out for more than 650 square miles, Downtown is much more modest in size, coming in at just under two square miles.
Moving to Downtown Houston
Houston was founded on the banks of Buffalo Bayou, and Buffalo Bayou remains a primary fixture in the city, establishing the northern border of Downtown Houston. Interstate 45 and Interstate 69 form the rest of Downtown's perimeter, so there is a clear, defining edge to the city's center.
Although Downtown is compact, it is extremely dense, with a lot going on. This is especially true if considering just the last 15 or so years. Houston has invested a lot of money into its downtown area to turn it into an actual destination. Up until then, it was an afterthought for most Houstonians, as the interesting stuff was mostly to the west and south of the city center. That is no longer the case, with rapid development that has made quality of life better all around. Specifically, development has focused on building new restaurants and hangouts, creating new underground walkways for people to get around the city more efficiently, and rejuvenating the venues that were already in place. The result has been extremely successful, as Downtown regularly draws major performing acts, as well as the occasional high profile speaker.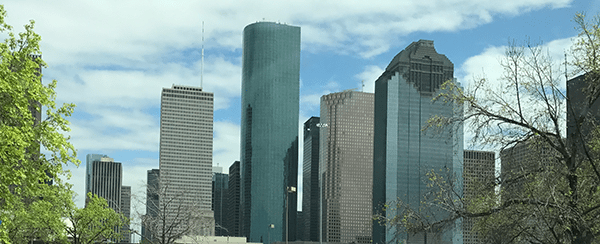 Living in Downtown Houston
Downtown has something for everyone and is close enough to all of the trendy spots in Houston that a Downtown resident never has to travel far to experience something new.
Although much of Downtown is dedicated to commercial buildings, there are a few hotspots that people flock to. Of them, Discovery Green is probably the most active, day in and out, and certainly the best spot for families. Discovery Green is a very recent development, funded by some of Houston's wealthiest benefactors. It is a precisely cultivated and maintained park and functional greenspace in the heart of the city, right across the street from the iconic George R. Brown Convention Center. The 12-acre park is overseen by a highly involved conservancy, so it is constantly the site of community events, markets, festivals and performance acts. There is also a park for the kids and a couple water play areas for children to keep cool in the brutal Houston summer heat. Most of the events at Discovery Green are geared toward families, but it is an ideal spot for an evening stroll, given its peaceful, zen-like nature.
In addition to Discovery Green, there is Tranquility Park, Sam Houston Park and Market Square Park. Market Square Park is also a popular destination, though this one is aimed more at the young adult crowd. It features a small greenspace ringed by independent restaurants, cafes and bars. This is where many come to check out a new brew or get a bite to eat, and is far from most of the bustle, so it is usually a rather laid back spot to enjoy.
Houston is considered a world class city for the arts, and this is most apparent in Downtown's Theatre District. The Theatre District sits right on Buffalo Bayou, and is a collection of performing arts venues for every taste. Those venues include the Hobby Center for the Performing Arts, the world class Alley Theatre, the Wortham Theatre Center, the Jones Hall for the Performing Arts, where the Houston Symphony performs, and the Revention Music Center, which attracts contemporary music acts and influential speakers. Among these venues, there is a performance or speaking event going on nearly every night, so there is plenty to enjoy.
The Metro Light Rail has helped establish a third area of interest in Downtown, as Main St. is now a walkable plaza, running for several blocks. There are numerous shops, including luxury shops, and laudable restaurants, including an Indian pizza place.
Finally, both Minute Maid Park, the home of the Astros, and Toyota Center, the home of the Rockets, are part of Downtown.
There are plenty more places to eat and hang out around the Downtown area, but it would be impossible to list them all. Some of the city's best culinary and performing visionaries now operate out of Houston's nerve center, so anyone living in the area can always test their exploratory spirit.
Only about 8,000 people live inside Downtown proper, most of them in upscale high rises, though this number is growing quickly. High rises are usually most appealing to young professionals, but there are plenty of families as well among the 8,000 residents.
Settling into Downtown Houston
Most people moving to Downtown Houston are moving into a high rise, and these buildings are notorious for posing obstacles when moving in or out. This is particularly true if very heavy or large items are part of the move because they may not fit in the passages or elevators leading up to the apartment or condo.
This is where a professional moving company like JT Melia can make the move easier and stress-free. High rise moving is tricky, but JT Melia has the tools and experts to make it a cinch. Even if something like a grand piano, safe or sculpture needs to be moved 30 flights up, JT Melia can get it there. When moving to Downtown Houston, rely on a reputable moving service that can handle the job.