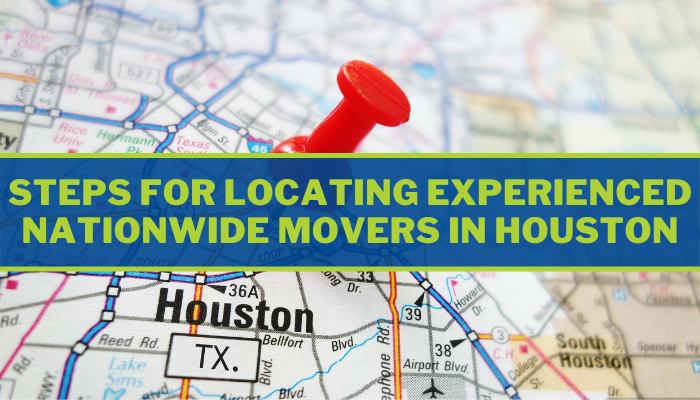 When it comes to moving across the country, knowing the steps for locating experienced nationwide movers in Houston can take on a new sense of urgency. Houston is one of the largest cities in the nation, and with a booming oil and gas industry, people are being transferred in or out of the city for work at an astounding rate. With a change in jobs and cities on the horizon, the last thing a transferee wants to think about is the emotional and physical toll of a move. The good news is that a nationwide move does not have to be a source of anxiety and frustration if you have the right Houston movers on your side.
The Steps for Locating Experienced Nationwide Movers in Houston
Although moving your life from one place to another does take some planning and organization, the actual packing up and transporting of things is one item off of the to do list that can be delegated once a trusted moving company is involved. This is in part why the following steps for locating experienced nationwide movers in Houston is critical to your successful move.
Do a basic online search for nationwide movers in Houston. In this age of technology, the internet can be one of the best starting points for research. Remember to include important words such as "nationwide movers" and "Houston" in your search to receive more tailored results.
Narrow down the list of contenders by eliminating those moving companies who do not have positive reviews from trusted resources such as the Better Business Bureau (BBB). While online reviews are good, they can hold more weight when coming from a legitimate and accredited source. Take some time to look up each of the companies on your list and rule out the ones who do not have primarily positive reviews.
Ask individuals in industries that rely on moving companies, such as realtors and furniture stores, if they recommend any of the companies that made the final cut on your list. Aside from being a general wealth of information, these entities can also specifically tell you why they prefer a certain moving company over another based on their own experience.
Perform some of your own research to compare each company and their services. With the remaining contenders, it is key to ensure you are comparing apples to apples. To facilitate this process, create a spreadsheet or list to help compare and contrast each company and the services they provide.
Contact the top three contenders for quotes. To make the process smoother, choose the three nationwide moving companies at the top of your list and get the ball rolling on getting quotes.
Choose the mover that best meets your needs. At the end of the day, you are moving and are entrusting your belongings to a moving company, so it is best to choose the company that you believe to be the best match for you personally.
Additional Things to Look for in a Nationwide Mover
When comparing and contrasting moving companies as recommended in Step 4 above, here are some things to add to the list:
Membership with the Greater Houston Movers Association. A membership with this professional group can help establish credibility.
Registration with the Texas Department of Transportation. This is a nonnegotiable requirement for movers in the state of Texas. The company should have a registration number to offer as proof.
Registration with the Federal Motor Carrier Safety Administration. This is mandated for movers who cross state lines and also produces a registration number you can cross reference if needed.
Driving record. The moving company you choose will be responsible for getting your belongings to their final destination safely, so it is critical to verify the company's driving record.
Liability insurance. This must meet current minimum standards and is designed to help protect multiple parties.
Transit insurance. A moving company with transit insurance may be able to provide some compensation to you if items are lost or damaged during the move.
Employment of workers, not contracting of workers. For greater peace of mind, it is recommended that a moving company employ their workers instead of contracting their labor. This can be critical as most companies do background checks and drug screening for employees, whereas contracted workers may not be as thoroughly vetted.
Being a nationwide mover should not be the only qualification for choosing a provider. The moving company you choose should provide a wide range of services available a la carte or in different packages. Not only is this an added convenience for the client, but a company's ability to provide these services can also be an indication of experience and professionalism.
Other services a quality nationwide mover should provide can include:
In-person quote. Because making a call or entering some numbers on a website can be done with ease, it can be tempting to choose this option over requesting an in-person quote, but that would be a mistake. By having a company representative come to your home or business and go room by room to determine what needs to be moved, it yields a more accurate quote that can prevent unexpected last minute price hikes the day of the move due to miscalculations.
Packing materials. In the midst of moving your entire home or business, running from store to store to buy packing materials is one headache you do not need. Ensure that you can get these items directly from the moving company.
Assistance packing up furniture and personal belongings. Especially for moves in which time is of the essence, it can be beneficial to have the moving company come to the home or business and assist with packing balanced boxes.
Strategic loading of furniture and boxes onto the moving van. If you have any particularly large and cumbersome items or special pieces of furniture such as a piano, verify that the moving company can move and accommodate these items as well.
Assistance with unpacking. Once you reach your destination, settling in can make assimilation to your new surroundings a little bit easier. For this reason, a quality mover should also offer assistance with unpacking.
The steps for locating experienced nationwide movers in Houston that are listed above can be instrumental in making your next moving experience a more pleasant one. Don't delay and get a 'move on' today!