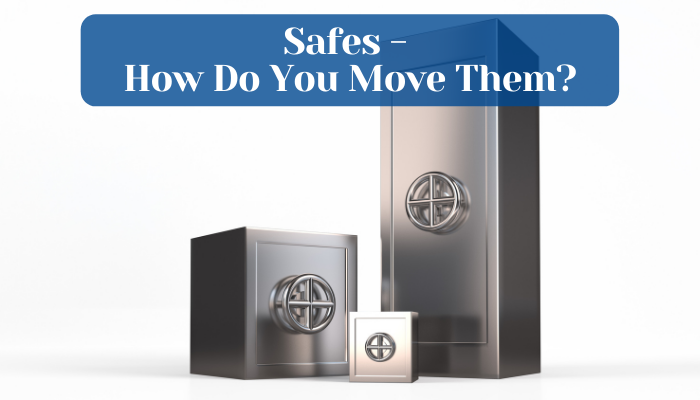 When it comes to safes, you may wonder, how do you move them?
Since safes are designed to stay put, getting one into a moving truck takes preparation. Though some safes are small enough to be carried by a single person, gun safes, for example, require multiple people, special equipment and a lot of care.
To get the job done safe-ly, a professional moving company should handle the task, and the process looks like this:
1. Prepping the safe for moving – There are a few tasks to complete before the safe is ready to be moved. First, the contents are removed, including all valuables and any shelving units. Most homeowners prefer to remove the valuable items themselves beforehand and store them elsewhere, so the moving crew doesn't have to handle them.
The safe's door will be removed or secured before moving it. This ensures it doesn't accidentally swing open and injure one of the workers or put a hole in the wall.
2. Developing a quick exit plan – Professional movers determine where they're going before they get going, especially when working with a safe. The crew will plan out their exact path, noting any obstacles along the way so they can navigate around them. They will also measure any tight spots, like doorways, to verify that the safe can pass through them without causing damage.
3. Put down protection for floors and walls – Even with extra manpower and equipment, the occasional slip or bump does happen. That's why professionals protect all walls and floors on the way to the moving truck, using cardboard, blankets and other padding. With an extra layer of protection in place, minor mistakes won't become major ones.
4. Secure the safe to the dolly – The only way to get a safe out of a building is with a heavy-duty dolly. The crew will position the dolly next to the safe, slide it under and pick it up while everyone helps load it. Once the safe is on the dolly, it's strapped in to ensure it doesn't go anywhere.
5. Get it on the truck – Here's the tough part, though it's not as tough with professional planning. Now that the safe is loaded up, the only thing to do is get it onto the truck. The entire crew works together to carefully maneuver the safe through doorways, down staircases, around corners and into the back of the truck. Once there, the safe and its shelves are secured inside so they don't shift around.
What are the advantages of hiring a professional mover to handle a safe?
There's nothing simple about moving a safe, which is why most homeowners bring in a professional to do the heavy lifting. There are several reasons why this makes sense, including:
Resources – Professional movers have the resources to manage any type of move, even if they include extremely heavy and bulky items like safes. With extra manpower, large moving trucks, powerful equipment and protective padding, professionals have what they need to accommodate a safe. Most homeowners will have trouble getting these resources together and ready for a move, so many would rather leave it to the experts.
Care – The first priority is ensuring no one gets hurt during the move, but an important second priority is preventing damage to the building. When professional movers do the lifting and loading, they know what steps to take to protect what they're moving and everything around it. With a safe, as mentioned above, shielding the walls and floors from impact damage is essential, and professional movers have the tools and techniques to do that.
Safety – Without the proper training, it's difficult to move a safe without it posing an injury risk to everyone involved. Muscle strains and pulls, back issues, even broken bones are potential outcomes if you don't have the proper personnel to transport the safe.
Professionals have experience, equipment and manpower on their side when handling a safe, which minimizes injury risk.
Efficiency – With everything to consider, moving a safe can be a time consuming and difficult task for a group of DIYers. However, professional moving companies have their processes down for moving a safe, so they can quickly get it out of the home and into the truck. This saves the client money and prevents the moving process from being hung up.
What should homeowners look for in a professional to move a safe?
There are strong reasons to consider a professional mover, but they must be reputable and have experience with moving safes. Here's what to look for in a moving company:
Experience – In the moving industry, nothing matters as much as experience. There are a lot of potential challenges and issues that could come up during a move, and experience is what allows moving teams to resolve them quickly and without issue. culty. Aim for a moving firm that has at least 10 years of experience, but the more the better. Also, check with the movers to verify that they have handled safes before, as relevant experience is critical to getting the job done right.
Insurance – Insurance is another must-have with a professional mover, especially when a safe is involved. Injuries and damage are significant risks with a safe, but if the company is insured, their clients are protected from liability. Make sure that the company you choose has cargo insurance and worker's compensation, at the minimum, but general liability is even better, as it provides additional protection in the event there is damage to the home.
Resources – Experience and insurance are essential, but even the most experienced moving company can't move a safe if they don't have the crew, equipment and trucks to do it right. You can get an idea of what the mover is capable of by requesting an in-home estimate or by visiting the company's facilities. How many men can they spare for the job? Do they have additional equipment if a regular dolly won't get the job done? Do they have a proper moving truck that is branded with the company's logo? An in-home estimate or on-site visit will answer these questions.
In a city as large as Houston, there are many professional movers, but only a small portion are equipped and experienced enough for moving a safe. A reputable moving company will be in good standing with the Department of Transportation, have testimonials to offer from past clients and will communicate well. Researching potential movers is simple, but it's important to get a crew you can trust for the job.