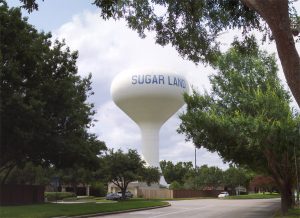 In the Sugar Land area, professional movers have never been busier. For several years, Houston has been one of the most popular cities to move to, for both professionals and families. The economic turmoil that affected most of the country didn't have much of an impact on Houston, and several companies have increased their presence in the city, as a result. This is especially true in the oil & gas industry, where thousands of jobs have opened up in just the last few years. As a result, Houston is experiencing a wave of new residents, and many of them are settling in the southwest part of the city. So it's no wonder that Houston movers have expanded in order to accommodate people moving to the area by expanding their service area.
Sugar Land is a historical part of Houston and is named after the Imperial refinery and factory the town was once centered around. And, even though, the factory is now out of operation, the area is still an important economic implement in the Houston area and features a number of highly affluent neighborhoods. And with the affluent neighborhoods come the excellent schools and continued population growth. In fact, the area is becoming a cultural hotspot as well, as people of all backgrounds and cultures have been attracted by the town's expansive parks, safety and proximity to central Houston.
Where can a homeowner find a mover that operates in Sugarland?
There are many moving companies that service the southwest side of Houston, and as the town is a major suburb, even a moving company inside Houston generally has a  presence in the area. As such, a new resident will have dozens of options to choose from during the process. Not all of them provide equal service, though, and it will be up to the client to find a business that works best for them. The Better Business Bureau (BBB) registers about 10,000 complaints filed against the moving industry every year, resulting in millions of dollars in damages. A new homeowner can't afford to get started in the hole by picking the wrong company.
The best place to start looking for Sugar Land movers is online. The internet is every homeowner's best friend, as it can quickly offer a number of options and provide the means to narrow down the field some. For example, sites that regularly publish consumer reviews, and though no one review should be used to make a decision, a positive trend does say something. The BBB and Federal Motor Carrier Safety Administration are also good sites to check when combing through moving companies.
Eventually, many homeowners will select JTMelia for their moving needs, and for good reason. With more than 40 years of experience in the Houston area, an impressive amount of manpower, modern equipment, and a focus on the customer, JTMelia has earned one of the best reputations in the city.