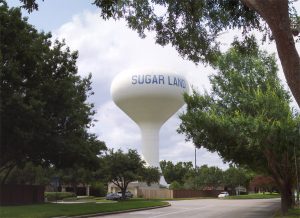 In the Sugar Land movers have never been busier. For several years, Houston has been one of the most popular cities to move to, for both professionals and families. The economic turmoil that affected most of the country didn't have much of an impact on Houston, and several companies have increased their presence in the city, as a result. This is especially true in the oil & gas industry, where thousands of jobs have opened up in just the last few years. As a result, Houston is experiencing a wave of new residents, and many of them are settling in the southwest part of the city. So it's no wonder that Houston movers have expanded in order to accommodate people moving to the area by expanding their service area.
This area is a historical part of Houston and is named after the Imperial refinery and factory the town was once centered around. And, even though, the factory is now out of operation, the area is still an important economic implement in the Houston area and features a number of highly affluent neighborhoods. And with the affluent neighborhoods come the excellent schools and continued population growth. In fact, the area is becoming a cultural hotspot as well, as people of all backgrounds and cultures have been attracted by the town's expansive parks, safety and proximity to central Houston.
Where can a homeowner find a  Sugarland mover ?
There are many moving companies that service the southwest side of Houston, and as the town is a major suburb, even a moving company inside Houston generally has a  presence in the area. As such, a new resident will have dozens of options to choose from during the process. Not all of them provide equal service, though, and it will be up to the client to find a business that works best for them. The Better Business Bureau (BBB) registers about 10,000 complaints filed against the moving industry every year, resulting in millions of dollars in damages. A new homeowner can't afford to get started in the hole by picking the wrong company.
The best place to start looking for Sugar Land movers is online. The internet is every homeowner's best friend, as it can quickly offer a number of options and provide the means to narrow down the field some. For example, sites that regularly publish consumer reviews, and though no one review should be used to make a decision, a positive trend does say something. The BBB and Federal Motor Carrier Safety Administration are also good sites to check when combing through moving companies.
Eventually, many homeowners will select JTMelia for their moving needs, and for good reason. With more than 40 years of experience in the Houston area, an impressive amount of manpower, modern equipment, and a focus on the customer, JTMelia has earned one of the best reputations in the city.
About Sugar  Land, Texas
The exponential growth in recent decades can be partially attributed to commuters' desire to escape the big city of Houston, but it has evolved into a force on the metropolitan and state-wide stages through purposeful, methodical planning efforts. Today, it is one of the fastest growing cities in Texas and one of the most affluent. It has ranked as one of the safest cities in the US since 2008 and has been named one of America's Best Places to Live.
Median household income is $108,994, almost twice the Texas median, and 58.8% of residents hold a bachelor's or higher degree. It's a comfortable place to raise a family among educated people.
History
The fertile floodplain of the Brazos River supported the Atakapa people before it became part of the Mexican land grant to Stephen F. Austin. The American settlers arrived, but the area didn't boom until they planted sugar. Imperial Sugar Company bought the local refinery in 1908 and built the town for its employees. Though sugar cane stopped growing here in 1928, the town was already on its way and continued to prosper.
The city of Sugarland incorporated in 1959 as a master-planned community, but its growth really took off in the 1980s as energy companies moved their headquarters to town and the 19 miles to Houston got shorter with improvements to the Southwest Freeway. The population has more than doubled a few times in the last 30 years, and it is now a thriving city with its own abundant employment opportunities, independent of Houston's.
Shopping
Houston's Galleria area is not too far up the Southwest Freeway, but there's no need to go all the way into the city. This area has you covered in the shopping department.
            Sugar Land Town Square
Highway 6 at US 59
281-242-2000
Looking for gifts? Check out Twenty-Two Fifty Interiors and Gifts.
Kitchen gadgets? Visit Sur la Table.
Bite to eat? Get your fix for Mexican, Cajun, Chinese or steaks.
Visit ShopSugarLand.com for all your options in the area.
Parks
This master-planned community always prioritized parks space and activities, and the city maintains many community and neighborhood parks as well as miles of hike and bike trails. Visit Sugar Land Parks and Recreation's website to find the fun near you.
Parks and Recreation
281-275-2825
https://www.sugarlandtx.gov/110/Parks-Recreation
Other Things to Do
The line between Sugar Land and Houston is blurred these days with the conveniences of the city feeling ever closer, but Sugarland has developed its own fun for the whole family, too.
The Houston Museum of Natural Science  (http://www.hmns.org/hmns-at-sugar-land/) has built an offshoot right here in Sugar Land, offering a saltwater aquarium, a fossils dig, images from the Hubble Telescope and more.
Every Saturday morning, you'll find local produce, meats and artisanal goods at the Imperial Sugar Land Famers Market (https://www.imperialfarmersmarket.com).
Schools
niche.com gives Fort Bend Independent School District A's in Academics and College Prep and an A+ in Diversity, also ranking it in the top 7% of Texas school districts.
Helpful Information for New Residents
Police Department
1200 Highway 6 South
281-275-2500
https://www.sugarlandtx.gov/113/Police-Department
 Fire Department
10405 Corporate Drive
281-275-2873
https://www.sugarlandtx.gov/107/Fire-EMS-Department
Electric service
Served by a number of retail electric providers. The state offers an objective, non-profit website where consumers can search and compare electricity rates available in their zip codes. Visit PowertoChoose.org.
Vehicle registration
Fort Bend Tax Assessor-Collector
281-342-3411
https://www.fortbendcountytx.gov/government/departments/financial-administration/tax-assessor-collector/motor-vehicle-information
Driver's license offices
http://www.dps.texas.gov/DriverLicense/
Fort Bend Independent School District
16431 Lexington Boulevard
281-634-1000
https://www.fortbendisd.com
Fort Bend Chamber of Commerce
445 Commerce Green Boulevard
281-491-0800
https://fortbendchamber.com