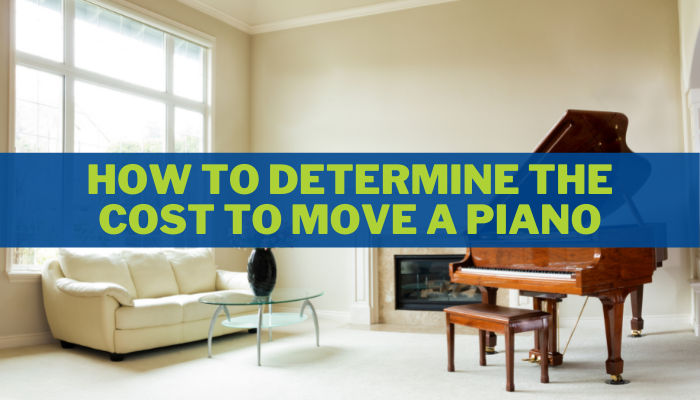 One of the things piano owners need to know when moving is how to determine the cost to move a piano. These majestic musical instruments typically cost thousands of dollars, are large in size, and weigh hundreds of pounds, which can make moving them from one point to another an intimidating challenge. To protect this investment and ensure a moving company is doing right by you, learn how to determine the cost to move a piano before you call the movers.
5 Primary Factors in Determining the Cost to Move a Piano
When it comes to figuring how to determine the cost of moving a piano, there are five primary factors to consider:
Size and Weight. Even the smallest of pianos are still bulky and heavy, ranging anywhere from three hundred to twelve hundred pounds or more. The size and weight of a piano will be a factor in determining its moving price.
Shape. Different types of pianos may require different moving methods. Upright pianos are generally easier to move than a grand piano or baby grand which could need to be turned on its side before being moved. A professional mover will be able to let you know how a piano's shape could impact the price of moving it.
Destination. Where a piano begins and its ultimate destination can also impact the price of moving it, both in terms of geography and potential obstacles. For example, some obstacles could include doorways that are not wide enough to fit the musical instrument through, elevators, steps, stairwells, handrails, wall décor, and even hanging lights.
Timeline. Moves that require a quick turnaround from the time of booking or those that take place during a holiday may have increased labor rates and cost more. If moving on a tight budget, it is best to avoid doing so during a holiday.
Weather. While the weather is not something a homeowner or mover can control, moving a piano in inclement weather due to a short timeline may understandably incur extra costs. Bad weather could also increase the chances of the instrument sustaining damage as it is removed from or delivered into a home, so it is best to avoid moving it in bad weather if at all possible.
Finding the right piano mover can be key to having peace of mind when it comes to moving this treasured instrument. It is critical to find a moving company who has the knowledge and capability to move a piano such as:
Licensing and insurance.
In order to legally transport a piano or object from a house to a new destination, a moving company should be licensed with the Department of Transportation. Movers should also have proof of insurance that includes liability and worker's compensation which helps protect a property owner in the event that damage or injury occurs.
Understanding.
For most piano owners, the instrument is far more than just a piece of furniture, but rather a form of self-expression and enjoyment. Be sure to look for a mover who understands this concept and shows proper concern and planning for moving this special item.
Experience.
Professionals are able to move a variety of objects, but the fact that these instruments are incredibly heavy yet also feature fragile components such as the keys, they require a special touch when it comes to moving. Choose a company that has several years of experience specifically in moving pianos.
In home estimate for accurate pricing.
If a mover offers to give you a price estimate for moving a piano without ever having laid eyes on it, this should be a red flag for the owner. With the wide range of size, weights, and shapes of these instruments, moving one requires attention to detail and plenty of experience. Expect a piano mover to come in person to the home to examine it and provide a more accurate estimate.
Access to specialized equipment for difficult moves.
When it comes to moving a piano, brawn is helpful, but much more is typically required. Specialized equipment may be needed to safely navigate this fragile instrument down a staircase or out of a taller structure such as a high rise. A reputable company with experience in moving pianos will have the tools necessary for the job.
When figuring out how to determine the cost to move a piano, the most important consideration is working with a reputable moving company with plenty of experience with these heavy yet fragile instruments.