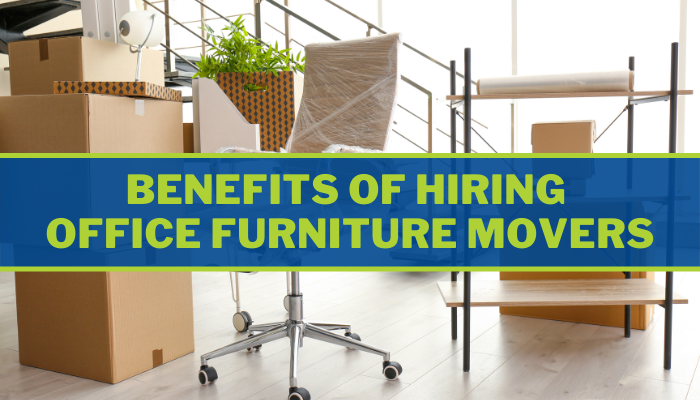 The benefits of hiring office furniture movers are numerous when it comes to moving an entire professional office space. Although some home and apartment moving businesses can seem to spring up almost overnight, those companies dedicated to moving corporate and professional offices generally have years of valuable experience. Business never stops, even amidst a move, so it is critical to find office furniture movers who understand how to work quickly and with as little disruption to daily operations as possible.
Whether you own a small business or a large corporation, it may be a temptation to move as much as possible with yourself and your staff, but that can be a mistake. Without an organized plan or strategy to guide employees in a standard process, it is all too easy to misplace boxes, power cords, and more that ultimately end up costing time consuming pandemonium. Choose to work with a professional instead and enjoy these seven benefits of hiring office furniture movers:
1. Time savings –
In order to pack up a business on your own, it requires going from store to store to get the proper supplies such as boxes, tape, packing paper, and bubble wrap. The time it would take to make a list and then collect all these items from different locations can be saved by getting these supplies and the right moving equipment from the office furniture moving company.
2. Delegation –
When hiring professional movers, it allows employees to focus their time and efforts on the work at hand rather than dividing it among daily work responsibilities and moving preparations. Companies that have employees assisting with a move typically and understandably report a decrease in productivity during that time period. For those not wanting to stop or slow business in the meantime, hiring office furniture movers can be a great solution.
3. Organization –
When it comes to moving an entire workplace, the owner will be moving their own items as well as that of dozens or hundreds of their employees. This takes immense organization, a strategy that most expert office furniture movers already have in place. This makes the move easier for the professionals because they will know how to maximize efficiency, and it can also be instrumental in reducing stress for business owners worried about moving an entire office.
4. Tools –
While it may initially seem an easy task to box electronic equipment, it is important to remember that disconnecting it may be much easier than reconnecting it. Professional office movers understand how to pack items in such a way that facilitates quick and easy reassembly at the new site. Some heavier pieces of furniture may also require special equipment such as a forklift or industrial dolly and proper handling techniques. To keep these pieces of furniture safe and as damage free as possible, it is best to leave them to the professionals.
5. Protection –
By using insured and licensed office furniture movers, a company can have more peace of mind that they will be better protected in the case of an unexpected injury or damage to an item.
6. Speed –
When calculating the hours it takes for a novice to plan, organize, pack up, move, and unpack an office, it can feel more than overwhelming. Professional movers already have a plan in place to facilitate moving as quickly as possible with as little disruption as possible for the business and its employees.
7. Money savings –
For every hour, sometimes every minute, that a business is not operational, it can negatively impact the company's bottom line. In cases like these, the ability for office furniture movers to complete a job quickly can vastly reduce the number of hours a business is out of commission for a move. A faster turnaround time generally means less money the company will be losing due to the inconvenience of moving.
Things A Company Can Do to Assist Office Movers
The bulk of physical office moving responsibilities can simply be delegated to professional office furniture movers, however, there are a couple of things companies can do to make the experience smoother for all involved.
To help cut down on moving unnecessary clutter from one office to the next, it is recommended that employees take the time to eliminate items that are not used, organize the ones that are, and keep their workspaces as clean as possible. This should take most employees less than an hour or two and will be beneficial to the office movers once they arrive.
Another way a company can assist office movers on moving day is to ensure there is one centrally clear path from the main entrance of the office to the moving truck. This allows movers to come and go while limiting disruption to office dynamics.
How to Choose the Right Office Furniture Movers
All of the above is largely contingent on the assumption that a business has taken the time to form a partnership with a well-researched and highly recommended moving company. For those that are unsure how to choose the right office furniture movers, the following tips may be useful:
Look for a company with years of experience. The more experience a company has, the more practice they have in working with a number of different situations. Experience alone can help some business owners to breathe a sigh of relief knowing they are in capable hands.
Choose a respected moving company. Family-owned moving companies can be a great place to start because when the family name is on the truck, their reputation is at stake. Also look for the moving company's alliances with consumer organizations such as the Better Business Bureau.
Make sure they check off all the boxes. Ensure the company is licensed, insured, and is registered with the right transportation agency entities for moving.
The benefits of hiring office furniture movers have the capability to make an office move go much smoother. Do not delay and begin the search for the right moving company today.